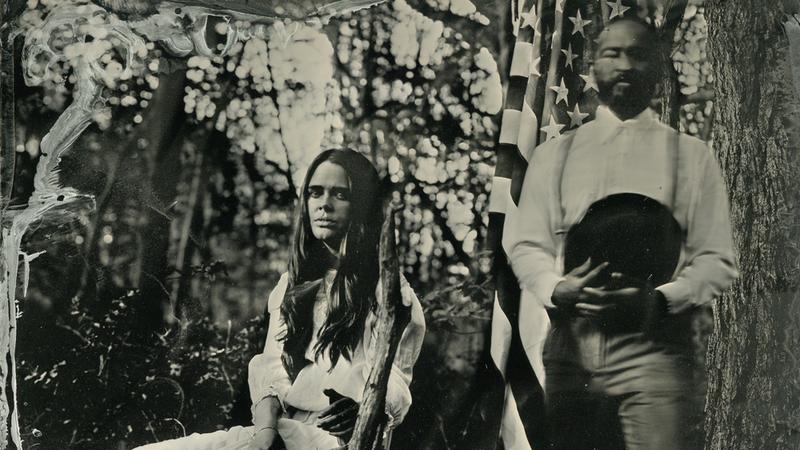 Jus Post Bellum's "Gimme That Gun" opens with just enough church choir harmonies to make it feel like you're witnessing a river baptism -- or the last few seconds before a stand-off. Once the twang kicks in, immediately you're transported to a simpler, dustier time. Indeed, Jus Post Bellum's song -- with the sharp pluck of a banjo, and the soaring vocal harmonies -- recalls the past, but that heavy drumbeat serves as a reminder that they exist in the now. 
The Brooklyn-based band -- fronted by the couple, Geoffrey Wilson and Hannah Jensen -- was inspired by the American Civil War, and that certainly radiates throughout "Gimme That Gun," a track from the upcoming album Oh July (out Nov. 12). And while the music emanates a somewhat different sound than what's currently commanding the borough, the band does fit nicely alongside fellow folk revivalists like The Lone Bellow, The Lumineers, and Of Monsters and Men. 
They describe the album and the thematic meaning behind the band:
"Jus Post Bellum is the story of a man and a woman. An extended narrative. A character study, painted in broad strokes and finely etched. Jus Post Bellum is a man and a woman. A midwestern couple cohabiting in real life, looking towards the past for inspiration. A group of musicians, pulling upon the lessons of history, painting pictures in the present."
Jus Post Bellum will be performing songs from Oh July at Rockwood Music Hall on Oct. 18 as part of the Monarch Artists Showcase during this year's CMJ Music Marathon.