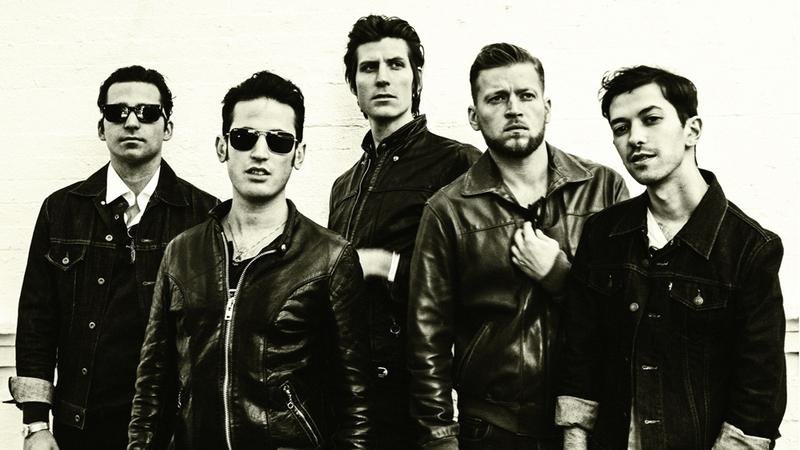 There's an urgency in the gnarled songs of Jeremy And The Harlequins, a Brooklyn-based band with a true love for rockabilly, blues, and real rock 'n' roll -- the kind you'd hear blaring in some Southwestern desert juke joint or a whiskey-soaked road house on the skirts of town. Sure, it could seem like a throwback musical costume -- recalling Elvis Presley or Roy Orbison -- or perhaps even Jack White. But Jeremy And The Harlequins seems to come by that rawness honestly.
Just as quickly as the band formed, its members -- brothers Jeremy and Stevie Fury (from We Are The Fury), Craig Bonich, Nathan Cogan and Patrick Meyer -- spent less than a week rehearsing before recording in just two days on analog equipment at Detroit's famous Tempermill Studios. 
The result, the band's self-titled EP (out today, Dec. 17), captures that grizzled live wire energy to a tee -- especially on the uptempo rambler, "Trip Into The Light."
"Trip Into The Light" is a relatively straight-ahead jukebox rocker, with its fair share of frayed guitar riffs, primitive in-the-pocket rhythm section, and Jeremy Fury's nasal, howling vocals, which were tracked live in only a few hours. 
Yet, in a time where most music is fussed over to perfection, there's something about a band like Jeremy And The Harlequins aiming for a stripped-down rock sound. And with that kicked-in speaker distortion hitting you like a blast of rock salt to the chest, it's clear this is a song that's meant to be felt.
Jeremy And The Harlequins' self-titled EP is out today, Dec. 17.