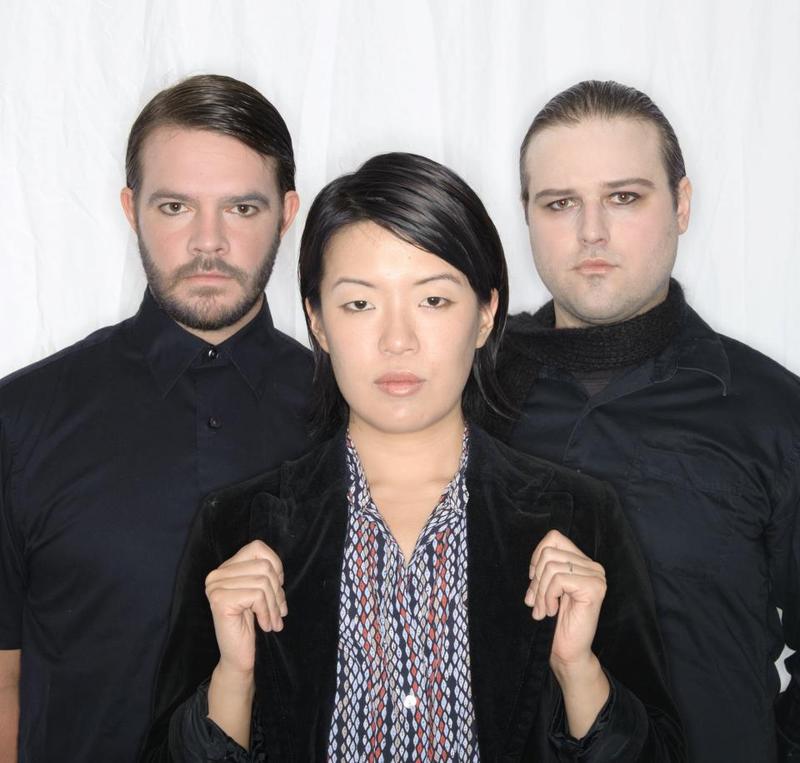 Well, Record Store Day is almost here again, and if you're someone -- maybe like me -- prone to posting up in line obscenely early to get first crack at the goodies on your shopping list, there's plenty of special releases to be found this Saturday.
One in particular seems especially enticing: Non-Violent Femmes, a compilation from Kanine Records showcasing previously unreleased tracks from a stunner lineup of many of my favorite female-fronted bands -- Speedy Ortiz, TEEN, Joanna Gruesome, Bleeding Rainbow, and many more. (All tracks are exclusive except Joanna Gruesome.) But you better grab this clear pink vinyl while you can: Non-Violent Femmes is reportedly a one-time-only pressing of 1,000 copies.
Today, we've got one of the songs from this fantastic comp by the dreamy punk trio Eternal Summers, "Goodnight Goodbye."
One of the revelations of The Drop Beneath -- Eternal Summers' just-released third album -- is the way the Virginia band found its stride straddling between opposites: The band's music is noisy and jangly, aggressive and pretty, heavy and delicate. "Goodnight Goodbye" is a swoony banger that would fit right alongside those endearing, hard-edged pop songs. Kicking off with a low-string guitar riff and some thrashy distortion, it soon reveals a feeling heartache thanks to the lovesick vocal melodies of Nicole Yun -- especially as she repeatedly murmurs "It's alright to say goodbye." It's another short and bittersweet song that shows why Eternal Summers is one of this year's most promising young bands.
The rest of the compilation has some excellent tracks on it, so if you spot one on the shelves this weekend, give it try.
Non-Violent Femmes Tracklist:
1. Speedy Ortiz -- "No Below" (Ocean Shitty Demo)
2. Flowers -- "All I Want"
3. Eternal Summers -- "Goodnight Goodbye"
4. TEEN -- "Sunday 5"
5. Beach Day -- "All My Friends Were Punks"
6. Beverly -- "Honey Do" (Demo)
7. Joanna Gruesome -- "Secret Surprise"
8. Bleeding Rainbow -- "Glynis" (Smashing Pumpkin cover)
9. Tashaki Miyaki -- "I Came"
10. Is/Is -- "Chimera"
11. Beaches -- "If You Had Wings You'd Fly"
Eternal Summers is also about to kick off another tour, including a few dates in New York:
Apr. 19 -- Brooklyn Night Bazaar, Brooklyn NY
Apr. 21 -- Cake Shop, New York, NY
May 23 -- Irving Plaza New York, NY