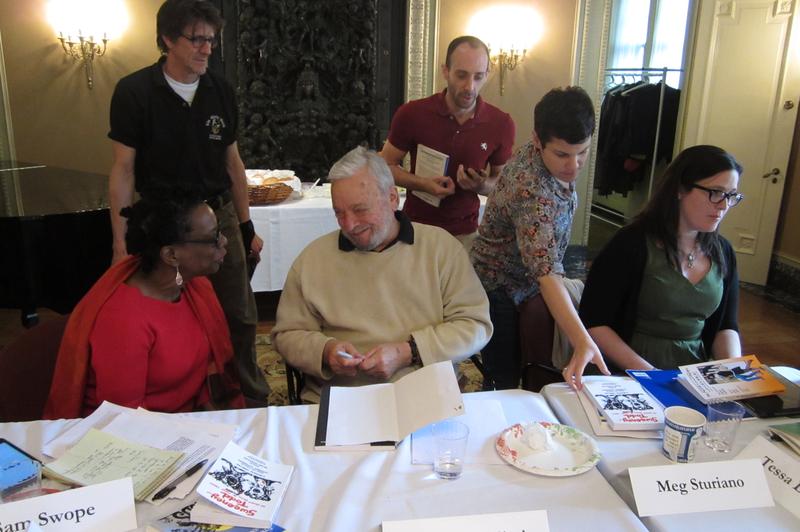 Stephen Sondheim, the legendary composer-lyricist, held a seminar this week for a small group of theater teachers from the city's public and private schools, where he fielded questions on everything from character motivation to adapting his works for young audiences.
The master class, organized by the Academy for Teachers, allowed the teachers to probe Sondheim — of Gypsy, Sweeney Todd and A Little Night Music fame — about his characters and process. In exchange, he was blunt and candid, especially when pressed for tips for the students.
"I don't think you can teach anything in the performing arts, except technique," he said. "How to project a voice, how to sit in the chair. But no, I don't think there's anything to teach. I think the doing is the teaching...The performing is the teaching."
Erin Coulter, a theater teacher at Achievement First Bushwick Charter School, said she relished the seminar, especially now when test scores get so much attention.
"The doing is the teaching," she repeated. "Actually getting the kids to get up there and do things, and try things and fail and take risks is something that's essential to humans, but that we don't acknowledge enough."
The admiration apparently was mutual.
"You're in the sacred profession," he told the teachers, his eyes welling up with tears, before he left. "Thank you for doing it. As a matter of fact, thank you for enjoying it so much."
The Academy for Teachers arranges master classes for teachers with scholars and writers. It was founded by Sam Swope, who runs a similar program at the New York Public Library.