New Sounds
Sometimes it Snows in April: New Music Finds From New Sounds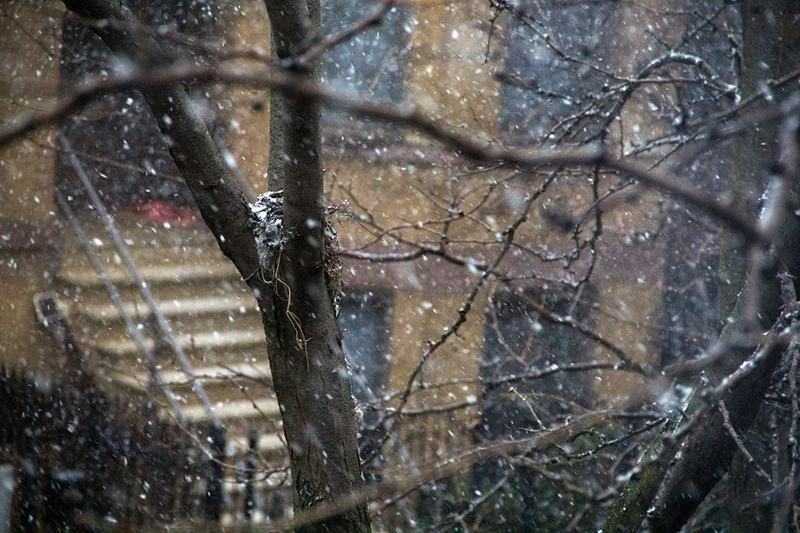 by Caryn Havlik —
The New Sounds All-Purpose Assistant can't resist a well-placed Prince song lyric. But the reality is, we've been practically snowed under by the relentless storm of great new music coming in, (not all of it in the New Sounds vein), and we need to clear our conscience.  This bunch of good music being withheld from John Schaefer's famous desk is hoarded with noble intent - to not lose any of it before hopefully making it to New Sounds air.
Cordame + Francois Bourassa -  Rêve éveillé
(Malasartes / Actuelle)
The latest from Montreal-based composer/ contrabass player Jean Felix Mailloux.  He's also got a trio jazz record just out (as Bomata), as well as this lovely release of chamber/jazz, featuring pianist Francois Bourassa along with cello, harp, violin, clarinets, and drums.  It's playful, well-layered and orchestrated, with brilliant spaces created for each instrument to have its melodic turn in the spotlight.  From a concert recording made in March 2013, here's a four-song sampler:
Boulpik - Nèg Dafrik
From Konpa Lakay (Due out May 12 on Lusafrica)
These Haitian banjo troubadours, Boulpik, formed in Port-au-Prince around 10 years ago. They are carrying on an almost lost tradition of street music, but will play weddings or communions, or wherever.  With two banjos (instead of guitar, which didn't carry sound as well), maniboula (cross between bass mbira and cajon box), hand drum, claves, and voices, it's a win for everyone. 
Toumani Diabaté - Toumani & Sidiki 
(Due out May 19 on World Circuit)
"Sitting next to my Daddy, playing kora with him, that was something very special," says Toumani Diabaté, who was born into a leading griot family, and who has been an ambassador for Malian traditional music through his genius on the kora, the 21-stringed West African harp. Toumani's father, Sidiki senior, recorded the first-ever kora album, the classic Mali: Ancient Strings, in 1970. Now the great Malian kora-master Toumani Diabaté has a forthcoming duet record with his son Sidiki – representing 71 generations of kora players. In playing the kora alongside his father, twenty-three year old Sidiki, a name in his own right – he is one half of Malian hip hop duo Iba One – continues the 700 year old Diabaté dynasty.

Ben Frost- Venter
from album A U R O R A, out 26/27 May 2014 on Mute / Bedroom Community
The Australian born, Iceland-based producer and composer makes grippingly intense ambient music, that might easily be the score of a rise-of-the-machines-type dystopian epic film. This latest sample of his forthcoming work speaks with a swirling hive mind, yet with the focus of a metallic assassin, attempting to beat and scrape its way out of a reinforced safe room.  
Brandon Seabrook - Lurid Clusters
From album Sylphid Vitalizers
Due out June 24, 2014 on New Atlantis Records
Banjo player & guitar player Brandon Seabrook can be found in Tanks with Marc Ribot drummer Ches Smith and Kayo Dot mastermind Toby Driver, or in a folk-jazz way with saxophone player Jeremy Udden, sometimes in an avant-jazz way with drummer Gerald Cleaver's Black Host or adding jazz-ish banjo in Ben Allison's most recent project, as well as a "sideman" for Mostly Other People Do The Killing. But also there's his own punk-jazz trio Seabrook Power Plant, who are absolutely face-meltingly br00tal, with two releases to their credit. The few samples of Seabrook's forthcoming record, "Sylphid Vitalizers" might draw as much from the Glenn Branca guitar army school, as they do from black metal tremolos and wailing classic heavy metal guitar gods. Seabrook recorded with engineer/musician Colin Marston in Queens at Menegroth/The Thousand Caves. Listen:
Man Forever: The Clear Realization (with So Percussion)
from Ryonen on Thrill Jockey
Indulging the NSAPA's drumming addiction, is John Colpitts (aka Kid Millions), a Brooklyn-based multi-instrumentalist, composer and writer who is perhaps best known as the drummer for Oneida. Man Forever is his experimental percussion persona – together with the powerhouse quartet, So Percussion. Ryonen contains just two works "The Clear Realization" and the title track; it's an endlessly propulsive and exciting display of my-cup-runneth-over drumming. When the instruments operate out of phase from the main tempo, the end result is both powerful and innovative. There's music in the resonance as well, which creates something of a drone element in addition to the textured layers of percussion. See at Le Poisson Rouge, on Monday, April 21 with Tigue.

Bubamara Brass Band - Balkanteka (2013)
In the category of just fun finds from the internet, there's this Moscow-based Balkan brass band. Especially recommended are the tunes on which trumpeter Marko Markovic is a guest: track 6, " Nikola, Baka i Kolaci" which begins with a mooing cow noise, and the title track 8, "Balkanteka."
And in the probably not New Sounds category, please enjoy:
Ikebe Shakedown- Stone by Stone
(Daptone Records)
Sweet sweet soulful funk, which brings the heavy groove, driven by sexy snaky baritone sax lines, steaming 'bones and screaming trumpets. So good.