SchoolBook
Five Education Budget Items You May Have Missed But Need to Know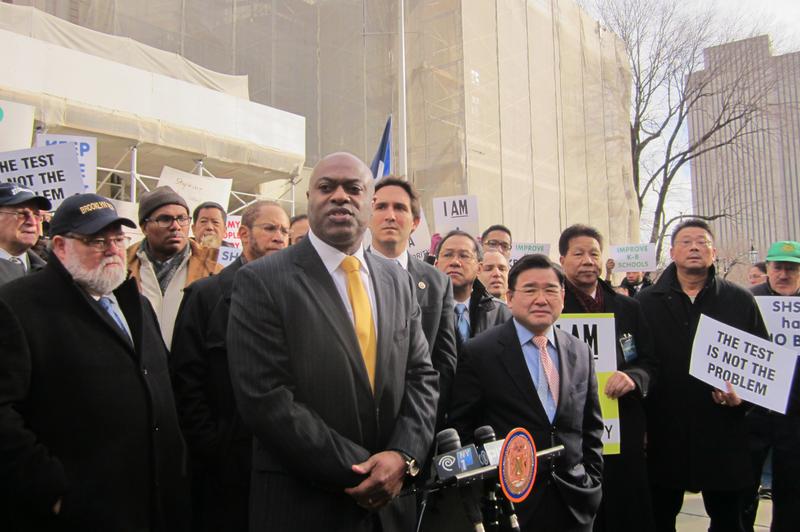 The $138 billion dollar New York State budget, signed into law earlier this week, received lots of attention for addressing big education issues, including an expansion of pre-kindergarten and tweaks related to the Common Core learning standards.
While not done deciphering the legal text of the state budget and its real-world implications, we zoomed in on a handful of less-flashy items that could have serious impact on school communities. Take a look.
Two reimbursement levels for pre-k classes: Language in the state budget reimburses programs that hire teachers with early childhood certification at a rate of $10,000 per child, while programs employing teachers without the certification would get less, about $7,000 per child. All pre-k teachers must be certified but community-based organizations can hire teachers working toward certification while public schools must employ those already certified. Advocates criticized the two-tiered reimbursement plan, saying it would lead to "chaos and inequity" in the system. Mayor Bill de Blasio said he wanted a consistent level of quality across the pre-k system but did not specify how to ensure parity given the different rates.
Expect stand-alone field tests next year: The State Education Department did not receive the $8.4 million it requested to eliminate multiple-choice stand-alone field tests. John King, the state education commissioner, advocated for the funds in order to print more versions of the annual state assessments. With multiple versions, the state could have embedded more field test questions and eliminated the field tests. But he lost this battle.
No state test scores on transcripts, for now: The budget forbids districts to include state test scores on transcripts for third- through eighth-grade students through the year 2018. It's one of the many provisions meant to improve the implementation of the Common Core learning standards. But this gesture may not change much about current policies.

Many middle and high schools in New York City have used test scores as part of their admissions criteria. Scores for third- and fourth-grade students were also used for placement in gifted and talented programs. City education officials, who are still untangling the new rules, said they would have a response to the change in the near future. Meanwhile, an official in Assembly Speaker Sheldon Silver's office said he didn't think the new rules would prevent schools from using test scores in the admissions process.
Prepare for charter schools audits: Charter schools got a lot of support in the budget, including space protections in public schools and increased per pupil spending. The publicly-funded and privately-run schools will also get an extra accountability check.
The budget allows the New York City comptroller to audit charter schools. Scott Stringer, the current city comptroller, called the move a "significant and necessary" part of the legislation. "My office will approach these audits in the same way we approach other city agencies, with the goal of raising performance and protecting public taxpayer dollars, which is my charter-mandated responsibility." 

And the charter sector does not object to the new rules. "There has never been any dispute that charter schools are and should be subject to financial audits," said James Merriman, CEO of the New York Charter School Center, in a statement. "We look forward to engaging with the city comptroller on this issue."
School Technology Upgrades on Ballot: The budget includes a $2 billion bond initiative to help pay for education technology and infrastructure upgrades, like bringing high-speed internet to schools, purchasing classroom technology and constructing classroom space.
Some critics have called into question the wisdom of taking on debt for technology upgrades, a relatively short-term investment compared to bonds used for long-term projects like building bridges and highways. Voters will decide on the issue in November.