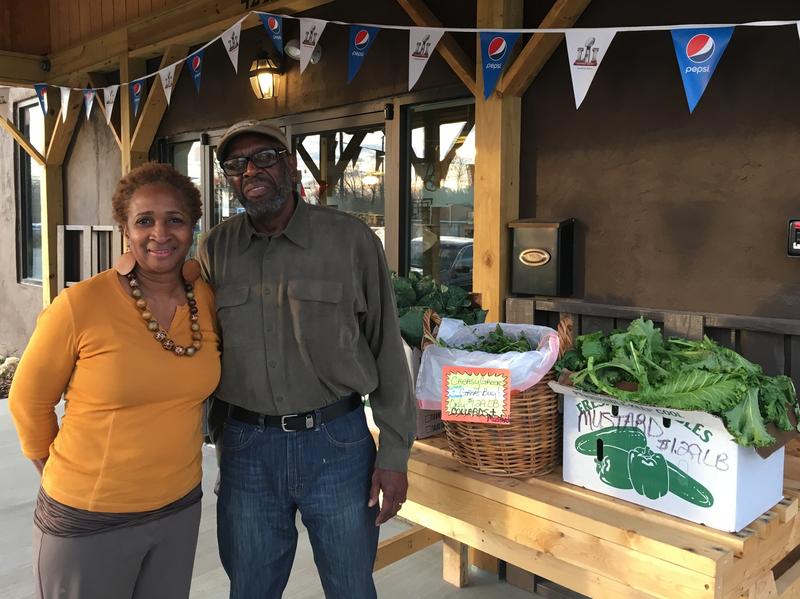 Paula McCoy Anderson and her husband, Jerry Anderson, live in Winston-Salem, which used to be a center of the U.S. tobacco industry.
The Andersons have always been community organizers. In the age of Trump, they've decided to focus on their own neighborhood. They opened a food market and community gathering place called The Village.
There are baskets of greens out front for $1.29 a pound. On the counter, there is a big jar of pickles and another of pig's feet. On a recent day, a jazz guitarist and singer are there entertaining the kids.
"You can look around in here. We've got white folk, black folk. We've all kind of folk up in here," Jerry Anderson says. "And what we're going to do is we're going to keep on setting an example of collaboration."
Paula and Jerry hired ex-offenders to do most of the work on this building, and that kind of reflects the way they are thinking about the next four years.
"We're talking about what we — what you can and cannot do. We cannot un-elect Donald Trump," Jerry says.
It's better to focus on things you can change, like improving your community, he says.
Nationally, Donald Trump got 8 percent of the black vote. In Winston-Salem, NPR spoke with a couple dozen black voters, and not one said they voted for Trump. A lot of people said they'd been here before — not specifically a Donald Trump presidency, but adversity is familiar. And they expect this administration to be one more kind of adversity.
Use the audio link above to hear the full story.
Copyright 2017 NPR. To see more, visit http://www.npr.org/.
In this story, we say Donald Trump received 85 percent of the vote in North Carolina's Yadkin County. That was a preliminary estimate. In fact, Trump received 78.8 percent of the vote in Yadkin County, which was a tie with Graham County for the highest vote percentage in the state.