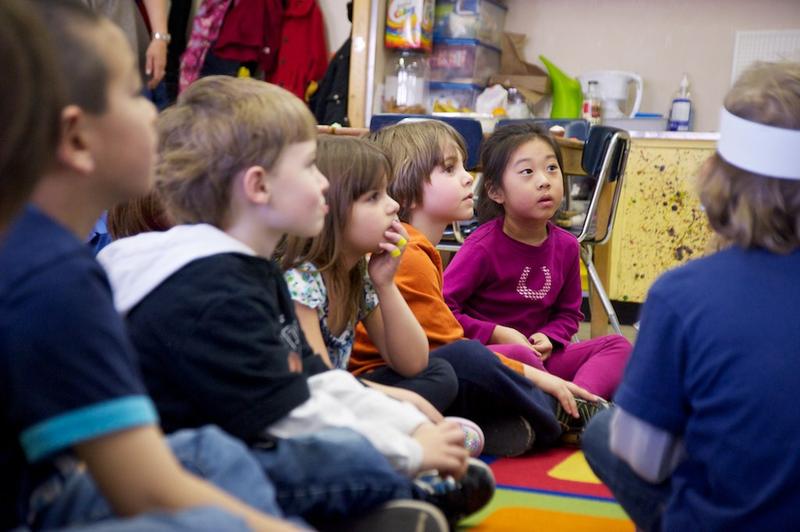 In a city with fierce competition for a spot in a gifted and talented classroom, there are still several gifted classes this year whose rosters remain notably low. 
D.O.E. numbers show that out of more than 400 gifted and talented classes, two dozen were under-enrolled, meaning the classes have fewer than 18 students.
Six of those classes are especially tiny, with fewer than 10 students, and one kindergarten class, a brand new gifted program at P.S. 93 William H. Prescott in Bedford-Stuyvesant, Brooklyn, has just three children.
A complete list of under-enrolled classes is below.
Bettye Watford-Bogan, the parent coordinator at P.S. 93, said she believes the program will grow next year as word spreads. Education officials concurred, saying it often takes a year or two to establish G&T programs in new schools.
"I've had parents, as opposed to last year, this year asking about it," said Watford-Bogan.
But where some parents may be reluctant to sign up for a new program, others feel shut out.
Kelly Buzby, whose daughter scored in the 94th percentile on the gifted tests, said she received no offer of enrollment at her first-choice kindergarten program, the gifted class at P.S. 165 Robert E. Simon on the Upper West Side. She learned after the D.O.E.'s cutoff for enrollment on Nov. 1 that the class only has 13 students.
Her experience also comes on the heels of major scoring gaffes with last year's exams, adding to parents' frustration with a process that can appear quite opaque from outside the D.O.E.
"So what happened when they realized there were only 13 kids in this class?" said Buzby. "Did they actually start sending out letters to parents and say, 'look, we have space are you still interested?'"
According to the D.O.E., they did.
Nearly 12,000 students were eligible for gifted and talented programs this school year. After initially offering more than 5,200 families throughout the city a spot in a kindergarten through third-grade gifted class, the D.O.E. then made an additional 1,218 offers for spots that those first in line did not take.
Education officials said that they called parents in the order of eligibility -- meaning in order of percentile rank -- if there were open seats at a school that those parents listed on their applications.
"One of the goals of this administration has been to open more gifted and talented seats in a measured, thoughtful, and balanced way. And we've succeeded," D.O.E. spokesman Harry Hartfield said in a written statement. "This year we were able to make almost 2,000 more kindergarten offers than just five years ago."
But Buzby said she felt "stymied" by the D.O.E. and frustrated that her daughter who qualified for a gifted seat doesn't have an opportunity to be in one of the classrooms that had extra space.
"I'm trying not to be an overly-uptight New York parent about this -- and it's kindergarten, so ultimately she will be fine -- but to be honest with you," Buzby said, "my husband and I are actually going to some school tours next week for private schools."
She also signed up her daughter to take the gifted and talented test again this winter.
Below is a list of the 24 under-enrolled gifted and talented classes, including school name, grade and number of students enrolled by Oct. 31.
Manhattan:
P.S. 15 Roberto Clemente, kindergarten, 6 students
P.S. 111 Adolph S. Ochs, combined kindergarten/first-grade, 11 students
P.S. 165 Robert E. Simon, kindergarten, 13 students
P.S. 165 Robert E. Simon, first-grade, 17 students
P.S. 102 Jacques Cartier, second-grade, 13 students
P.S. 129 John H. Finley, kindergarten, 13 students
P.S. 129 John H. Finley, combined first/second-grade, 16 students
Bronx:
P.S. 182, kindergarten, 15 students
P.S. 204 Morris Heights, kindergarten, 14 students
P.S. 7 Kingsbridge, kindergarten, 16 students
Brooklyn:
P.S. 93 William H. Prescott, combined kindergarten/first-grade, 3
P.S. 282 Park Slope, kindergarten, 13 students
P.S. 38 The Pacific, kindergarten, 15 students
P.S. 38 The Pacific, kindergarten, 14 students
P.S. 38 The Pacific, kindergarten, 17 students
P.S. 316 Elijah Stroud, kindergarten, 7 students
P.S. 149 Danny Kaye, kindergarten, 7 students
P.S. 109, combined kindergarten/first/second-grade, 15 students
P.S. 376, kindergarten, 11 students
P.S. 376, third-grade, 4 students
Queens:
P.S. 68 Cambridge, combined kindergarten/first-grade, 5 students
P.S. 330, kindergarten, 12 students
P.S. 121 Queens, kindergarten, 11 students
P.S. 121 Queens, first-grade, 14 students