Students Showcase Projects at Lively History Fair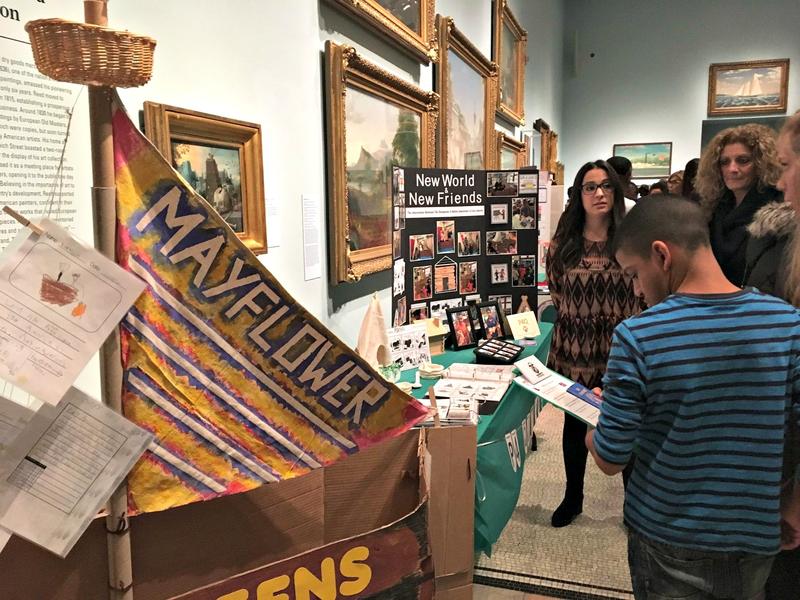 In a stately exhibition hall of the New York Historical Society, with oil paintings in large gold frames, social studies received some special treatment.
A replica of The Mayflower, made of cardboard and a canvas sail, was large enough for a child to stand in. A meticulously constructed physical map the size of a dining table — carefully transported, in full, to the Historical Society — illustrating historic rail transport across the United States. Rows of tri-fold boards lined the exhibit hall with presentations on topics like early explorers, civil rights and the French Revolution.
The work on display represented the first annual social studies fair for students in District 75, the group of schools serving students with disabilities severe enough to need intensive supports.   
"Everyone's so creative and everyone has, like, this whole vision of what they think," said Isis Chavez, 13, and a student at P23 in Queens.
Isis stood next to a diorama she created depicting colonial life. Two tables down, for a project on early exploration of New York, a student dressed as Samuel de Champlain answered trivia questions on demand. 
Raizy Reider, director of literacy and social studies for District 75, said understanding historic events and learning about civic engagement was especially important for this population.
"They need to know their history," said Reider. "They need to know everything about being in the world and coming out and functioning as independent citizens."
New York City rolled out a new social studies curriculum this school year for kindergarten through eighth grade, called Passport to Social Studies. Education officials said it was developed by the city's Department of Education with teachers, historians and cultural partners. The majority of K-8 schools have adopted it, including schools in District 75.