So Much for That Plastic Bag Fee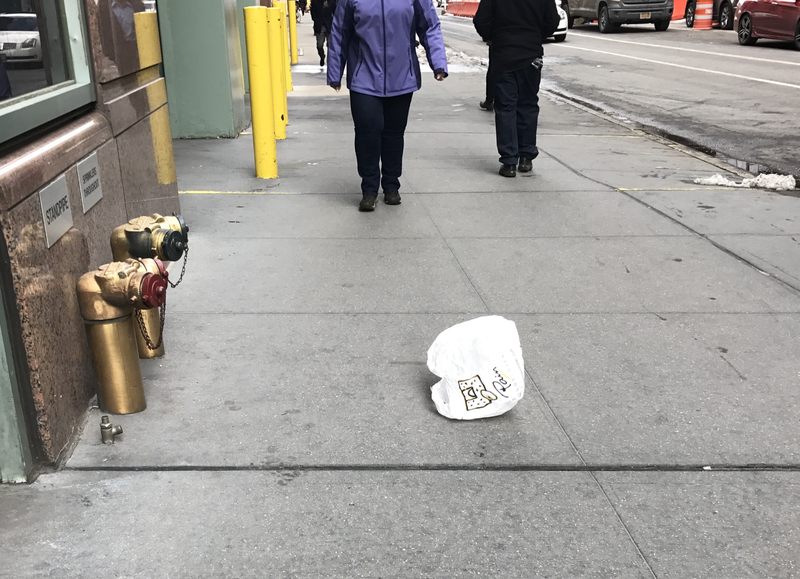 Starting Feb. 15, New York was set to join cities like Washington D.C., Portland (OR), Portland (ME), San Francisco and, most recently, Chicago, by charging consumers a fee for using disposable bags.
Local officials said it would cut down on the scourge of plastic bags that, when they're not getting caught in tree branches or blown against chain-link fences, cost $12.5 million a year to be shipped to landfills (where they may take hundreds of years to decompose.)
But just hours before the city's measure was supposed to take effect, Gov. Cuomo signed legislation putting the brakes on it.
In an eight-paragraph press release that touted the state's environmental track record (from Theodore Roosevelt to the future shuttering of Indian Point), the Governor called the city's law "an earnest attempt at a real solution," but one that was "deeply flawed." Cuomo went on to say: "Most objectionable is that the law was drafted so that merchants keep the five cent fee as profit, instead of the money being used to solve the problem of plastic bags' environmental impact." 
That rationale isn't sitting well with the City Council. Robin Levine, the Council's head of communications, pointed out that "the Council would be more than willing to collect a portion of the bag fee for environmental purposes, if only they granted us the authority to do so....This ridiculous State law undermines New York City's authority, hurts New Yorkers and sets a dangerous precedent for our city and every other locality in the state." 
City Councilman Brad Lander, one of the original sponsors of the city's bill, took to Twitter to pen some bitter verse:
Roses are red.
Plastic bags are white.
9 billion more,
After tonight.

— Brad Lander (@bradlander) February 15, 2017
But state legislators said the year-long moratorium would allow them to craft a bill that would ultimately benefit the whole state, not just the city. Assemblyman Luis Sepúlveda was backing an effort he said would give consumers three cents a bag, rather than charging them a nickel. "It's a good incentive program," he said. "We believe it will motivate seniors, especially, and people in our community who can't afford (the fee). It's much like the redeeming of cans and bottles." This plan would also call for a sales tax cut, in order to avoid affecting the bottom line of merchants.
Cuomo said he would appoint a task force to address the environmental impact of plastic bags, with suggested legislation being proposed by the end of the year.