Guerrila Artists: Snowden Was Not the Only Hero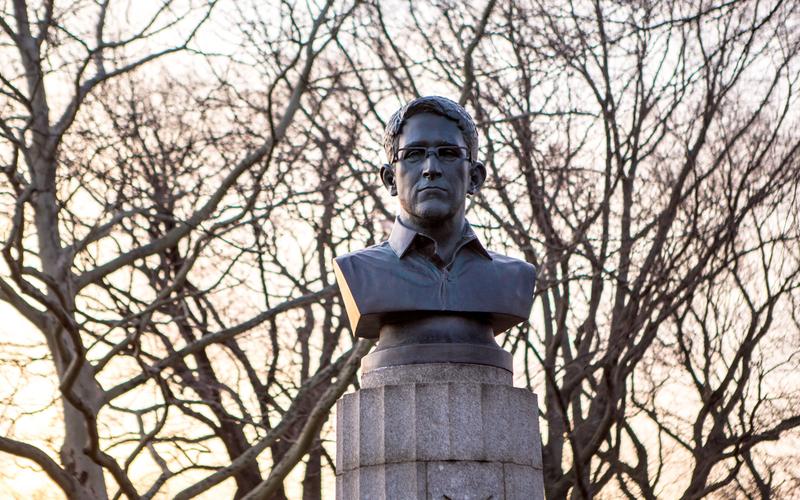 Several artists have taken responsibility for erecting a bust of Edward Snowden in Brooklyn's Fort Greene Park. The guerilla art has been taken down by the Parks Department and the NYPD is investigating.
The short-lived statue was placed on top of a pillar memorializing the Revolutionary War. One of the artists, who asked to remain anonymous so that he wouldn't be arrested, told WNYC it was worth the risk to pose questions about what it means to be a revolutionary:
"Who tells me who my heroes are? It's one thing to carry a musket or a gun or be behind the cannon to fight for American ideals, but sometimes ammunition is information."
Here's a Q & A with two of the men who say they came up with the idea to install a 100-pound, plaster likeness of Snowden—known for leaking National Security Agency documents that showed the agency was spying on Americans. It took them a year, start-to-finish—six months for the sculpting alone.
How did you get the idea to erect this bust?
Artist #1: "We both had the opinion—hey, here's a guy who's been getting short-shrift. We both read Glenn Greewald's book and both saw "Citizenfour" and felt like there's a story not getting out to the mass populace here. We would speak to friends and family members who didn't even know who Edward Snowden was—we thought that was disappointing.
"Once we found the site in Fort Greene Park–it really started to take steam and we felt like, OK, we have to do this. We felt like it added a much more important message…that we were connecting his actions to the actions of people who were fighting for these same, very American ideals for over 200 years."
Artist #2: "By no means did we think that Snowden was the only hero in this endeavor. There are others—some very well known, others not. Anyone who is trying to expose these truths we feel should be lauded as a hero and instead they've been painted as anti-heroes in the mass-media for the most part."
How much did it cost?
Artist #1: "It took several thousand on each of our parts; the artist also donated his time. He didn't really charge. We were mainly paying for materials and other essentials. At one time he had quoted that if we were paying for a commissioned piece like this it would have cost about $30,000."
How important was the guerrilla-art aspect?
Artist #2: "We were cognizant this would be a project that would last much longer on the internet than the statue would and clearly that has come to pass."
Do you think Snowden would be amused?
Artist #2: "This isn't just really just about Snowden—that's why the placement is so important. It's about the tradition of fighting for a certain set of ideals and Snowden is one of the most visible ones. But we hope he would understand that it isn't lost on us that hero worship is not the goal here…it's about what he has uncovered."
What did you want people to come away with when they saw the statue?
Artist #2:"It's so larger-than-life; it makes you kind of smile…some people. We certainly think that lowers people's defenses so that they can process a point of view they may not be willing to otherwise.
"Through unexpected actions and theatrics you can get people to be open to a message, discussion, or a different way of thinking—other than just giving them a straight news story. We certainly didn't work with the sculptor to cast a comical image… we also wanted to raise questions we just don't think are being asked…like who are my heroes?"
Are you worried about getting caught?
Artist #1:"We'd like not to be in trouble…we really saw this from the get-go as a gift to the city and worked very hard and had a lot of discussions so it would be stable and wouldn't potentially hurt somebody, but also not be so impossible to remove and not do any damage to the current monument. So we went to great lengths to make sure that that was the case. We used a water-soluble adhesive."
 What's next, should we expect to see other Snowdens around the city?
Artist #1: "It's been made pretty clear that the authorities are not thrilled. Our goal is not to upset people; we will not be doing that again—but a mold has been made…and a 3D rendering…maybe there would be a situation where everyone could have a small mold on their desk to remind them about these things and sacrifices people have made for this country."
This interview has been edited and condensed.