Childrens' Book Heroine Madeline Turns 75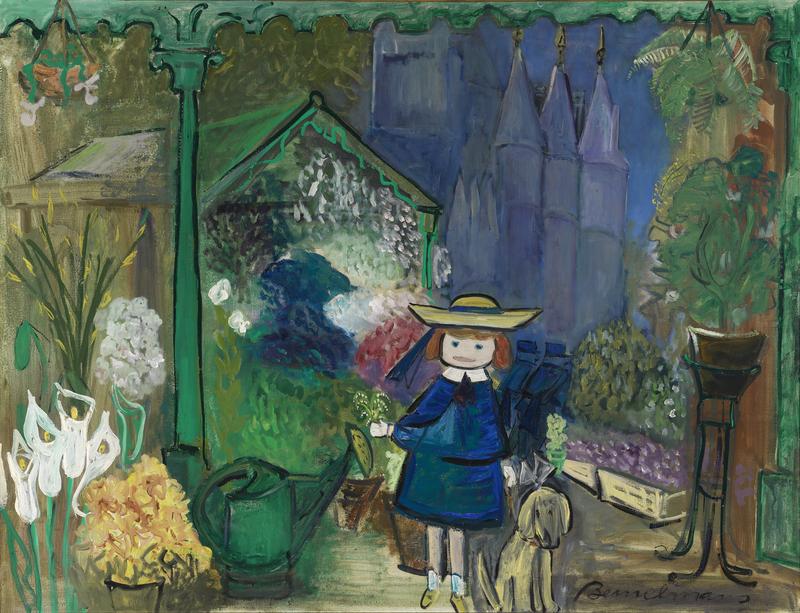 "In an old house in Paris that was covered with vines
Lived twelve little girls in two straight lines
In two straight lines they broke their bread
And brushed their teeth and went to bed.
They left the house at half past nine
In two straight lines in rain or shine—
The smallest one was Madeline."
Generations of girls have learned by heart the opening lines of Ludwig Bemelmans' Madeline. The book was first published in 1939 and a new exhibition at the New-York Historical Society celebrates the 75th anniversary of this classic.
However, "Madeline in New York: The Art of Ludwig Bemelmans," is also a celebration of the life and work of Madeline's ebullient creator, which went far beyond the series (Bemelmans wrote five additional Madeline stories) for which he is best remembered.
Bemelmans was born in what was then Austria-Hungary in 1898, and according to the exhibit's curator Jane Curley, he was a bad boy who made good. He had flunked out of school, and then out of a hotel apprenticeship (the family business); the final straw came when he got into a fight with a waiter at a hotel where he was working, and shot him (not fatally). The authorities gave him two options: reform school or exile to America. So in 1914 he arrived in New York alone and, like many an émigré before him, reinvented himself.
He worked at the Ritz Hotel for 20 years, but managed at the same time to pursue the career in art that he'd always wanted, first as an illustrator, graphic designer and cartoonist. He embarked on Madeline at the encouragement of an editor at Viking (she later rejected the manuscript as "too sophisticated" and it was published by Simon & Schuster.)
So ironically, the quintessential Parisian schoolgirl was born in New York City, and came to life at the many locations where Bemelmans, who was too restless to work in a studio, could draw—behind potted palms at The Ritz, in restaurants, on the walls of the hotel kitchen and from the back of his car. He was completely self-taught, says Curley, and once said of his drawing style "that it had to be quick and fast like smacking a spoonful of whipped cream onto a plate."
The exhibition's three rooms are a tribute to this exuberant technique, and feature over 100 items relating both to the series and to the prolific Bemelmans' many other projects, which included covers for The New Yorker, fabric designs, menus and matchbooks, and two of 15 panels in oil based on the Madeline illustrations that were commissioned by Greek billionaire Aristotle Onassis for the nursery on his yacht Christina.
These many opportunities were the result of the transformation that took place after the first book was published. It became an instant hit, transforming Bemelmans' life from that of a nomadic artist into one where he became a sought-after New York bon vivant.
Curley thinks one reason for the book's contemporary success is that Bemelmans depicted the Paris of every American's dreams, the Paris that it was worth fighting for as World War II loomed.
And what keeps the work alive today? "A boarding school in France: who knows about this any more? It lives because the character of Madeline speaks to any little girl. She's such a role model. She understands bravery, she understands friendship, she understands the excitement that life and new landscapes bring," Curley said.
Illustrator Maira Kalman, who wrote the foreword to the exhibition catalogue, also contributed an illustrated letter to Bemelmans, whose life and work have inspired her. "There was a joie de vivre and a wonderful sense of life. He wrote for children, he wrote for adults—there were no barriers, just this great air of fresh loveliness and intelligence."
Listen to Kalman read from her letter here:
Bemelmans' world—12 little girls in two straight lines, their many friends, zany animals and a dreamlike Paris—can be viewed at the New-York Historical Society through Oct. 19. The show then takes up residence at the Eric Carle Museum of Picture Book Art in Massachusetts, which organized the exhibit. "And that's all there is—there isn't any more" as Miss Clavel (in imitation of actress Ethel Barrymore's signature curtain line) says at the end of Madeline.
But if you're still pining for Bemelmans, you can re-read the books, or spend the evening at Bemelmans' Bar in the Hotel Carlyle, where the artist's famous murals are still in place.