Sledding for Toddlers, Daredevils, and Sightseers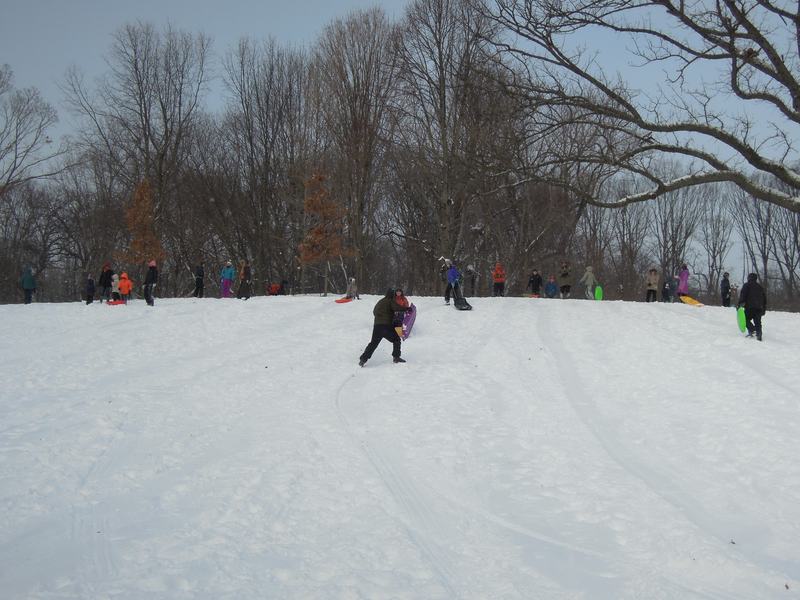 Based on the fantastic submissions we've received on our crowdsourced sledding map, here are a few places we've discovered. Let us know what we're missing in the comments.
Good For Your Toddler
Highland Park, Brooklyn: "Several sized slopes for all ages."
Kissena Park, Queens: "Many different lengths of hills."
Riverside Park, Manhattan: "Lots of smaller slopes."
Gracie Mansion Hill, Manhattan: "A snow day in the mayor's backyard."
Tourne Park, Morris County, NJ: "A nice, long hill without being too crazy. Great for smaller kids!"
Hackley School, Tarrytown, New York: "Easy access, great long hill for kids of all ages."
Martling Ave. Hill, Clove Lakes Park, Staten Island: "Wide and not too large. Perfect for young children and parents interested in a short climb back up."
These Might Kill You
Ridge Road: "Awesomely dangerous. Have to get in before the plows come through, watch out for parked cars." 
Brooklyn Bridge: "Trying to dodge tourists!"
Suicide Hill, Manhattan: "Steep and extremely fast with little to no runway; park benches and cars prevent spilling out into the street. Bailing out: mandatory." and "The steepest hill in NYC."
Soldiers & Sailors, Manhattan: "Prepare to crash and to be crashed into, and have fun! (NOT for small children.)"
Devils Hill, Morristown, NJ: "Watch out for partially buried rocks!"
Death Hill, West End Ave., Manhattan: "Heart-pounding incline!"
The Big Hill, Riverside Dr, Manhattan: "Got a fat lip 20 years ago after I crashed into the protective bail of hay and flew face-first into the chain-link fence."
BQE Exit 28B Off-Ramp, Brooklyn: "Be careful not to slide into traffic!"
Most Scenic
Roosevelt Island's Southtown Hill: "Just the right amount of steepness and a nice view of the Queensboro Bridge."
The Helix, Weehawken, NJ: "Nice spiral, great NYC views."
Davenport Park, New Rochelle: "Best sledding in New Rochelle: easy parking and a huge, wide slope and views of LI Sound."
Astoria Park, Queens: "Big hill, nice view of the bridge and Manhattan, too!"
Sunset Park, Brooklyn: "There's a steep hill with an amazing view of the city."
Little Bay Park, West End: "Lovely view of Long Island Sound as you sled down the long gentle slope!"
Inwood Hill Park, Manhattan: "Great views of the river and the bridge."
Hidden Gems
Maryland Monument, Prospect Park, Brooklyn: "Less crowded, but steeper than most hills in Prospect Park."
Fort Greene Park, Brooklyn: "Great hills but not the crowds you get at Prospect Park. A nice community feel."
Hillside Park, Brooklyn Heights: "This dog park becomes a sledding hill every snowfall."