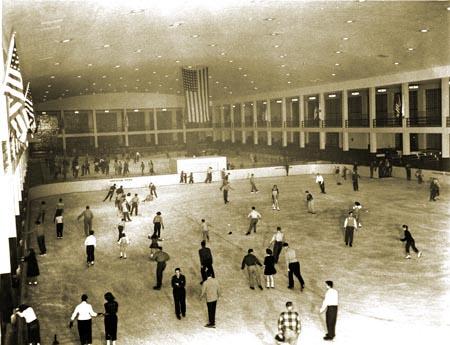 This episode is from the WNYC archives. It may contain language which is no longer politically or socially appropriate.
Skating rink dedication. The dedication of the NYC building at Flushing Meadow Park at the former exhibit hall for the 1939-1949 World's Fair. The building is being dedicated as a combination roller and ice skating rink. The opening ceremony begins with the national anthem. Present are Mayor LaGuardia; Newbold Morris, President of the City Council; Robert Moses, Commissioner of the Parks Department; George U. Harvey, the Borough President of Queens; and Joseph D. McGoldrick, Comptroller of the City of New York.

Robert Moses introduces Newbold Morris who is an avid ice skater. He tells an anecdote of of he chose ice skating instead of rollerskating because when he had tried to rollerskate on a rough wooden floor he had picked up splinters. Then he expresses his desire that all the City Council members take up ice skating because "[his] one ambition is to have the entire city administration on ice."

Next, Mayor La Guardia speaks. He explains that Moses presented the plan for the building to hold the exhibit during the World's Fair and that there is no more cost associated with converting it to a roller and ice skating rink than there would have been with constructing it and tearing it down. Thanks Moses on behalf of the mayor and the City of New York. Also says that there will eventually be a track as well as a basketball court plus convention hall facilities within the building. He dedicates the building to the youth of New York City.

Newbold Morris takes the microphone again and introduces a skater, Eddie Lamer, who has just won the Eastern States skating championship. The skater skates around and the broadcast wraps up.

Audio courtesy of the NYC Municipal Archives WNYC Collection
WNYC archives id: 69197
Municipal archives id: LT395