The Takeaway
Six Years of High School? An Educational Experiment in Chicago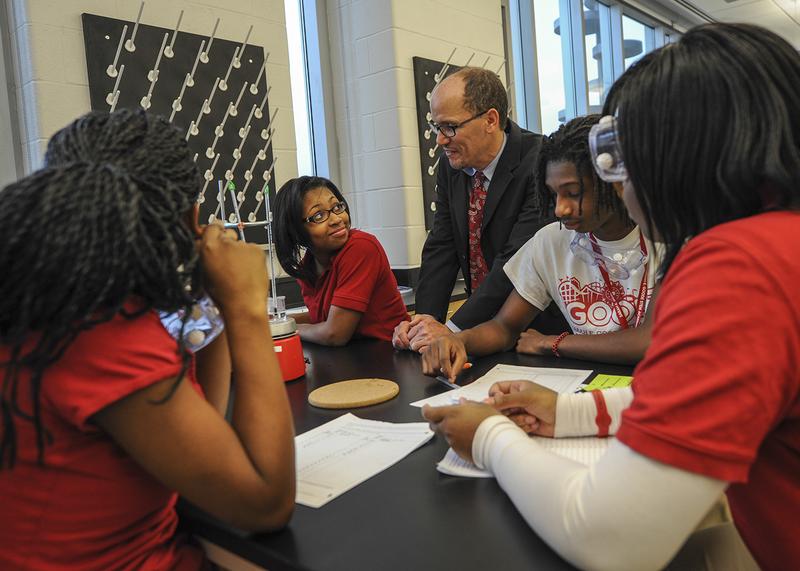 The traditional path to educational success in America usually goes something like this: Grade school, followed by middle school, then four years of high school with the goal for many to continue on to four more years of college.
But one school—Chicago's Sarah E. Goode STEM Academy—is working to prove that the old way maybe isn't always best.
At Sarah E. Goode, students attend high school for six years, graduating with a high school diploma and an associate's degree.
The school is funded and in partnership with IBM, which means students also get hands on technical and business training, and the chance to land a job at IBM upon graduation. Twenty-six more such schools will open in three states by this fall.
Is this the future of secondary education in America? Or simply a well-funded trial system?
Rana Foroohar, assistant managing editor at Time Magazine, reported on this story in a cover story for the latest edition of the magazine. Foroohar is also a regular contributor to WNYC's Money Talking along with Joe Nocera, an op-ed columnist for our partner The New York Times. 
Here Foroohar explains how the school works, and Stan Litow, IBM vice president of corporate citizenship and one of the innovators behind the Sarah E. Goode, explains what his dreams for this model look like. 
"I've been visiting these schools for over two years, both in New York and in Chicago—I think what [students] feel they're getting is an amazing education with an end game that gives them the opportunity of a job, but also the opportunity to go on to other kinds of work or a four year college," says Foroohar.
According to Foroohar, statistics show that kids that get two years of post-secondary education do better on all fronts. These individuals have better long-term earning prospects, they're more likely to move on and attain a four-year degree, and their performance in the workforce is better when compared to others who don't attain post-secondary education, she says. 
Litow says that while many of these students are low-income and may not be academically up to speed with others, there's no screening and the schools have an open-admissions policy. He adds that these schools, which receive no funding from IBM but only "expertise," have proven beneficial for students. 
"[After enrollment] their academic achievements are significantly high," says Litow. "What that says is, if your judgement about who would be successful in a career is based upon their race or their ethnicity or where they live or what their academic background had been, you're wrong. Given the right opportunity, any kid can be successful."
Litow says that though IBM would be happy to take these students on as employees upon successful completion of the program, that is not the main goal. He adds that the program is designed to give students options for success in the future wherever their career trajectory may lead them.
"Some students might want to be a doctor or a lawyer, or if they want to be an engineer we'd be happy to hire them," he says. "On the other hand, this gives every kid all opportunities. IBM is not only interested in getting the best skilled employees to work for us. We're interested in getting the best skilled employees to work for our clients, to work in government, to work in all of the areas that are going to make the U.S. competitive."
Additionally, Litow says that this experiment does not increase the financial burden for municipalities or state governments because the program redirects existing funding to support the cost of this model. He adds that the return on investment for students in this program is not only greater for the individual, but for governments as well because people with higher education tend to earn more, thus bolstering the tax base.
"We're not spending more per-pupil in this model than we would spend on any other school," he says. "The modest amount of re-direction of existing dollars—not more money—is going to produce significant economic return down the road. Right now, only about 25 percent of students that start at community colleges complete. If you can move that number up to 60 percent or 70 percent or larger, the economic gains are really, really substantial."
While this experiment works in places like Chicago and New York, can this model work outside of a large urban environment and translate to smaller communities? Listen to the full interview to find out.