The Takeaway
Sir Ian McKellen Discusses Life on Stage & Screen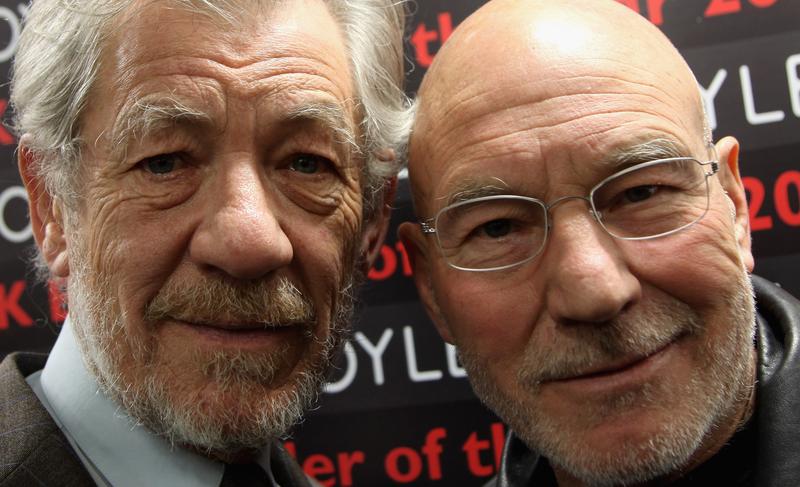 Sir Ian McKellen stopped by The Greene Space at WNYC yesterday for a live lunchtime chat with a studio audience and our host John Hockenberry.
He discussed his life and work in theater and on screen, from the Broadway stage play "Waiting for Godot," to "X-Men" and his friendship with Sir Patrick Stewart.
When it comes to X-Men, McKellen says that he wasn't familiar the classic comic series when director Bryan Singer asked him to get involved with the film.
"I was a little bit bewildered as to how I could fit in," McKellen says. "[Bryan] said to me that being a mutant, which is what all the X-Men are, and the difficulties that they face in a society that doesn't like them because they're different, is something than an openly gay person might want to be involved with."
McKellen says that Singer pointed out to him that X-Men is most popular amongst young blacks, young gays and young Jews—groups that have been taught by society that their differences are a times a disadvantage. He added that he saw the film as a way to show young people that, despite the differences they have, like the X-Men, they are still valued.
"I went into X-Men thinking it was a bit of a political statement rather than just a distraction from real life," McKellen says. "The whole thing has come to a wonderful thing [sic] this week when Ellen Page, who plays one of the mutants, has just come out herself, which is just wonderful. This is my moment to send her my congratulations because I don't have her email."
Actress Ellen Page publicly came out as gay Friday evening while giving a speech at Time to THRIVE, a conference for LGBT youth. She said that she was tired of hiding her sexuality and lying by omission, something McKellen says he can identify with.
"It's dreadful," he says. "The only advantage of being gay is that we've all been through something that straight people don't have to go through, and we are challenged in a way that others are not. Most people, quite rightly, fall in love and take for granted that other people will like the fact they're in love and want to support them in their love. If they choose to turn that love into a long term relationship and marriage, than society wants to boast about that and recognize it."
McKellen says that up until recently, society's embrace of gay love has not been an option for the LGBT community in many parts of the world—including the United States.
Watch the full interview below to hear McKellen's thoughts on everything from his friendship with Sir Patrick Stewart to the correct pronunciation of "Godot."