Sir Edmund Hillary Scales the Heights of Literary Society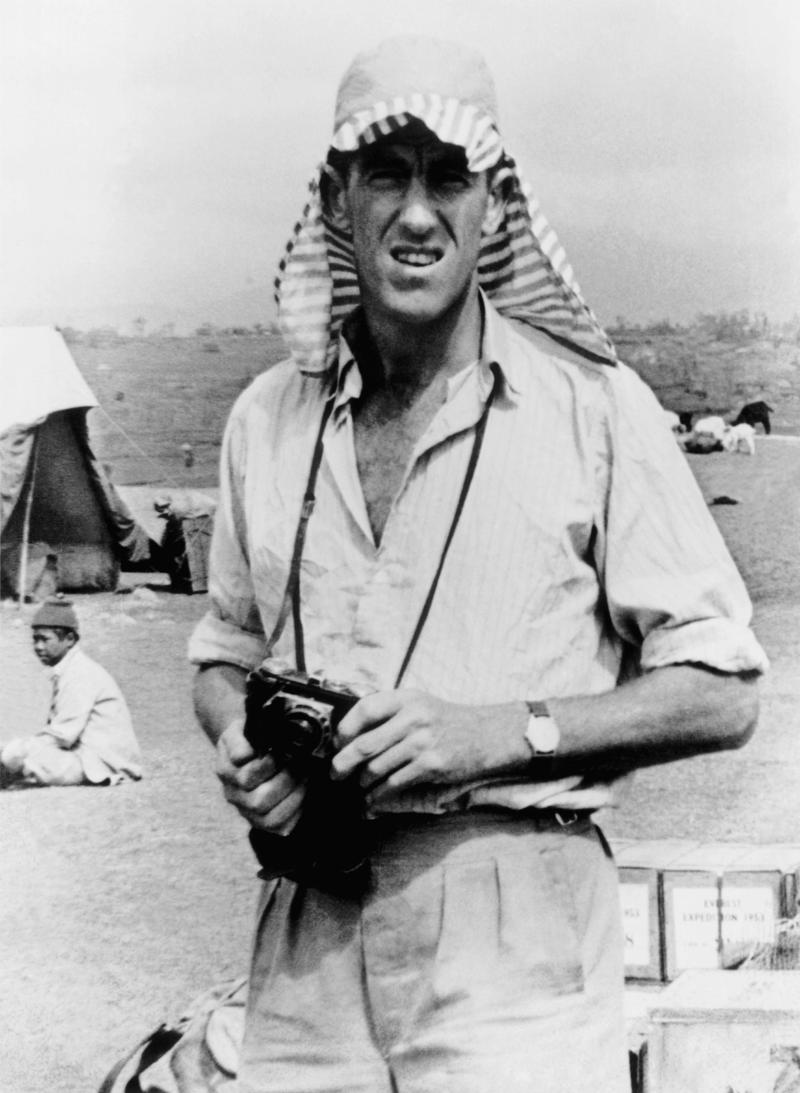 Sir Edmund Hillary scales the heights of literary society. In this 1954 meeting of the Books and Authors Luncheon, the recent conqueror of Everest is given a rapturous introduction by mistress of ceremonies Irita Van Doren. She is careful,  though, to emphasize the team effort required in climbing the world's tallest peak. Two other members of the party are also present. It's interesting to note how climbing at that time still retained its amateur status. Charles Evans is a brain surgeon, George Lowe a New Zealand schoolmaster. Sir Edmund himself is cast as a beekeeper and former gold prospector!
Here to promote the book The Conquest of Everest, written by the expedition's leader, John Hunt, Hillary is a model of modesty, assuring the audience that no one has "less pretensions to being an author than I." He goes on to praise Hunt's focus and sense of duty. Of the expedition itself, which had taken place less than a year before, Hillary is typically reticent. He prefers to dwell on the great reception they have been given proving "how the spirit of adventure does seem to live in the human breast." He encourages people to keep this spirit alive, suggesting future forays to the Arctic, the Antarctic, and "the depths of the sea." He expresses a particular interest in attempting to find The Abominable Snowman, and would indeed undertake a (fruitless) search for that creature in 1960. He then narrates a story about nearly drowning in a Nepali river after his homemade raft was sucked into a whirlpool. The experience, he concludes, was "quite good fun."
---
Throughout his life, Sir Edmund Hillary (1919-2008) portrayed himself as an ordinary man who had greatness thrust upon him. This is only partly true. His beginnings may have been undistinguished, but his sense of purpose was strong and unrelenting. As The Guardian reported:
…he attended Auckland grammar school, where he was younger and smaller than most of his class and not socially adept. Years later he was to say: "I was a shy boy with a deep sense of inferiority that I still have." His taste for mountaineering began when, at 16, he went on a school trip to Mt Ruapehu, where he first saw snow. By the second world war, Hillary had become seriously involved in climbing. He served in the New Zealand air force for two years as a navigator, but was discharged after being seriously burned in an accident. "Some day I'm going to climb Everest," he told a friend just before the war. After the war, he spent as much time preparing for Everest as he could, practising rock climbing and ice-pick work. In 1951, he made his first trip to the Himalayas.
Hillary's skill and physical conditioning made him a natural to be invited on Hunt's Everest expedition. But there was no guarantee he would be chosen to be on one of the teams assaulting the peak. After a previous team turned back, Hunt chose Hillary and the Sherpa guide Tenzing Norgay to make the next attempt. On May 29, 1953, the two became the first men to ever set foot on the world's tallest mountain. National Geographic Magazine describes what happened next: 
The men shook hands, as Hillary later wrote, "in good Anglo-Saxon fashion," but then Tenzing clasped his partner in his arms and pounded him on the back. The pair spent only 15 minutes on top.  "Inevitably my thoughts turned to Mallory and Irvine," Hillary wrote, referring to the two British climbers who had vanished high on Everest's Northeast Ridge in 1924. "With little hope I looked around for some sign that they had reached the summit, but could see nothing." As the two men made their way back down, the first climber they met was teammate George Lowe, also a New Zealander. Hillary's legendary greeting: "Well, George, we knocked the bastard off!"
The unexpected reception that greeted Hillary upon his return could easily have destroyed a lesser man but "Sir Edmund," as he quickly became, seems to have handled it well, not only refusing to be exploited by the enormous media interest but actually using his newfound fame for good. As The Encyclopedia Britannica concludes:
Hillary never anticipated the acclaim that would follow the historic ascent. He was knighted in 1953, shortly after the expedition returned to London. From 1985 to 1988 he served as New Zealand's high commissioner to India, Nepal, and Bangladesh. Over the years numerous other honours were bestowed on him, including the Order of the Garter in 1995. Throughout it, however, he maintained a high level of humility, and his main interest came to be the welfare of the Himalayan peoples of Nepal, especially the Sherpas. Through the Himalayan Trust, which he founded in 1960, he built schools, hospitals, and airfields for them. This dedication to the Sherpas lasted into his later years and was recognized in 2003, when, as part of the observance of the 50th anniversary of his and Tenzing's climb, he was made an honorary citizen of Nepal. 
Audio courtesy of the NYC Municipal Archives WNYC Collection.
WNYC archives id: 150181
Municipal archives id: LT2743