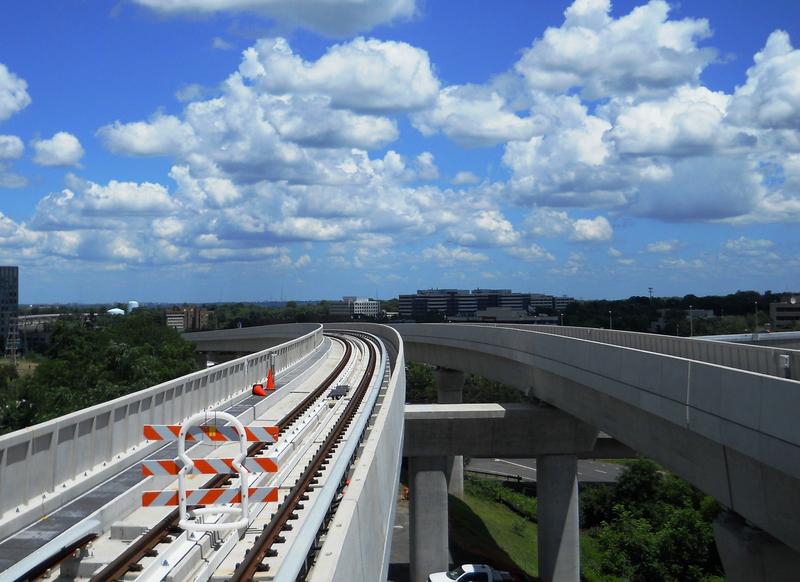 The agency building the Silver Line Metrorail extension through Virginia's Tysons Corner is raising hopes that the first phase of the $6 billion project could open to passenger service this spring.
After weeks of delays to fix software glitches involving the trains' automated safety system, the Metropolitan Washington Airports Authority says its contractor will perform a final test of 10 eight-car trains Jan. 25-26 between the East Falls Church station and the new Wiehle Avenue station in Virginia.
"That would be the last major test that needs to be done," said Pat Nowakowski, the project's executive director. "With the completion of that test, Dulles Transit Partners [the contractor] will be in a position to finalize all their documentation that they have successfully completed all the tests on the project."
Once the contractor group, led by Bechtel, submits its documentation, MWAA has 15 days to review and accept it. Only then may MWAA hand the Silver Line to Metro, which will have up to 90 days to complete its own testing before opening the rail extension to passenger service.
"To me, the milestone has always been to deliver the project to Metro, and we are not quite at that milestone yet," Nowakowski said.
If no further problems arise in a process that has been slowed by numerous minor delays, the Silver Line could carry its first passengers into Tysons Corner in April or May—but Metro officials cautioned against speculating about a start date.
"By agreement, WMATA has up to 90 days from the day [operational readiness] is achieved and the project is turned over from the Airports Authority to Metro. The opening date will be set by the WMATA board. I would caution that there are still more actions required to get to [operational readiness] and it is premature to speculate on when the line may open," said Metro spokesman Dan Stessel.
The Silver Line originally was planned to open in January. For each month of delays, Metro loses $2 to $3 million. The transit authority still incurs operating costs for the salaries of train operators and a new police force even though no fare revenues are produced.
Follow @MartinDiCaro on Twitter