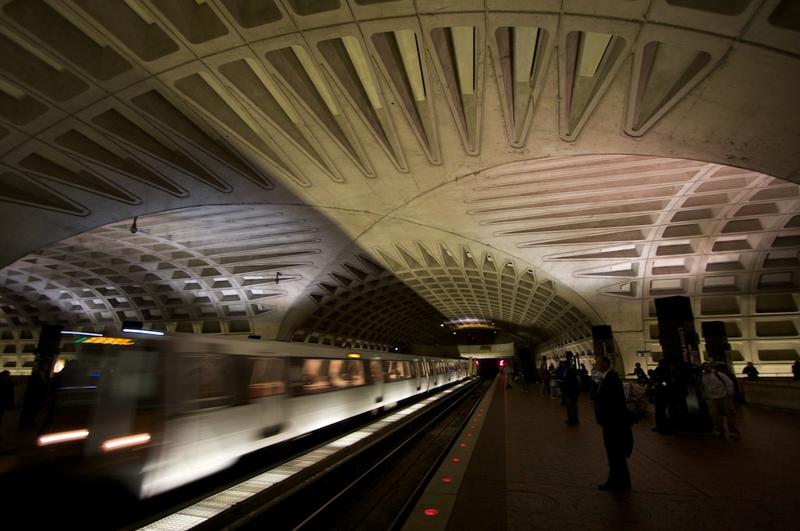 As project leaders work with their contractor under a new agreement to make the fixes and improvements necessary to open the Silver Line Metrorail through Tysons Corner to Reston, officials are assuring the public that ongoing problems with the Silver Line's control system will not jeopardize their safety on the tracks.
As any Metro train makes its way from station to station to pick up commuters and tourists, its speed and spacing are controlled by a computer. The system that prevents it from blowing through red signals, going too fast, or colliding with a train in front is known as Automatic Train Control, or ATC.
Silver not agreeing with Orange
The ATC system that will be used on the 11.5-mile Silver Line was built by the same firm whose name is all over Metro's existing automated signaling system: Alstom Signaling, one of only a handful of companies qualified to perform such work.
The problems Alstom is now tasked with fixing are mostly connected to the new Silver Line not syncing with the old Orange Line, causing breaks in the communications link and thus slowing down smooth rail operations. Alstom is a subcontractor of Bechtel, the construction and engineering giant hired by the state of Virginia last decade to build the rail line. The project has since been in the hands of the Metropolitan Washington Airports Authority (MWAA).
"Train control systems are designed to (be) fail safe," said Pat Nowakowski, the project's executive director at MWAA who will be leaving his post this week for a job with a yet-to-be announced public transit agency.
Unlike the 2009 Red Line crash, when the failure of Alstom's circuit signals caused a deadly collision, the breakdowns in the Silver Line ATC system are causing test trains to stop in their tracks when they should be moving. In technical terms, the track circuits are 'bobbing.'
"What actually happens is the signal system thinks the track is occupied by a train, when indeed that is not the case. It stops other trains from going past that point," Nowakowski said.
"Operationally, that is a problem when trains are stopping when they do not need to. The track is not occupied, but the signal system thinks it is so it stops the movement of trains."
This, in a nutshell, is what rail experts mean when they refer to reliability versus safety-critical.
"Nobody wants to open a brand-new line and then have it not operate optimally," he said. "We spent all this money and time building it, and then somebody would ride the train and sit there for five minutes before you advance past this bottleneck."
Fixes necessary before Silver Line opens
Under the new agreement with MWAA, Alstom is required to fix the bobbing track circuits and other hardware before Metro would agree the Silver Line is operationally ready.
"The two signal-related items stated in the agreement — bobbing track circuits and loss of speed readouts — are considered to be reliability issues, because they mean trains have to stop and get individual verbal permission to proceed. That slows down the operation and can mean delays for riders, which is exactly why we want the issues resolved before passenger service begins," said Metro spokesman Dan Stessel.
Other ATC issues will be worked out as Metro ramps up to passenger service and beyond. As WAMU 88.5 has detailed, wayside computers known as remote terminal units (RTUs) were failing too frequently under testing to be deemed reliable by project leaders. The RTUs serve as a communication link between moving trains and Metro's central control facility.
MWAA recently approved a new contract for Alstom to entirely replace the RTUs over the course of the next year. In the meantime, Metro has agreed to keep personnel in signaling houses along the tracks to coordinate train movements in the event the existing RTUs fail.
Silver Line's woes expected?
Rail safety experts say the Silver Line's problems, while frustrating for the public, are not unusual in the world of railroad engineering.
"It happens any time new technology is employed with old technology, and it requires the testing of the system on paper and in design," said Steve Sullivan, a managing director at R.L. Banks and Associates, a Virginia-based rail design and operations consulting firm, referring to the linking of the Silver to Orange Lines.
"It looks like it should work fine. In practicality, there are all kinds of things that come up. You deal with them one by one to fix them," he added.
The Silver Line's hardware issues do not appear to be insurmountable, Sullivan said. But he expects Metro will not agree to accept the project until those issues are ironed out. The last thing Metro wants is to frustrate passengers with chronic delays on a new line.
"The system will not open until all of these factors — the syncing of hardware, the reliability of hardware, the continuity between the systems — are tested and found to be working properly," Sullivan added.
MWAA officials say they are confident the ATC issues will not further hold up completion of a project already close to seven months late. Neither Bechtel nor Alstom officials were available to comment on this story.