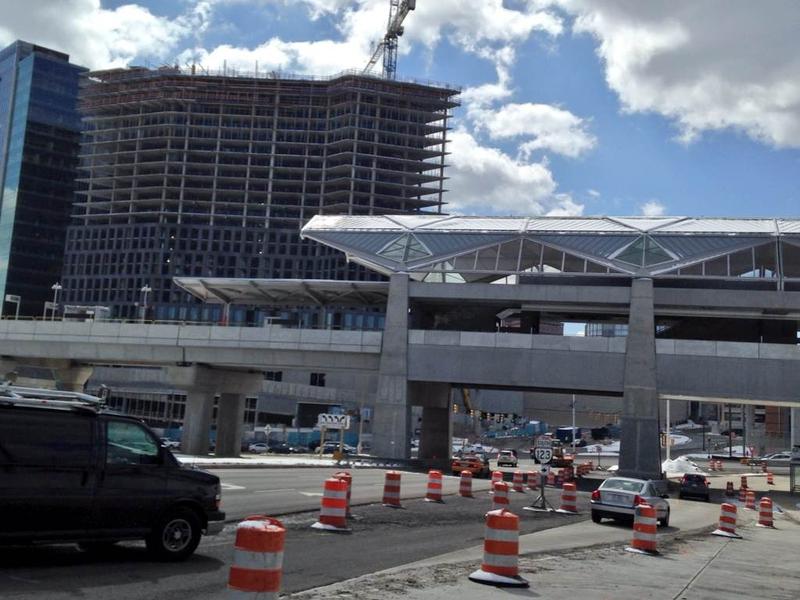 The expected transformation over the next three decades of Tysons Corner — "America's Next Great City" — is viewed as a potential model for turning suburbs into cities, for changing an area of large surface parking lots and wide roads into a city-grid street network of bike lanes, bus lanes, and pedestrian plazas surrounded by 20-story high rises and mixed-use development.
And it is all resting on the success of the Silver Line. But the transformation is on hold because the Silver Line has yet to arrive at Tysons, delayed by numerous mistakes in the final stages of construction.
There is no timetable for the Silver Line's completion by contractor Bechtel and the agency overseeing the project, the Metropolitan Washington Airports Authority. Meantime, the patience of the real estate developers who own the land around the four Metro stops in Tysons is wearing thin. They are waiting on the train.
A community on hold
The expected droves of new residents, office tenants, and shoppers and diners have yet to arrive. The estimated number of daily boardings at the four Silver Line stations in Tysons at the start of rail service is 16,300, with a total capacity exceeding 30,000, according to the final environmental impact statement.
"We originally had a welcome Metro party set for April 5th and about three months ago we pulled the plug on that," said Michael Caplin, the executive director of the Tysons Partnership, an association of land owners and developers. "Our May 31 festival is too big for us to undo now. We must proceed with it even though we thought that was a safe date for a welcome Metro party."
Barring a rapid resolution to the project delays, festival goers will have to drive to Tysons to "welcome the Silver Line" on May 31 – even though there will be no actual train to welcome. While that may be a minor embarrassment, the developers Caplin represents are more concerned with the lack of a timetable for the start of service. The long-term plans for Tysons to quintuple its population from 20,000 to 100,000 cannot get off the ground until the Silver Line starts moving.
"So everybody's marketing plans are on hold. There are a lot of us trying to coordinate our market. They have got information out there now but you can't unleash it until you have a date you can point to that says 'you may now jump on the Silver Line and come see our property,'" he added.
Caplin took this reporter to the Tysons Corner Station (estimated daily boardings: 5,200) to look at a 20-story office tower under construction that will stand next to a 16-story apartment building. The train station will leave passengers on a pedestrian plaza. Across the street stands a completed office building with new restaurants and a conference center that outside businesses can rent — all on the ground floor. But diners, conferees, and employees are waiting on rail.
"Being able to market that business relies on getting there by Metro. So it changes their ability to attract conference room renters. There is a new restaurant downstairs, Founding Farmers, and they would like to advertise. So everybody's ability to attract clients, customers, employees is compromised by the delay," he said.
The vacancy rate across Tysons Corner is 16 percent, Caplin said. Over the next three decades, Fairfax County plans to add 60 to 70 million square feet of development close to the four Metro stations, a pace of two to three million square feet per year that becomes more difficult to maintain with the Silver Line delayed six months and counting.
Short-term delays, long-term effects?
To long-time observers of Tysons' changing landscape, time is critical.
"The damage would occur if these early office and rental spaces don't get filled out at the right prices because of the delay, if the vacancy rates don't decrease quickly enough to show other developments it might be the right time to go in," said Navid Roshan-Afshar, the blogger at TheTysonsCorner.com.
Caplin confirmed that some developers along the Silver Line are waiting to see the "absorption rate" at the first completed high-rises before starting their own construction. Meantime, the summer tourist season is going down the tubes.
"The tourists who come to Washington who could have stayed here and caught a train into town, all the government conventions they could have gotten, the [developers] are going to get pounded on that. And if it [the Silver Line] gets pushed out further, it really impacts their whole business model," he said.
To Roshan-Afshar, who makes his living as a government construction contractor at overseas locations, delays on a project as large as the Silver Line are not unexpected — but are nonetheless costly.
"Anyone who has seen the Rosslyn-Ballston corridor development knows the Metro is absolutely the reason why development has grown so quickly in that corridor and why apartments are so valuable in that area," he said.