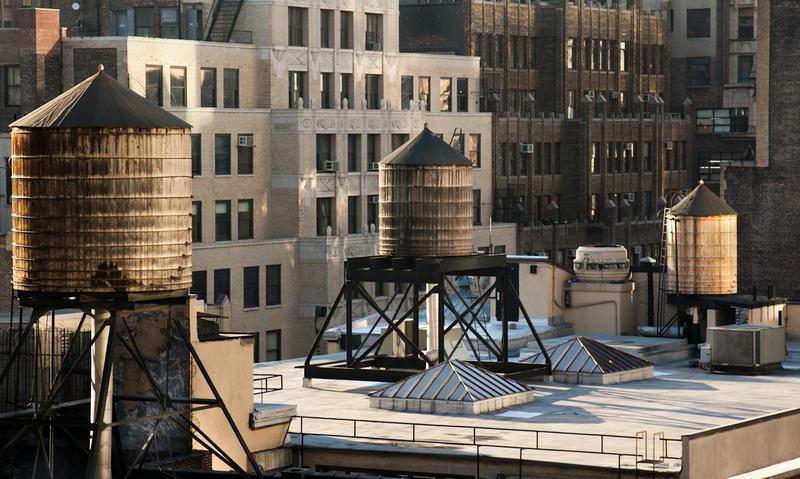 When photographer Ronnie Farley moved to Manhattan in 1982, she kept noticing these structures on the roofs, like beer steins hoisted by scaffolding. She couldn't figure out what they were, but she was transfixed. "They're the only natural looking thing in the skyline," she says. "I think that's what caught my eye was that amid all this brick and mortar and steel and glass is this beautiful wood. There's something very comforting and there's also something nostalgic for me. It just speaks of another era."
A seasoned New Yorker told her that the water tanks were – and still are – very much in use; there are more than 15,000 throughout New York's five boroughs. It's an old system, but a very "green" one. In modern buildings, energy is constantly being used to pump water up from the basement (or a mid-level tank in a skyscraper). By placing tanks on the roof, water flows downward only when a tap is opened. The two companies that build water towers, Isseks Brothers and Rosenwach Tank Company, have been in business for over a century. Isseks tanks are dark grey with an I on top, while Rosenwach has a birch cone capped by double Rs.   
As a photographer, Farley was fascinated that "each tank is designed and made for the building, each tank is different, each tank has a personality. The more I photograph them, the more their personalities comes out. Some have faces, some are clustered together like families, and they grow on you." A book of Farley's images, New York Water Towers, comes out next month.
When Farley put together on a show of the photos a few years ago, she decided to construct an empty water tank inside the gallery. When people stepped into the curved cedar half-tank, they heard wind and traffic – which she recorded on a rooftop. "What I wanted to do was get a sense of what the tank hears, to further personify the tank. I feel that these water towers are witnesses. They witness the human history. They watch us. They look after us."
That water tank is now sitting in her studio, wrapped around her bed. "When the temperature changes you can hear it – it will crack because it's either expanding or contracting," she notes. "Obviously, I'm obsessed."