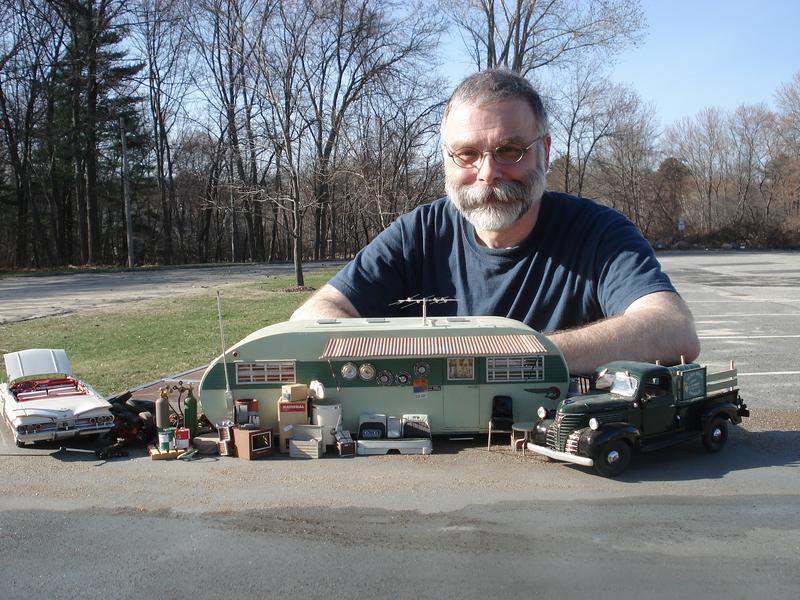 Model-maker Michael Paul Smith grew up in Pennsylvania and Massachusetts in the 1960's, but his hometown of Elgin Park doesn't belong to any state. It's a state of memory. Smith painstakingly recreates the landscapes of his childhood in mini scale models of a fictional town.
In the documentary short "Elgin Park," Smith says he was bullied as a kid for being gay. The sleek optimistic industrial design of mid-century America filled him with wonder in those dark days, and they're still a source of comfort for him.
Smith photographs his models with a perspective that makes them look lifelike. His Flickr account has about 78 million views — so clearly Elgin Park is a place people want to visit.
His photographic techniques are impressive too. He doesn't use Photoshop. He films his miniatures in front of vintage buildings and natural landscapes in the real world. 
And here's the final shot.
Alan Wolfson evokes another type of nostalgia with his "Miniature Urban Sculptures" of New York City in the 1980s. As the city became more gentrified, Wolfson continued building gritty New York blocks that look dangerous — even at small scale.  
"Follies Burkesk" combines a real peep show, which used to be 46th St and Broadway, with a made-up movie theater.
This homage to Katz's Deli on the Lower East Side was a commission from someone who no longer lives in New York.
Check out the details on the inside.
It's only a matter of time before the next generation of miniature sculptors recreates worlds we didn't know we'd miss -- like a Borders bookstore or a JC Penny.