Studio 360
Sideshow Podcast: Word Up: Why the Internet Loves Lyrics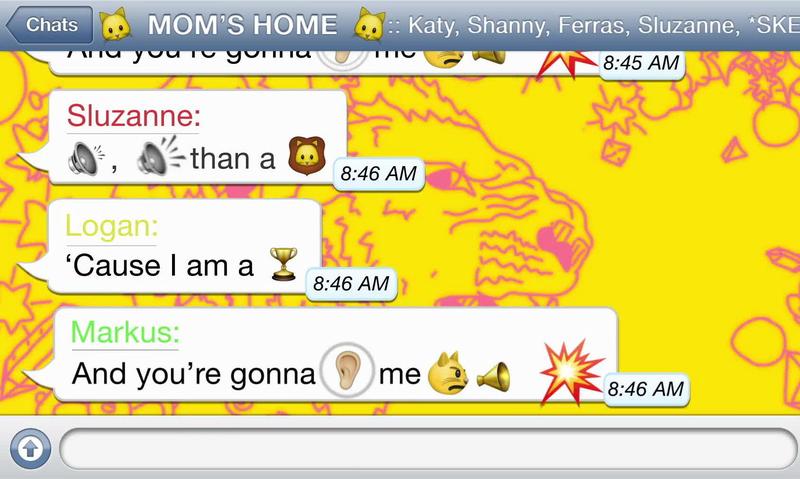 Summary
According to a recent New York Magazine article, two percent of all web searches are for lyrics, hence all the terrible websites dedicated to cross-selling you music you don't want and ringtones you shouldn't buy. As soon as we could connect to the internet, we used it to connect with our favorite music—and we keep finding new ways to do that online.

 

The lyric video technically traces back to Dylan's "Subterranean Homesick Blues," but the modern iteration begins with Cee-Lo's "Fuck You." Before Cee-Lo, most lyric videos were fan-made and low quality. "[Cee-Lo] released this video that's pure typography," says Kevin O'Keeffe, a pop culture writer for The Atlantic. "It's one blue screen and words appearing on top of each other and sliding in and out. It's the form we know now as the lyric video."

Cee-Lo's profane break-up song was a perfect fit for the lyric video, which is why it launched a trend in 2010. Since then, lyric videos have racked up hundreds of millions of views for everyone from Romeo Santos to Vampire Weekend to Katy Perry.





Lyric videos can be a great introduction to a song's meaning, but if you want to go deeper, there's Genius. Up until recently, the site was best known for annotating rap lyrics and its reputation as a frat-party themed start-up. But recently, the site began to seriously consider music of any genre (plus historical documents, Shakespeare, prescription drug bottles, and more). Genius's most infamous founder resigned and last month they hired the New Yorker's longtime pop critic, Sasha Frere-Jones, as an executive editor.

"One of the functions of this site is simply trying to get the lyrics right," Frere-Jones says of Genius, but he's also in it to create a historical record. That's what drew him to Genius—to celebrate music on a scale that's never existed before. "For anyone who loves these facts and words, it feels very helpful," he says. "We're dealing with production, culture, transmission of symbols." Frere-Jones and his fellow editors are there to guide the community towards meaningful annotations and away from the observations you would find in YouTube comments. "We don't want stuff like 'J. Cole kills it on this one!' That's not an annotation, that's just what you think."  
Transcript
Sean: Hey guys, this sideshow has a bunch of F-bombs in it, but it's Cee-Lo's fault.

*sideshow theme music*

Sean: This is sideshow, a podcast from Studio 360. I'm Sean Rameswaram.
VOICE FROM ABOVE: What you are about to hear is a dramatic re-enactment of something that happens in the digital world every day:
Andy: You know what song I love right now?

Matt: Top 40 stuff?

Andy: Oh, yeah. But I think maybe my number one top jam -

Matt: Lay it on me.

Andy: That new Kanye song. Do you know how it goes?

Matt: Only one?

Andy: Yeah. "Hello, Marvin!"

Matt: It's not Marvin.

Andy: Are you kidding me?

Matt: I am being dead serious, it is not "Marvin." I know from Genius.

Sean: I think it's a Marvin Gaye reference.

Matt: I know from Genius.

Andy: I don't understand the words you're saying right now. You know that you are a genius?

Matt: It is a website: kind of like Lyrics.com, except what they do is annotate all the lyrics in a song, so you can find out exactly what is being said and why it was being said. Are you ready? Do you want me to show you?

*typing*

*Kanye West's "Only One" plays*

As I lay me down to sleep, I hear her speak to me. Hello Mari.

Here's what we've got: "As I lay me down to sleep, I hear her speak to me. Hello Mari."

I am going to click it – here we go.

Genius annotations with six different contributors:

"Everyone doubts themselves from time to time, even Kanye. Controversy has followed 'Ye' since his mom's passing, from the Taylor Swift incident to run-ins with the paparazzi, Kanye couldn't catch a break. Donda tells him to believe in something, something she has told him his whole life. She refers to him as 'Mari,' a shortening of his middle name, Omari. In Swahili, Omari means 'god the highest.'"

Andy: Are you kidding me?

Matt: Boom.

Andy: *gasps* There is even a picture of him and two very beautiful people.

Matt: Daughter, North West.

Andy: That is his kid?

Sean: It would be kind of dumb to say that people care about lyrics more now than they used to, but thanks to the internet we can now sort of measure how much people care and they really, really care. And they care in a bunch of different, remarkable ways. There was this article about the annotated lyrics site, Genius, in New York Magazine a few weeks ago and it said that 2% of all searches online are for lyrics – 2% of all searches!

2% of all web searches explains why there are so many awful sites dedicated to lyrics. Direct lyrics, AZ Lyrics, Metro Lyrics, Lyrics Freak. The second we could connect to the internet we wanted to use it to connect to our favorite music. And these sites are here to make money off that connection by selling us music and ads and ringtones.

But in the past few years that connection we made with music online has actually inspired musicians and artists and fans to get way more creative and even profound about lyrics.

*Cee-Lo's "Fuck You" plays*

I see you driving around town with the girl I love, and I'm like, "Fuck you!" I guess the change in my pocket wasn't enough, I'm like, "Fuck you and fuck her, too!"

Sean: In 2010, Cee-Lo's "Fuck You" was kind of a game changer, not just on account of its funny, profane lyrics, but because of how they were presented. Before he released a traditional music video, Cee-Lo released a lyric video.
*Cee-Lo's "Fuck You" plays*

I'm sorry I can't afford a Ferrari, but that doesn't mean I can't get you there...
Kevin O'Keefe: This was before songs were regularly available on streaming services right away.

Sean: And this is Kevin O'Keefe – he writes about entertainment and pop culture for The Atlantic.

Kevin: So the only way it was getting passed around on streaming were people uploading their own lyric videos, basically. They were just ripping the song from iTunes and putting it up.

Sean: You have seen these fan-made videos they are all over YouTube. Picture the lyrics to a song you really like fading in and out slowly over a photo of some stranger's cats. Cee-Lo and his label wanted to find a way to drive people away from those cats and to drive them to something they could own.

Kevin: They released this video that is pure typography. It is one blue screen and it is words that appear basically on top of each other and sliding in and out and everything. It is sort of the form that we know now as the lyric video.
*Cee-Lo's "Fuck You" plays*
I still wish you the best with a, "Fuck You!"

Sean: Cee-Lo wasn't the first person to do this. George Michael and Prince both toyed with the concept in the 80s and early 90s when they just didn't feel like making music videos for their singles. Instead we got static text and boring backgrounds. And if you want to go way back there is Bob Dylan's iconic homemade cue card video for Subterranean Homesick Blues. But Cee-Lo's lyric video for Fuck You was a game changer in 2010 and part of that had to do with its title.

Kevin: It's exuberant about it as it happens. The words 'fuck you' literally just jump onto the screen harder than anything else. It is really funny that it started with a song that was so perfect for it in a way. I think without the lyric video the numbers for the actual video are worse later on. I think the song does not become the massive phenomenon it does where he is singing it with Gwyneth Paltrow at the Grammy's in muppet costumes.

Sean: And even bigger than the Muppets is the tidal wave of lyric videos that followed. Next to everyone makes them now from Timberlake to Neko Case, to you buddy's bluegrass band. And they keep getting better, too. Ariana Grande is actually in a few of her lyrics videos and Katy Perry's lyric video for "Roar" is this fun, animated text conversation with emojis. Lyric videos are racking up tens and sometimes hundreds of millions of views. For now the lyric video is just a useful substitute when a band doesn't want to make a real one.

That being said, the lyric video is going to have an influence on music videos. That is already happening. Last week Run the Jewels released its music video for "Lie, Cheat, Steal" and during the hook you see the lyrics animated all over El-P and Killer Mike.
*Run The Jewels' "Lie, Cheat, Steal" plays*
Lie, cheat, steal, kill, win, win. Everybody's doing it. Lie, cheat, steal, kill, win...
Lyric videos are the best when they are your introduction to a song. You get to understand its deep truths that much faster. And if you want to go even deeper, there is Genius.
Sasha Frere-Jones: One of the functions of the site is incredibly simple and useful, which is simply trying to get the lyrics right.
Sean: Until recently Genius was "RapGenius," a site where you could find crowd-sourced annotated lyrics to your favorite rap songs. It was super popular in hip hop but also had a reputation for being a giant frat party of a startup based in a few neighboring luxury condos in Brooklyn. But recently RapGenius changed its name to Genius. One of the site's infamous founders walked away from the company and then they went and hired a bonafide Genius to help annotate songs.
Sasha: My name is Sasha Frere-Jones, one of the executive editors here at Genius.
Sean: You might remember Sasha Frere-Jones from the New Yorker, where he wrote about pop music for a decade. He claims to know little-to-nothing of Genius' past reputation.
Sasha: There are blueberries in the fridge, somebody get me a seltzer. I am a cheap date. You give me seltzer and I am good.
Sean: Part of Genius 2.0 is blueberries, apparently, and another part is branching out and annotating whatever – State of the Unions, Shakespeare, prescription drug bottles – but for now the site's bread and butter remains song lyrics from pop to country to rap. And Sasha would argue that this particular part of the site is needed now more than ever.
Sasha: Now people are being given less and less time to write about stuff. Albums are now dropping out of nowhere and this is the new fancy car. The way that you show you are an alpha pop performer is where you go, 'I am going to put out my album when nobody is expecting it,' you know? Like it's the new bling.
Sean: If there is less time being devoted to real music criticism it sort of makes sense that a revered pop critic would end up at Genius, a place where you can dedicate all the time in the world to figuring out the meaning of some inconsequential couplet. What's funny is that the answer to your burning lyric question might come from a 12-year-old. Take the first line of "Blank Space."
*Taylor Swift's "Blank Space" plays*
Nice to meet you, where you been? I can show you incredible things.
Sasha: "Incredible Things" is the name of her perfume and every single person I showed it to, and they are definitely people who like know Taylor, were like, 'What, I didn't know that?' Yup, it's product placement. Literally nobody knew that, first of all including me.
Sean: It doesn't all end up being revelatory. A lot of the site's annotations are just kind of ridiculous because a lot of lyrics don't really need annotation. Like this line from Drake's "Worst Behavior."
*Drake's "Worst Behavior" plays*
Aww, I'm glad that they chose us, 'cause man it's a mission tryin'a fight ot the finish just to see if I'm finished...
Sasha: This is what I would call a denotative line. It makes sense. It has not got any word play or double entendres, he is just saying what he is saying.
Sean: Of course, if you click on the annotation we have like a three-paragraph essay on what it is like to go on a mission in the military with this photo.
Sasha: And a jpeg of two guys in camouflage in the forest. We don't want lots of stuff like, "J. Cole kills it on this one!" That is not an annotation; that is what you think.
Sean: Sasha's job is to make sure the site offers less of the stuff you would find in YouTube comments and more hidden meaning. That is what really drew him to Genius, the chance to celebrate music and lyrics on a scale that has never really existed before.
Sasha: For anyone who loves these facts and loves these words, we are dealing with production, we are dealing with culture, we are dealing with transmission of symbols, and it feels very... helpful. I know that is a watery, not very strong word – but here it is. And now people can run with that.
Sean: And it is not just fans running with Genius, it is the artists themselves. Sasha recently interviewed Rick Rubin for a bunch of Beastie Boys and Johnny Cash annotations. Nas has done some stuff via video. And other artists have signed into Genius to annotate songs themselves. Sia is one of them.
*Sia's "Chandelier" plays*
Sasha: "I am going to swing from the chandelier"
"I have never actually done that," she says, "but it sounds fucking fun." That's it. Next line.
*Sia's "Chandelier" plays*
"I am going to live like tomorrow doesn't exist."
"I have written this lyric or something like it into at least 40 songs in the last year." A couple more:

*Sia's "Chandelier" plays*

"But I am holding on for dear life, won't look down, won't open my eyes."
She says: "Sad, so sad." Next couplet:

*Sia's "Chandelier" plays*

"Keep my glass full until morning light, 'cause I'm just holding on for tonight."
"Still sad," she says. Third of four:

*Sia's "Chandelier" plays*

"Help me, I'm holding on for dear life. Won't look down, won't open my eyes."
She says, "Very sad." And then the last:

*Sia's "Chandelier" plays*

"Keep my glass full until morning light because I'm just holding on for tonight, on for tonight."

And she says, "Pure sadness. Yes, very sad."

*sideshow theme music*
Sean: Thanks for listening to sickshow – I mean, sideshow, but sorry for my cold. Thanks to Leital Molad at Studio 360 and Kathy Meritt at PRI, and Andy Mills and Matt Kielty at Radiolab, and Kala Hoke, the first sideshow intern. I am going to host a great radio show in Canada called Q for a week from February 9th to February 13th. If you're hearing this before then, listen! Thanks.
Female announcer: Sideshow is supported in part by PRI's New Voices Fund, bringing new perspectives and personalities to public media. Donors to the fund include Maureen and Michael Ruettgers and the Sara and Evan Williams Foundation.
Sasha: Sia's "Chandelier" [mispronounced] – I got so worried about saying 'Sia' properly that I mispronounced "chandelier." The song by this lady. Okay, here we go.
[End of Audio 00:12:54]