Studio 360
How to Throw a Perfect Game of Thrones Brunch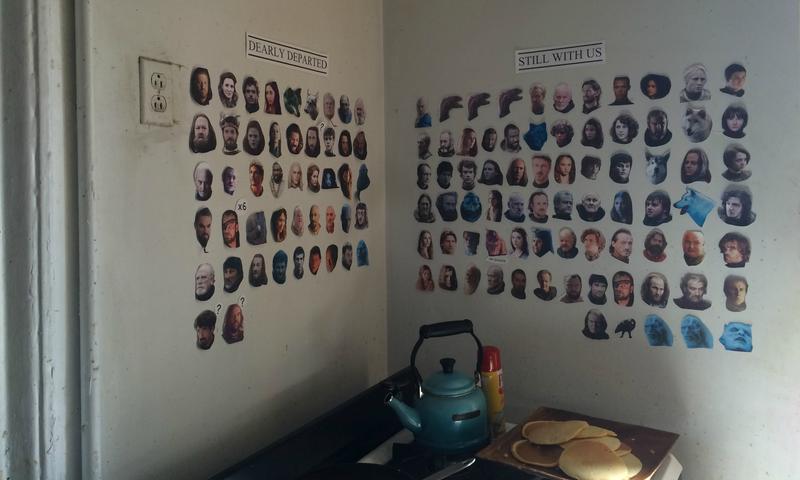 This past weekend, I had the good fortune to attend a friend's annual Game of Thrones brunch in Williamsburg, a.k.a. "The Eighth Kingdom." I typically avoid brunch as a rule, but the gods themselves would praise this event.


Zach Poole welcomes guests with a customized "Hodoor," keeps milk of the poppy on hand, and has the best system imaginable for distinguishing cups. He once tried to hold his yearly celebration of his favorite television show in Staten Island, but was promptly sent back to Brooklyn where these types of things ruffle fewer feathers.
HBO famously frowns on public viewings of its shows, but I'm almost positive they would approve of this Game of Thrones bunch. For starters, Zach sets such a great table that you don't even feel like screening episodes. But you could if you felt the need — just watch out for a cease and desist. Here's a quick how-to:
Step 1: Enter the "Ho-Door"
Step 2: Distinguish Your Drink
Step 3: Acknowledge Ad Campaign
Step 4: Check Your Artillery 

Step 5: Extract Milk of Poppy (in case of Emergency)
Step 6: Answer Nature's Call

Step 7: Secure the Kingdoms

Step 8: Display Your Fan Art

Step 9: Display Other People's Fan Art

Step 10: Release The Hound's Helmet

Step 11: Commemorate The Dearly Departed    

Step 12: Pancakes