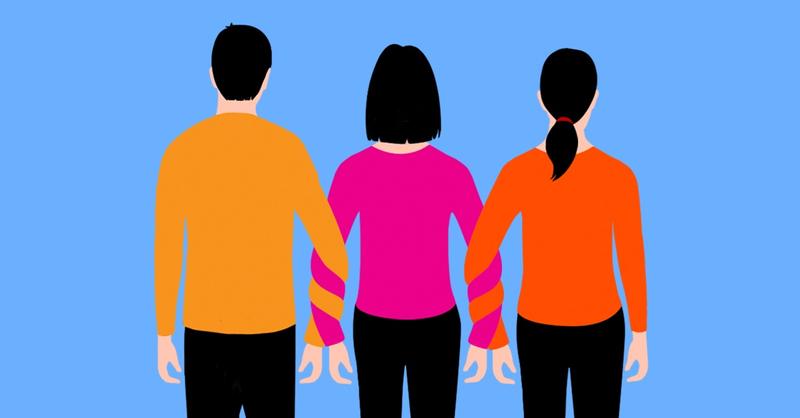 Last year, we asked you to tell us about your sibling relationships, and how they've evolved as you and your brothers and sisters have grown up. What we heard was that these relationships can be some of the most frustrating—and the most rewarding—ones in your lives. (Often at the same time.)
In our episode featuring your stories, people across the country gave us a glimpse into their complicated sibling relationships, which are still very much evolving to this day. We recently reached out to some of the people we featured in that episode—read on to find out what's happened in their lives and in their sibling relationships in the past year.
---
Last year, Alix Sugarman told us about her twin sister, Katie. Growing up, their lives looked very different. Katie had cerebral palsy; Alix did not. Alix said that their relationship had gotten increasingly tense as they got older. "Every time I reach another milestone in my adult life it feels like something that she can't ever get to," she told us. We also spoke with Katie via Skype, who said, "It's still hard to look at what my life could have been like if I could walk."
A few weeks after our episode came out, Katie died unexpectedly. In the months since her death, Alix and her family have grieved—and have also had reasons to come together and celebrate. Alix got engaged in November, and got married last month. "If you want to know what it's like to have the worst day of your life and the best day of your like separated by about 11 months, that's pretty much what this year has been like for me," she told us in this recorded update. 
---
Like Alix, Hannah also got married since our episode came out. Her younger brother, Jake, was being treated for Stage 4 melanoma when we last talked—he was able to be at her wedding in October. This winter, Hannah told us that Jake had surgery to remove a large tumor in his intestines, and that he was about to start a new treatment at the University of Arizona's medical center. "We are back in treatment/prognosis limbo," she said. But this spring, we heard from Hannah that her brother had passed away. "Even at the very end, when it was certain that he could not pull through, he wanted to know the odds that he would survive," Hannah told us. "Through and through, Jake truly believed he was going to beat his illness." 
---
Paul* told us about his older sister, who he was close with as a kid but whose mental illness had driven them apart as adults. Last summer, Paul's sister had been out of touch with his family for more than a year. They believed that she was homeless in Los Angeles, but didn't know for sure that she was alive. "Shortly after Christmas she e-mailed my parents saying she wanted to visit for a week," Paul wrote to us recently. His sister, who confirmed that she is homeless in LA, came home for a visit and stayed for more than a week. "It's tough to reconnect with someone you haven't seen in over two years—especially when your lives are so incredibly different," Paul told us. "I will say the most positive thing that has come from my sister's visit is the conversations that I am now having with my parents. With my parents both retired, it has sparked conversation and action regarding end-of-life plans—which look COMPLETELY different when mental illness is involved. Surprisingly, it has been very positive and reassuring for us to have these conversations."
---
Jessica and Betsy Herczeg-Konecny, two sisters in their 30s who live across the country from each other, told us about getting closer in adulthood and about their dreams of living together in their old age. "On the Golden Girls-Grey Gardens spectrum," Jessica said, "We're hoping for Dorothy and Rose, of course." They let us listen in on one of their recent daily phone calls, the day after Jessica moved into her new house. 
---
After we first talked with Mike last year, he and his estranged older brother reconnected over the phone and had one of their "best [conversations] in years." The two were close as kids and were drinking buddies well into adulthood. But when Mike decided to get sober at 50, their relationship fell apart. When we recently reached out to Mike, he told us that after that initial conversation last summer, he and his brother hadn't talked much. And then, three weeks ago, his brother had a heart attack and died. "I feel a lot of remorse that we didn't get to talk and discuss [our relationship]," Mike wrote to us. "I don't feel sadness so much as numb. Unable to process even though I'm doing all that I can to do just that. I know mourning will rear its head when I least expect it. Or will it? Am I 'supposed' to miss him because he was my brother and we used to be friends? Am I a cold sonavabitch because I haven't really cried over him?"
---
Consuello told us last year that she was deciding whether to let her younger brother, Maurice, move in with her. After being in jail, he was homeless and looking for a place to stay. Consuello sent us a voice memo about what's happened with Maurice since. "He doesn't have a job, and he still doesn't own a key to anything," she told us. "And I've just come to the decision that my brother has created a formula that works for him." 
---
We also checked in with Megan*, who told us about the childhood physical and sexual abuse she endured at the hands of her older brother. "I had a recurrence of major depression this winter and went back into therapy, which has been great," she told us in an email. "As a former therapist said to me, the incessant cruelty of my brother's speech was like an IV drip of poison to my psyche. This is true, but I now believe, actually I know, that people are able to transcend whatever crappy childhood cards they were dealt. And although I was damaged by my brother's cruelty, I see now that the greatest damage he has inflicted has been upon himself, and I wish that weren't so." 
*Names changed for privacy reasons