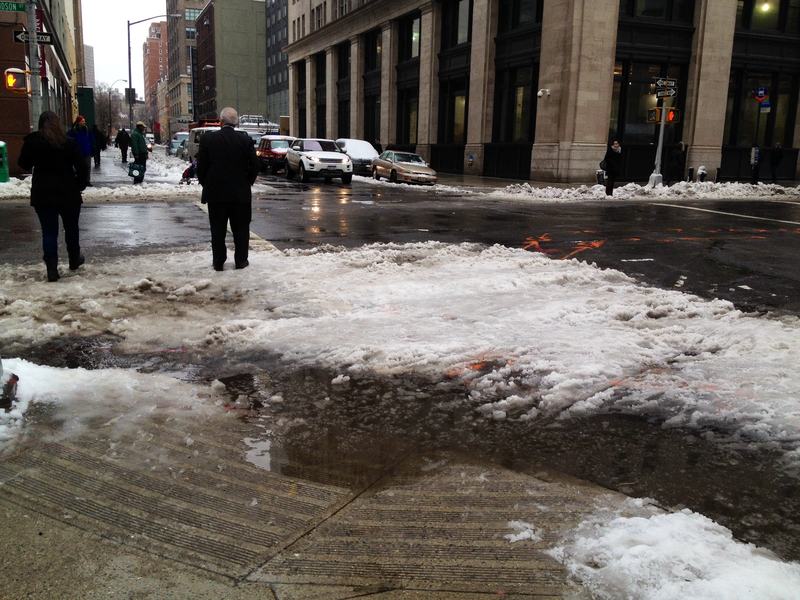 The city deployed more than a thousand emergency snow laborers across the five boroughs on Tuesday to shovel crosswalks and bus stops.
Larry Troy, a supervisor with the Department of Sanitation, said they're also trying to tackle those curbside slush lakes.
"We've had that heavy slush a couple of days ago. The flooding was tremendous, so we started moving snow from around the catch basins, so we can open things up so it can flow safely," Troy said.
Sekou Salaam traveled from Newark, NJ to join a crew working on Houston Street. He was hacking at the ice, and working up a sweat.
"It's actually good exercise, in case you're not in shape. You won't be able to get through it unless you are," he said. "But for the most part it's hard to get the ice up, it's very hard."
The laborers are hired by the day, and will be out as needed throughout the rest of the winter. They're paid $12 an hour, with overtime pay kicking up to $18. The Department of Sanitation said the workers are evenly distributed throughout the city, although a map of 311 snow removal calls suggests the problem is worse in the outer boroughs.
Meanwhile, Brooklyn Councilman David Greenfield is floating a plan to charge property owners if the city must shovel their sidewalks for them. Currently, they can be fined $100 if the sidewalks are left untouched, but that fine doesn't clear the snow. Under Greenfield's proposal, city workers would do the shoveling and charge homeowners $250 or more for the service. The bill has yet to be formally introduced in the council.