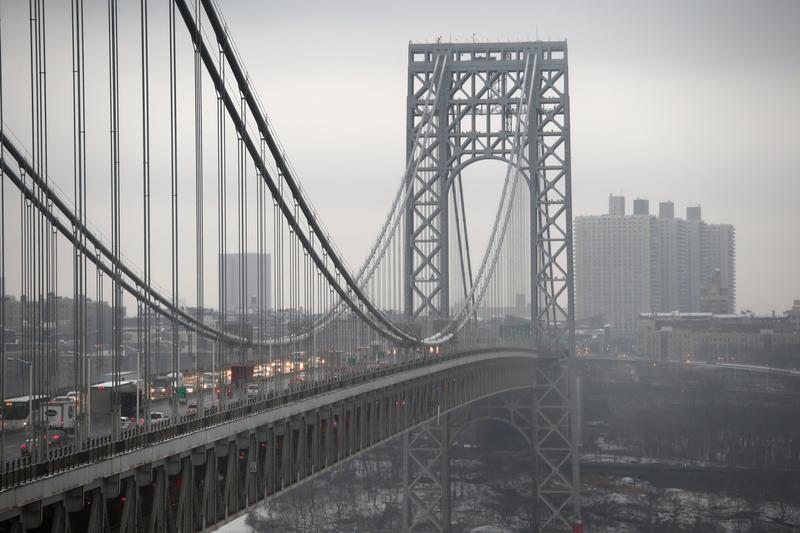 At his press conference Friday, Gov. Christie said competing state politics lay at the heart of recent problems with the Port Authority of New York and New Jersey.
Citing "a history of conflict between these folks at the Port Authority," Christie said that the way to resolve the feud between the states was "taking the Hatfields and McCoys and moving them to separate homes. Because they haven't been able to get along with each other, despite my best efforts, the best efforts of Governor Cuomo, and many of our predecessors." 
What he meant was converting the Port Authority from a bi-state operation into separate state agencies. Until today, Christie has blocked reform at the Port, while staffing it with political appointees who had no transportation experience. But what if he got his way and the authority were to be broken up?
The first task would be to untangle multiple bi-state facilities. The Port Authority oversees the region's airports and interstate bridges and tunnels, not to mention the PATH trains, World Trade Center redevelopment, and... the ports. Its annual operating budget is $8.2 billion — and it has a ten-year, $27.6 billion capital plan.
Transportation experts told TN that unwinding those co-owned assets would be a daunting task that probably should not be undertaken.
"First place, there is a reason the Port Authority was put together," said Robert Paaswell, a distinguished professor of civil engineering at City College. "That's because of the port, which is one of the most important pieces of infrastructure on the East Coast, and one of the real economic generators for the United States."
Paaswell added that because some of the Port Authority's assets make money and some operate at a deficit, "the funding that comes into the Port goes into a central pot and is redistributed." That funding mechanism helps the PATH train, which operates in the red.
Moreover, any new system that introduced a division between New York and New Jersey would require each state to hire its own people. "You're going to duplicate management, you're going to duplicate procurement, you're going to duplicate engineering," said Paaswell. "You're going to find that breaking it up will probably cost you more in the long run than keeping it together and managing it well."
"Breaking it up isn't going to solve the problem," he concluded. "Managing it better will solve the problem."
Jameson Doig, a professor at Dartmouth College who has written a history of the Port Authority, went further. He called Christie's comments about the Port "thoughtless."
"No matter what you do," he said, "you're going to have to have bi-state cooperation."
Want to see what a lack of cooperation looks like? Doig pointed to the West Coast, where the airports in San Francisco and Oakland are separately managed. San Francisco, he said, has done a better job of encouraging long-haul flights to land at its airport. "But two-thirds of the population in the Bay Area is near the Oakland Airport, not near San Francisco Airport," said Doig. "So you go into San Francisco...and if you want to go over to Berkeley or Oakland, you've got to circle back to the city or go down to San Jose. That's pretty inefficient."
If you want New York City's three airports to become less efficient, said Doig, "break them up."
So what's the fix for the Port? Doig, too, pointed to management. Political patronage, he said, is "a drag not only on morale, but effectiveness of the agency."
The authority can be managed better "by having high-quality commissioners who choose an executive director (after) a nationwide search," said Doig. He compared that system to the current arrangement that has the governor of New York pick the executive director, and the governor of New Jersey pick the chairman. "That's not a good way to run any organization," Doig said.
(That chairman position is currently vacant, following Christie appointee David Samson's resignation on Friday.)
Tom Wright, executive director of the Regional Plan Association, recommended a board of commissioners less beholden to the politicians who appoint them. "The commissioners need to be accountable to the governors, but not directly responsive to them."
Breaking up the Port Authority doesn't make sense to Wright, either. "The assets it manages serve both sides of the river," he said. "And it has more capacity as single entity than two separate ones would."
Wright also believes that despite the authority's current turmoil, its problems are not intractable. "It's very fixable," he said. "These recent problems, these sets of issues have been fairly unique. It hasn't been used this way in the past. And I don't see any reason why, with the proper kinds of safeguards and oversight in place, it can't be functioning really excellently again."