The Takeaway
Pay-for-Play: Should College Athletes Be Unionized?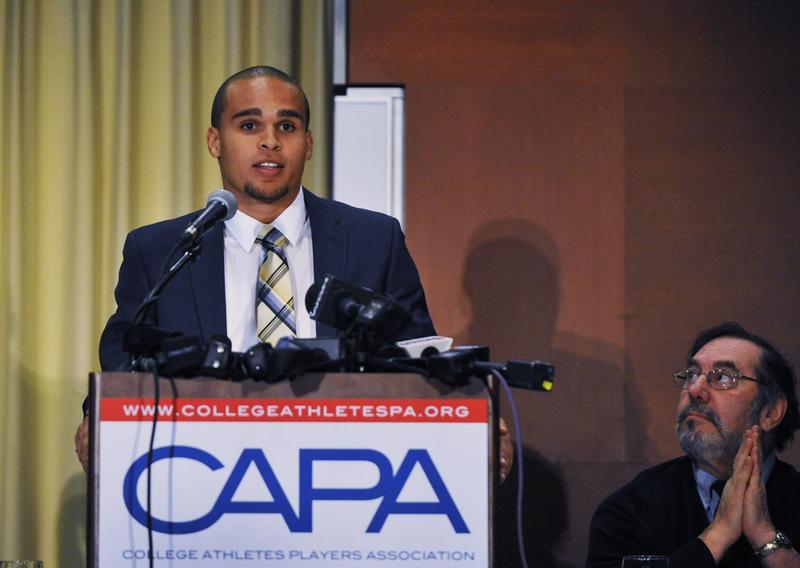 Over the last few years, the relationship between college athletes and the National Collegiate Athletic Association (NCAA) has grown increasingly complicated and contentious.
Together college football and college basketball earn more money than any other American sporting organization, with the exception of the NFL. As profits have grown for the NCAA, some college athletes have raised questions over whether they should be paid. And if they are paid, should they be allowed to organize?

Just recently, Northwestern University quarterback Kain Colter teamed up with Ramogi Huma, the president of the newly formed College Athlete Players Association and the president of the United Steelworkers Unions, to push for real union benefits for college athletes.
"College athletes need a labor organization that can give them a seat at the table," Huma told our partner The New York Times. "This ends a period of 60 years when the NCAA has knowingly established a pay-for-play system while using terms like 'student-athlete' and 'amateurism' to skirt labor laws."
Though some argue that players are paid in the form of scholarship tuition to universities, Colter argues that the issue goes beyond monetary compensation.
"The action we're taking isn't because of any mistreatment by Northwestern," Colter told ESPN. "We love Northwestern. The school is just playing by the rules of their governing body, the NCAA. We're interested in trying to help all players—at USC, Stanford, Oklahoma State, everywhere. It's about protecting them and future generations to come. Right now the NCAA is like a dictatorship. No one represents us in negotiations. The only way things are going to change is if players have a union."
Joe Nocera, columnist for The New York Times and regular contributor to WNYC, says these student athletes should be able to form a union.
And former NCAA athlete Ibrahim Abdul-Matin agrees. Ibrahim is a former linebacker at the University of Rhode Island and an NCAA scholar-athlete. If offered the chance, he says he would have joined a players' union and that college athletes deserve benefits.