Crowds Lure Protesters on Black Friday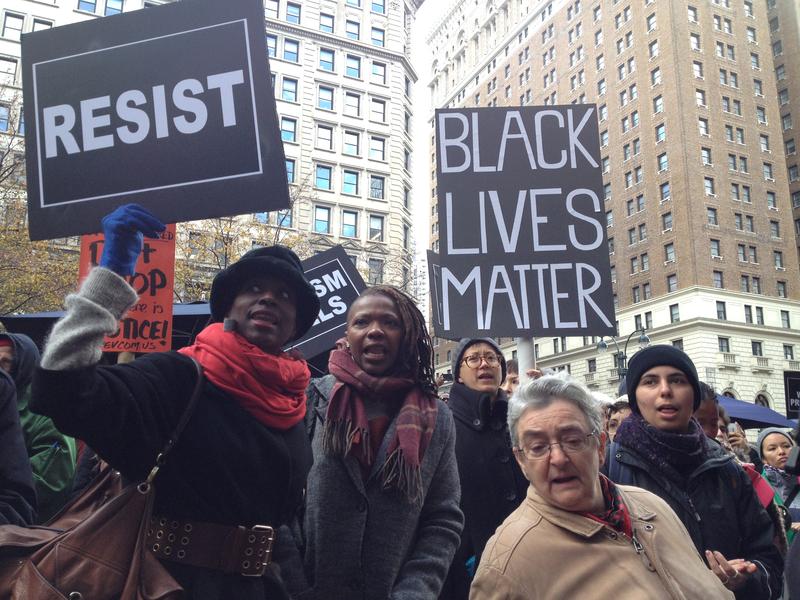 Protests continued Friday as more than 100 New Yorkers saw one of the biggest shopping days of the year as a way to vent their frustration about police brutality and other issues. Outside Macy's in Herald Square, forty-three-year old Lorenza Collins held a "shut it down" sign near one of the entrances.
"I would love to influence folks who are walking around shopping to come and join in…and do something different".
Collins rallied with a group protesting the decision in Ferguson, Missouri this week not to indict a white police officer for shooting an unarmed black teenager. Brooklyn's Tom Naples was an onlooker as some sign-carriers tried to enter the store.
"Basically they just tried to get in the front doors and then the police just followed them through the store." Naples wondered out loud why the protests were focused on shoppers rather than picketing police precincts.
At Brooklyn's Atlantic Terminal, about 50 people demonstrated outside the Target store. Daniel Kroop, with a group fighting to raise the minimum wage, protested alongside those holding "Black Lives Matter" signs. He said it makes sense for people with a range of grievances to join forces.  
"I think we're starting to grow genuine solidarity links because people see that at the root of this is a system of inequality, oppression, and quite frankly capitalism."
Most shoppers went about their business. Brooklyn resident Florence Cyrus said she agreed with the protesters but needed to save money because she's unemployed.
"I'm out for the sales...I can still support them and shop."
Another Manhattan contingent included the anti-fur group, People for the Ethical Treatment of Animals. They handed out flyers and shout-shamed midtown shoppers walking by in fur hats and coats.
By evening, several activists had been taken into custody; the NYPD would not confirm the exact number.