After a Shooting Death, How to Protect the Mentally Ill — and the Police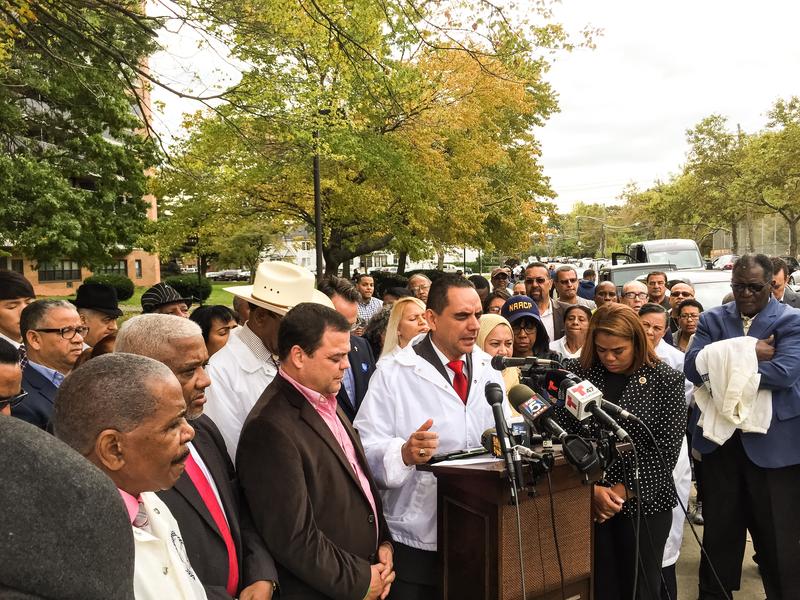 It was 6:30 a.m. when Charles Hargreaves first heard that his client Deborah Danner had died. He was eating breakfast, when he turned on the TV and heard the name of the street she lived on—Pugsley Avenue. 
"Could this be her?" he asked. Then they said her name. He said he was "just sickened, really, heartbroken."
Danner was shot and killed by a police officer inside her Bronx apartment.
Hargreaves knew Danner because he was representing her in court. She was fighting a judge's decision that granted her guardianship to her sister. The case was on appeal and the last time he saw her in person was August 2015. She had been doing well then, and he remembered being impressed. 
"We talked a lot about books and writing and art," he said. "She was very well read, well informed." The apartment was filled with things, including the artwork she had done herself, but neat and well organized, Hargreaves said. "She showed me stuff that she'd done when she wasn't so well, and stuff she'd done when she was." 
Danner also shared with her lawyer a six-page essay about what it was like to be mentally ill. In it, the 66-year-old described schizophrenia as a frightening disease that required constant vigilance over her own thoughts. She wrote about debilitating self-doubt that made her question whether her medications would stop working and whether she would notice if they did.
"I have always known that I am not always aware when I am symptomatic, when I am ill. I am always aware when I'm well, but the vigilance doesn't stop," she wrote. 
The essay is an intimate record of one woman's struggle with mental illness and her desire to be treated with respect. It has become a touchstone for mental-health advocates who have passed it around. 
Linda Wilson, from the Staten Island chapter of the National Alliance on Mental Illness, read the essay. She says news of Danner's death made her numb with frustration.
"We keep saying the same things over and over," Wilson said. "Why aren't trained people sent out to our people?"
It was an old story. One that Danner herself was keenly aware of.
"We are all aware of the all-too-frequent news stories about the mentally ill who come up against law enforcement instead of mental health professionals and end up dead," she wrote.
She cited the case of Eleanor Bumpurs, who was the same age as Danner, the same race, had the same mental-health issues and who died the same way, in 1984. In her essay, Danner called for better police training and better treatment of the mentally ill who are homeless or incarcerated.
"The above is a wish list of mine that I generated during a period of reflection on the plight of others like me. It has never been lost on me that the old adage, 'There but by the grace of God go I,' could easily apply to me," she wrote. 
Police said Danner was shot to death last week after she threatened a police officer with a pair of scissors at first, and then a baseball bat. The officer, Sergeant Hugh Barry, had received basic training on how to de-escalate potentially violent situations.
But he did not receive the New York Police Department's more intensive Crisis Intervention Team training aimed specifically at the mentally ill, in which officers are taught empathy and what it's like to have delusions. They are also taught to keep their voices low, to make open-handed gestures and to build connections with people in distress.  
About 4,400 police officers have received the enhanced training so far, but advocates say the NYPD needs to train at least 10,000 to handle the demand—there's been more than 128,000 calls involving an emotionally-disturbed person so far this year.
Without more-widespread training of officers, Wilson said that families are taking a risk when they call 911 to report that a loved one is having a breakdown.  And so she tells families to take precautions. And to make certain some things are clear.
"My family member has mental illness. He's not taking his medication. There are no weapons in the house," she said. "And then we even tell them to meet the police outside their house or apartment so that the police look at them and think, 'Well, you know, the family doesn't look completely out of whack'…and so it calms the policemen down."
The dynamics of these situations often run counter to a police officer's main job, which is to command and control situations and deal with criminals, said civil rights attorney Jenny Marashi. 
"A huge part of police training is looking for submission," said Marashi. "And people who have mental health issues are not immediately submissive for a variety of reasons."
That includes Marashi's bipolar client, who recently lashed out when police escorted him out of a movie theater because he was yelling at the screen. They took out their batons as they followed him, an aggressive gesture that she said was enough to set him off.
The encounter turned violent and he ended up in the hospital. Now Marashi is suing in federal court on his behalf, alleging that the police used excessive force. She wants a judge to order the NYPD to train more officers in Crisis Intervention Team techniques and to come up with a way to route 911 calls involving emotionally-disturbed people directly to those officers with the skills to respond.
"I think that not only this, but many other situations where people may not be killed, but they are then taken into a criminal justice system that isn't equipped to deal with them — this could all be prevented," she said. "I mean, how many people die in jails?"
Mental Health advocates and clinicians say they know that police are being asked to handle situations that should be handled by a broken mental health system. And some are experimenting with ways to protect everyone involved from being harmed.
One strategy is to have patients fill out documents, similar to do-not-resuscitate-orders, that describe how they should be approached when they've lost the ability to think rationally.
"They use past experience to say, 'You know, when I'm acting in this way that seems bizarre or assaultive or impaired, this is what catches my attention, this is what helps me listen,'" said Dr. Paula Panzer, chief clinical and medical officer at the Jewish Board of Family and Children Services, which runs dozens of clinics across the city. "And that can be turned over to the helper, including the police when they are called," Panzer said.
Panzer acknowledged that people don't fill out the documents that often, because it's a difficult conversation to have about a difficult problem that has still not been solved.
The shooting death of Danner is being investigated by the Bronx District Attorney. Mayor Bill de Blasio and Police Commissioner James O'Neill have called out Sergeant Barry for not using his Taser and for not waiting for a more experienced team to arrive. The sergeants union is defending him and a spokesman says any investigation should cover not just Barry, but the failures of the mental health system too.