With Sharpton Meeting, Lhota Underscores Difference from Giuliani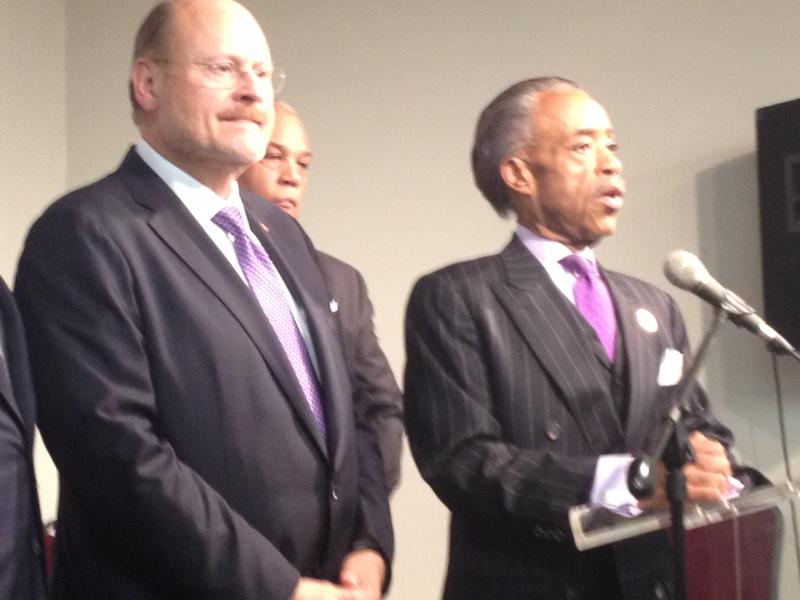 Republican mayoral hopeful Joe Lhota spent part of his day on Tuesday reaching out to constituencies not likely to support him. That included a private meeting with Reverend Al Sharpton in Harlem, who famously and regularly sparred with former Mayor Giuliani, Lhota's old boss. 
Giuliani never met with Sharpton during his eight years in office. After emerging from a 25-minute private meeting with Lhota at his National Action Network headquarters, Sharpton didn't want to talk about that.
"I'm not going to get into that. Everyone knows my views on Mr. Giuliani and his on me," Sharpton said.
Instead, Lhota emphasized his style when he worked under Giuliani.
"I talked to everybody. I kept an open-door policy," he said. "If there was a problem in the city, I felt it was my job to find a solution to it, to negotiate a solution. I don't think that there's a problem that's not negotiable."
The two said they discussed education and their differences on stop-and-frisk. Sharpton said they also talked about the Lord, after he learned Lhota's wife attended seminary.
A new Wall Street Journal/NBC 4 New York/Marist poll found that in a match-up against Democrat Bill de Blasio, just three percent of black voters support Lhota. Overall, he's trailing by 43 points among likely voters.
Lhota also met with DC 37, the municipal workers union, on Tuesday. It announced its endorsement of Bill de Blasio just hours later.