The Takeaway
Calls For Reform As Military Sexual Violence Persists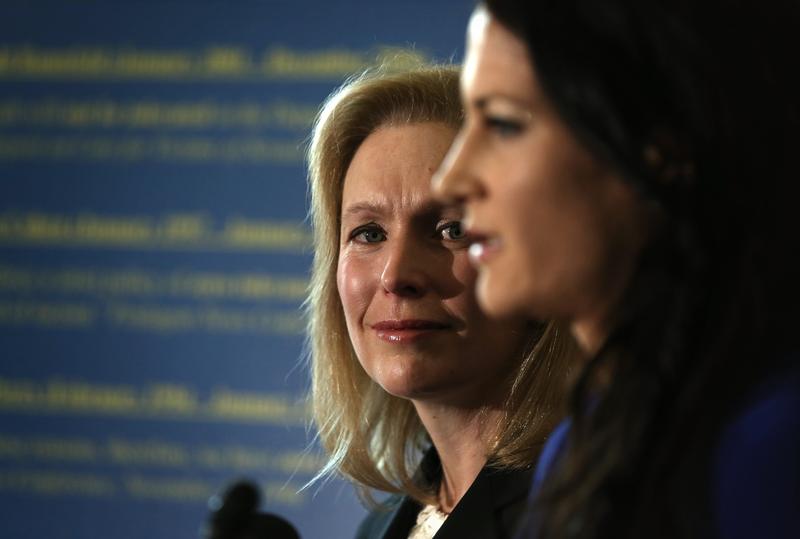 A new report from the Pentagon has emboldened senators to take another pass at pushing through the Military Justice Improvement Act, which fell five votes short earlier this year. If adopted, the law would strip military commanders of their authority to decide whether or not to prosecute sexual assault cases.
As the law stands today, if a member of the military is sexually assaulted, they have to report it up the chain of command. In some cases, commanders can veto sanctions and punishments.
The new Pentagon report runs more than 1,000 pages and reveals that there's been an 8 percent increase in sexual assault reporting—a sign that more victims are comfortable with coming forward.
Though more people are coming forward to report sexual assault, the number of troops reporting unwanted sexual contact is actually on the decline: About 19,000 service members experienced unwanted sexual contact in 2014, down from 26,000 in 2012.
While these numbers are on the decline, the report found that about 62 percent of people who did report sexual assault or rape were retaliated against.
New York Democratic Senator Kirsten Gillibrand feels these stats are still too high, which is why she's pushing to overhaul the military's sexual assault policies. She spoke with Takeaway Washington Correspondent Todd Zwillich about the reforms she hopes to see.
"One of the things that this report showed is there were some signs of major progress," says Zwillich. "Reports of sexual assaults were up, but the Pentagon said that's a good thing because it means more victims are reporting."
According to the Pentagon's report, about one in 10 victims reported sexual violence crimes just two years ago, a rate that has now increased to one in four.
Part of the reason reporting is up is due to the reforms included in the 2013 annual defense spending budget and a bill pushed through by Senator Claire McCaskill of Missouri.
In March, both Senators Gillibrand and McCaskill attempted to push through military sexual assault reforms. Sen. Gillibrand's were stricter, and though the two women went head to head, Gillibrand ultimately lost.
The reforms included in Sen. McCaskill's bill, known as the Victims Protection Act, allow victims formal input on whether their case is tried in military or civilian court, and allow survivors to challenge their discharge or separation from service, among other things.
"There are high levels of satisfaction with command climate," Sen. McCaskill told reporters yesterday on the heels of the Pentagon report announcement. "High levels of satisfaction with their special victims counsels and victim advocates. And I think 73 percent of [reporting victims] saying that they would recommend that others report is a very important number."
Though Sen. McCaskill is taking credit for some of the progress made on the military sexual assault front, Zwillich says that Senators McCaskill and Gillibrand remain divided with how to proceed, specifically when it comes to victim retaliation.
"In the report that was just issued today, 62 percent of people who have experienced sexual assault and rape were retaliated against because they reported that they were raped," Sen. Gillibrand told Zwillich. "That is unacceptable. That is not a measure of justice."
Lawmakers like Sen. McCaskill and other supporters of existing reforms say that while they agree that retaliation remains a problem, the majority of retaliations come from peers and not commanders.
Despite the pushback, Zwillich says that Sen. Gillibrand is now trying to revisit some of the reforms that failed to pass in March.
"The key part of her reform, which a lot of the military did not want and which Claire McCaskill did not want...is to take reporting of sexual assaults out of the chain of command entirely," says Zwillich.
Sen. Gillibrand says that the reports of retaliation show that the military has not made progress on the issue of retribution. By removing sexual assault reporting from the chain of command, Sen. Gillibrand argues that victims have a higher level of protection from retaliation.
"That's Gillibrand's argument, the question is whether she'll get it," says Zwillich. "The Defense Authorization Bill is back up on the floor next week. Gillibrand is pushing for a vote, but she probably won't get it—leaders don't want to open that vote up to amendments because it's the end of the year."
Zwillich says that since Sen. Gillibrand is unlikely to see a vote come up next week, the senator is pushing for a separate vote to bring up the issue. If that effort fails, Zwillich says that Sen. Gillibrand may use the nomination of Ashton Carter, the Obama Administration's pick to replace outgoing Defense Sec. Chuck Hagel, as a platform to shine a new spotlight on military sexual assault.
"The military said, 'Give us a year, give us a year and we'll show you we take this seriously," Sen. Gillibrand told Zwillich on Thursday. "The one measure about whether commanders take this seriously is whether they're allowing victims to be retaliated against for reporting. For that number to not budge, for that number to be exactly where it was last year, that shows complete failure."