You Should Root for Costa Rica Now That the U.S. Is Out of the World Cup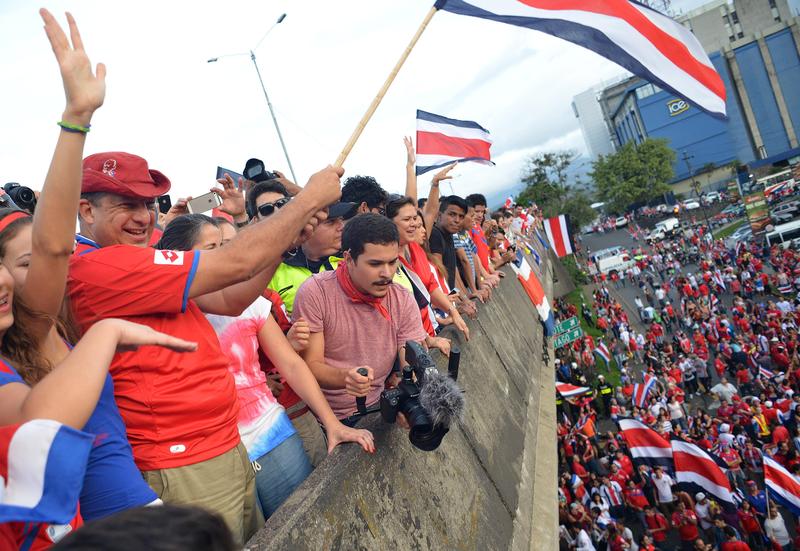 Seven reasons. This from Brian Lehrer Show producer Jody Avirgan, who grew up in Costa Rica and is having a pretty exciting couple of weeks…
1) If you thought it was cool that the U.S. was getting contributions from so many young players, you'll love Costa Rica's Joel Campbell. He's 22, and while not exactly an unknown, he got zero playing time for his top-flight British club this past season (he was on loan to a Greek squad). This World Cup, however, he's been on fire, and it's great to see a player carry his team that way.

2) Tim Howard proved in yesterday's game that goal-keeper can be the most exciting position on the field. Well, meet Costa Rica's Keylor Navas, who has been making acrobatic save after acrobatic save to keep his team in the games. He's really fun to watch.
Navas also has help from a really disciplined back line, which the Ticos (Costa Ricans call themselves "Ticos") use to continually draw the opponent offsides. This worked over and over in the Italy game, but it's pretty harrowing to watch, since one slip-up (or one distracted ref) leaves the opponent with a clear path to the goal. When it works, though, it's immensely satisfying team defense.
3) For all the talk of the U.S. advancing out of the so-called Group of Death, Costa Rica may have had a harder road, beating powerhouse Italy, tying England, and taking down Uruguay, who had title aspirations before Luis Suarez went on his biting spree.

4) Costa Rica's flag colors: Red, White, and Blue. No need to buy a new set of face paint, just switch from narrow horizontal stripes to broader horizontal stripes and you're all set.

5) You should show pride for CONCACAF, the hang-dog league that includes Central America, North America, and the Caribbean. It tends to get derided on the world stage as being a weak region. Now that the U.S. and Mexico is out, Costa Rica is the only one left to represent our corner of the world.
We are all Costa Ricans NOW #CONCACAFThunder

— Men in Blazers (@MenInBlazers) July 1, 2014

6) Costa Rica has never made it this far in the World Cup, and the last time they even got to the knockout stage was in Italy in 1990. There was a piece in ESPN this week about that squad, which includes a great anecdote about the team flying home from Italy. As Wright Thompson puts it: "The pilot brought the plane in low, breaking out of the clouds. He made a lap of the entire nation, and people came out of their houses to see the great heroes fly overhead. Everyone brought mirrors, flashing a greeting with the reflected light from the sun. The pilot invited captain Roger Flores up to the cockpit and told him to look down, and when he did, he saw the ground below sparkling. "There were mirrors all over the country," Flores says, and even today, he can still feel their warming glow." So just imagine how excited Costa Ricans are today.

7) And finally, they probably won't beat the Dutch, at which point you can change you allegiances again to Brazil or Argentina or someone else.
After yesterday's game, we asked you who YOU would be switching your allegiances to -- check out some of the answers below.
Curious: Who are you rooting for now? (Too soon?)

— Brian Lehrer Show (@BrianLehrer) July 1, 2014
@BrianLehrer Any of the other Americans.

— Mike (@mikeyhorse) July 1, 2014
@BrianLehrer Brazil!

— sideshow (@sideshow) July 1, 2014
@BrianLehrer go belgium!!

— Dan Schreiber (@danbkln) July 1, 2014
@BrianLehrer - Costa Rica baby! #sisepuede #lapuravida

— Vava Vroom! (@Vavavrooman) July 2, 2014