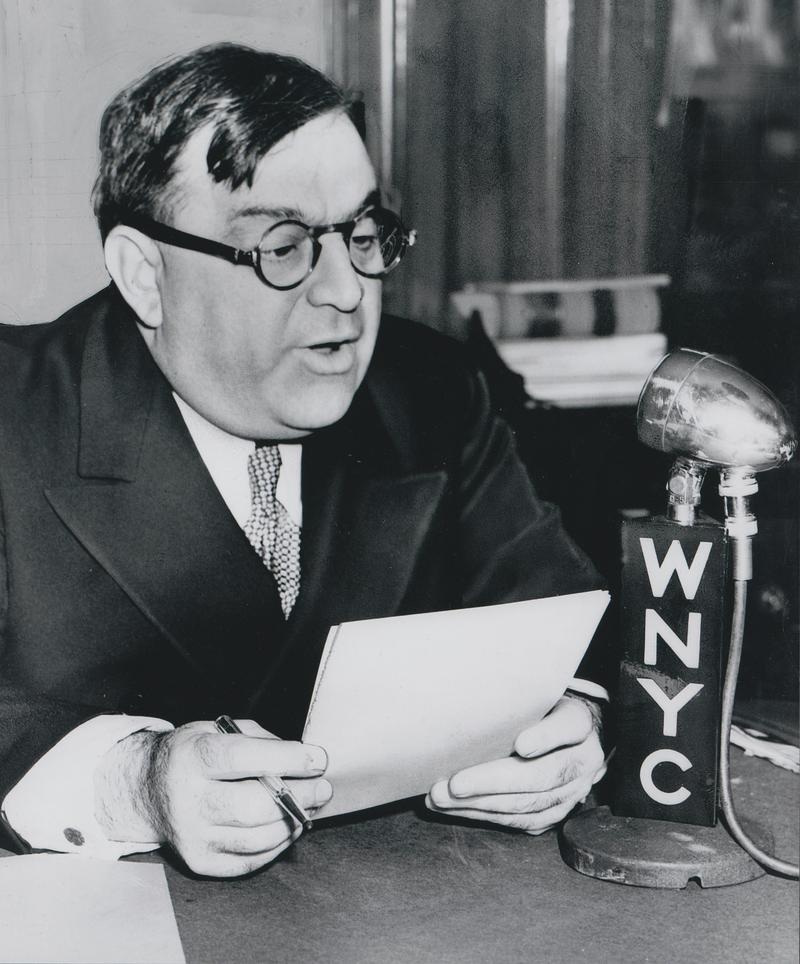 Summary
This episode is from the WNYC archives. It may contain language which is no longer politically or socially appropriate.
Description from the Municipal Archives card catalog:

Benefit concert at Carnegie Hall. City Center program. Proposal of U.S. peace treaty with Italy. Ration points lifted from utility meat and prime commencing October 1. Comparison of utility meat and prime choice meat. Enforcement of ceiling prices in city markets. Housing situation. Commissioner Valentine pins badge on Wallander.
Audio courtesy of the NYC Municipal Archives WNYC Collection
WNYC archives id: 71090
Municipal archives id: LT2556
Transcript
The original text of the WNYC radio broadcasts are the property of the New York City Department of Records/Municipal Archives. This digital edition is made available for research purposes only. The text may not be duplicated or reproduced without the written permission of the New York City Department of Records/Municipal Archives 31 Chambers Street New York, NY 10007


FOR IMMEDIATE RELEASE
SUNDAY, SEPTEMBER 23, 1945

OFFICE OF THE MAYOR

TEXT OF MAYOR F. H. LA GUARDIA'S SUNDAY BROADCAST TO THE PEOPLE OF NEW YORK FROM HIS OFFICE IN CITY HALL, SUNDAY, SEPTEMBER 23, 1945, BROADCAST OVER WNYC AT 1:00 P.M. FOLLOWS:


Service and Loyalty.


ITALIAN WAR ORPHANS' BENEFIT

I guess I will have to change the order today, I have so many things to do. Therefore, I think I will start off with the reminders. You will remember that last week I told you about the Beethoven Concert at Carnegie Hall. Well, it is on Tuesday, the 25th when you will have the opportunity of hearing Beethoven's beautiful Ninth Symphony. The Ninth Symphony is about the greatest piece of music ever written. It is a sort of a spiritual and musical compound, a sedative, a vitamin, a tonic and a stimulant. Folks, as the opening bars start you relax. As it unfolds, you reach out and hold your wife's hand. And then comes that feeling of kindliness and love, with the climatic closing, you want to go out and do more so as to make the world better and happier. Yes, and this great symphony will be played by the N.B.C. Symphony Orchestra "" one of the finest orchestras in the world "" and conducted by the one and only Maestro Toscannini. Tickets are still available at the Carnegie Hall box office and at the office of the Italian Welfare League for Tuesday, September 25.


TOSCA AT CITY CENTER

There has been a great deal of talk during the last week about Police Commissioners and Police. So we have arranged for that too. If you want to see a mean, cruel, crafty police Chief, then go to the City Center on Thursday evening, September 27, when we open with Puccini's Tosca and there you will see and hear Scorpia who is about the meanest Police Commissioner. He would not have lasted one minute in my administration. But Puccini has put this rogue's action into beautiful music at the City Center, 131 West 55th Street on September 27, and tickets are now on sale.


AMERICA'S PEACE TREATY PROPOSALS FOR ITALY

Talking about Italy and the Italian war orphans, I suppose you have already noticed the proposal of the United States for peace treaty with Italy. It was submitted as the proposal of our Country to the Foreign Ministers Council. I will tell you what is interesting about it. I think it is the first forthright, honest, courageous expression of policy concerning colonies, for it suggests that Libya and other colonies be granted independence at the end of ten years. In this interval it will be under a United Nations Organization trusteeship agreement.

That, I believe, is quite in keeping with the terms and spirit of the Atlantic Charter, and I am sure that every American will rejoice that the provisions and promises and the hope contained in the Atlantic Charter are carried out in the proposals of the United States concerning Italy.

As to the question whether this colonial policy will apply to all colonies of all nations, that is a great, big question mark. The people of the world are awaiting the answer.


MEAT

Well, I guess we have to eat. Yes, sir, we have to eat. We had hamburgers last night. I think they were made of utility beef. They were very good. I am not quite sure whether Marie paid for choice meat or not, but the hamburgers were good. I mention this because commencing October 1st ration points will be lifted from utility meat. I want to talk to you about that because it is very important to all families. Through the years, when we were all prosperous and meat was plentiful, a sort of resistance was built up in New York to everything but choice meat. In fact we use more choice meat per capita in New York than any other section of the country. Now ration points have been lifted on utility meat and that means you can buy without red points. This creates a new problem in price enforcement because heretofore there was a tendency to sell meat without points which constituted a violation. Now we have to watch in order to make sure that points are not asked for utility meat. Why, because it is so much cheaper and if the consumer is made to believe that they are getting choice meat when they are really getting utility, they get swindled twice - once on the points and again on the price. I would say that utility meat is used by the majority of the people of this country outside of the large cities. It is good meat and there is a big difference in the price. A steak that would cost in AA meat or choice meat 55 cents would cost only 37 cents in utility, sirloin steak of the utility grade is only 31 cents a pound and round is only 31 cents a pound. You have to be careful how you cook it but once you get the knack you will find it is good and tasty. Of course, it contains all of the nutrition. It may require more tooth power, but it is good meat. In roasts, a rib standing is 27 cents a pound as compared to 35 or 33 cents for AA or A. Round tip, which is a good buy, is 33 cents a pound as is rump boneless, if you buy rump with the bone in it is 21 cents. You will find it is a good buy because you first use the meat - you may roast it or you may pot it - and then the bones make excellent soup, either just a meat soup or with vegetables. When you come down to short ribs at 20 cents a pound and plate at 21 cents for bone in and for boneless you pay 25 cents, you will find it very economical and as I have said nutritious. But be sure that you do not get utility and for for AA or A. Watch that very carefully and if you know of any cases of violation, let us know. I repeat what I said last week, it is quite necessary to continue to enforce the ceiling prices because of the tendency to overcharge, and we are going to do that.


DISPOSSESSING OF CITY MARKET VIOLATOR

For two or three years a great many people have complained to me and asked why, when we have a violation of a tenant in a city market and he is found guilty and fined or imprisoned, we do not throw him out? That is a natural question. Well, I will tell you. We just couldn't because of the shortage of food and the difficulty that a new dealer would have getting any ration allowance. We just had to grin and bear it. We did not permit violation of ceiling prices in our city markets and when any was found, the violator was brought to court and punished. As I have told you on several occasions we have kept a record of these violators and we shall not forget them. Now that the ceiling prices are being modified and ration requirements lifted, it is easier for new firms and new individuals to go into business. We plan to have our public markets tenanted only by honest dealers, and I am very happy to tell you that the overwhelming majority have good clean records. We started, I believe yesterday or the day before, to clean house. The first notice will be served tomorrow on Ben Kaufman, a wholesale meat dealer who conducts his business at 52 Grace Avenue which is part of West Washington Market. He has been fined $17,000 or $1,000 on each of 17 counts, and was sentenced to one year in the Federal Penitentiary. On another occasion in 1944, the same man was convicted in the New York City War Emergency Court for price violations and served 21 days in jail. Notice will be served on him that his permit will terminate in 50 days in accordance with its terms. I am telling you this so that you will know the procedure and just what we intend to do.


HOUSING PROGRAM

A great deal is being said these days by people who know something and by people who know less, about the housing situation. I have reported to you what the Housing Authority of the City of New York is planning to do, and I told you only last week of four buildings ready to start immediately. Commissioner Wilson reported to me this week that during the six months of 1945 up to July 30, applications were approved for 1,812 new buildings estimated to cost $95,108,000. This does not include Stuyvesant Town, Elliot Houses, the John Weldon Johnson Houses, the Amsterdam Houses or the Brownsville Houses. These plans were filed prior to that. We also have on file applications for alterations during the six months of 1945. There are applications for 5,642 alterations which will cost $20,999,965 and 15,885 miscellaneous applications for fire escapes, elevator repairs, demolitions, sprinklers and plumbing repairs, costing $15,303,597. Of course, very little of this work has been done and it ought to be under way. Now, to give you an idea of how little construction has been going on during the first six months of 1945 in five boroughs, there was only $2,641,616 of new construction.


LABOR DISPUTE MACHINERY

I have said so many times that we have been working hard to reach an agreement between contractors and the building trades and the construction trades to provide machinery for the settlement of jurisdictional trade disputes, and I can report progress, a little progress and we shall continue and I hope I shall be able to report success to you before very long.


THREATENED BUILDING SERVICE STRIKE

Another building service strike threatens our city. I have told you before that the Commissioner of Health considers that such a strike, affecting apartment houses of over six stories, constitutes a menace to the health of our people and that he will declare a state of emergency if such a strike occurs. We will have to, in such event, arrange for certain emergency services in those apartment houses, such as bringing up food, milk, medicines and even for the transportation of tenants living over the sixth or seventh floor. I have just been handed a memorandum advising me that if the strike hits apartment houses, the unions will cooperate with me in furnishing emergency service. I am very grateful for that. I am glad to receive this but I wish that the boys would listen to those who have been their friends for many years, and take their advice.

You know, boys, it is an easy thing to go on strike. Frequently that strike lasts too long and it is a long time before it is over. You will remember that it was not many months ago that we had the newspaper delivery strike. I appealed then and the terms that the men got were very much the same as they would have obtained several days, or at least two weeks before they actually went back to work. I know that you boys have a grievance. You have gained most of that which you sought. I can assure you that not only the Regional War Labor Board for this area, but the National War Labor Board is ready to review your grievances and pass upon them. The Government affords you the machinery for the settlement of those grievances. Avail yourself of that. Why don't you, under these circumstances, take advantage of their good offices? I am sure that you will get a square deal. Listen, boys, have you been thinking about something? This just occurs to me. I do not believe that you really want a strike. Perhaps other people want to strike. Perhaps it is being instigated. You have to think of the tenants, they have to be considered. They are your friends and are the people that you really serve. Let us not give anyone an excuse to jump rents at this time. That indeed would be detrimental and will affect so many, many people.


EDUCATION "" AN INVESTMENT IN PEOPLE

Business men, I want to call your attention to something. Yes, sir, this is something new. It is a pamphlet, or rather quite a publication, called "Education "" an Investment in People". It has been carefully prepared and it shows the relationship between prosperity, business and education. It indicates that in places where there is more education there is greater prosperity. I did not compile it. Believe it or not, it has been compiled and published by the Committee on Education of the United States Chamber of Commerce. Yes, sir, that is progress. Congratulations, United States Chamber of Commerce. That is a real fine piece of work and very useful, and New Yorkers will be particularly proud that we rank high in every comparison made.


APPOINTMENT OF ARTHUR W. WALLANDER AS POLICE COMMISSIONER

What is this I have before Me? I have a resignation here OF ARTHUR W. from Arthur W. Wallander, dated September 22nd. It reads: "I herewith tender my resignation as Chief of Staff of the Defense Forces, effective 12 o'clock midnight, September 22, 1945." The resignation is accepted. The work of our Defense Forces is completed.

As you probably know by this time, but many of you may not, because you get most of your information by radio, I have appointed Arthur W. Wallander Police Commissioner. It is a tough job. A Police Commissioner in any city at its best, requires a great deal of energy, great experience and great courage. No, not the courage needed to look into the muzzle of a gun, for many, many men have that courage, but a more rare courage; moral courage, the courage to do the right thing all of the time, to enforce the law without fear or favor and to permit nothing - politics, friendship, influence, the press, or anyone else to dictate to him in the performance of his duties. The Police Force of New York City is the largest in the world. I would say that it has more difficult problems to contend with daily than any other police department. I want you to know, and I can assure you, that the Police Force of our city has reached a new high in efficiency, ability and integrity. It has been under the command of Lewis J. Valentine for nearly twelve years, and twelve more years of that kind of administration will make it perfect"" it takes that length of time. Commissioner Valentine had traditions of fifty and sixty years to overcome. The men in the Force know that it is on the level now. You cannot fool those men. If the Mayor or the Commissioner is not on the level, either in his private or official life, the men know it. If any big shots are permitted to be active without being hounded, you do not fool these men. They know that someone is given the "nod", and they act accordingly. I do not say that we have been successful In driving out of our city every smelly, big shot, thieving tinhorn. We have not.

But they have not been active, my friends, they have not been active. We have never let up on them. Some of them are very influential, probably more influential than I am in certain quarters. But that did not hold us back. We went after the bums, and they know that we know that they are bums, they are no good.

The time came when Commissioner Valentine resigned just about the time that I am going out of office, everybody talks well of Commissioner Valentine. A great many people talk well about me now. I said to Lew the other day: "Lew, don't take it too seriously. An official going out of office is very much like a wake. People walk up and look down at him and say, 'oh, he was such a good man. isn't it too bad that he is gone,' though they were knocking him twenty-four hours before that - it is very much the same for the public official who does not run for reelection or who has a good record and resigns. He is a good fellow."

Well, that is part of our job. The New York City Charter vests the responsibility of the appointment of a Police Commissioner in the Mayor. Section 431 of chapter 18 of the Charter provides, "Whenever a vacancy shall occur in the office of police commissioner, a police commissioner shall be appointed by the mayor within ten days thereafter." I waited my ten days - I never do things in a hurry. It takes a long time to know how to act impulsively. You must always plan and be deliberate when you act impulsively, I was just testing a few people's nerves, that is all. I knew that mine were all right.

The new Commissioner has the advantage of taking office with one of the best Police staffs that any commissioner ever had. I have been working with these men for a long time, and very intimately during the last week. I do not believe that any executive has as competent, as experienced, as honest and as loyal a staff, as now exists in the Police Department. I want to express my thanks to these men - to the various commanders, to the officers, and to the men of the Police Department, for the fine work you have and are now doing. I have already expressed my thanks and appreciation to commissioner Valentine for having built up this department. You know, it was said that a Police Department could break a Mayor. It never occurred to the politicians that a Mayor could make a Police Department. I am turning over to my successor a real, fine Police Department.

The question was raised yesterday as to whether the appointment was for five years or for the unexpired term. Well, there is over four years to go, so let us not worry about that now. Mr. Wallander will be sworn in in just a few moments. He assumes command of this Police Department. I bespeak for him the cooperation and the support of the people of the City of New York. He is going to take the oath in just a moment. I wish you could see him. He raises his hand to Heaven to call upon AImighty God for help. Think of that, you publishers, when you criticize and abuse an official for doing his duty, and you tabloids, when you encourage a violation of law. This oath is sacred to some of us. -t is not make-believe when we take it. We ask the help of God with all of our souls because we want to do the right thing. Mr. Wallander, will you come up to the microphone.

MAYOR:. "Arthur Wallander, do you solemnly swear that you will support the constitution of the United States and the Constitution of the State of New York, and that you will faithfully discharge the duties of the office of Commissioner of Police of the City of New York according to the best of your ability, so help you God?"

MR. WALLANDER: "I do. Mr. Mayor, I thank you. I appreciate the great honor of being appointed to the office of Commissioner of Police of the City of New York by you. I sense the great responsibility on me and the great tasks of maintaining the high standards established and the efficient services rendered by my distinguished predecessor, Commssioner Lewis Valentine. If you did not have faith in me, you would not have appointed me. Therefore, I can say no more than to pledge to you and to the people of this City, the same as you did on January 1, 1934.

"I will never bring disgrace to this our city by any act of dishonesty or cowardice nor ever desert our suffering comrades in the ranks. I will fight for the ideals and sacred things of this city, both alone and with many. I will revere and obey the city's laws and do my best to incite a like respect and reverence in those above me who are prone to annul or set them at naught; I will strive unceasingly to quicken the public's sense of civic duty. Thus in all these ways I will endeavor to make the Police Department not only not less but greater, and this city better and more beautiful than ever before."

MAYOR: "Commissioner Valentine, I am going to ask you to pin the badge of office on your successor. (Commissioner Valentine is getting the badge ready now. He is pinning it on.)

COMMISSIONER VALENTINE: "Mr. Wallander, it is my sincere delight to turn over to you, my successor, the badge as Police Commissioner of the City of New York, that I have worn for nearly eleven years."

MR. WALLANDER: "Thank you very much, Mr. Commissioner."

MAYOR: "Now, Commissioner Wallander, the only order that I will ever give you is Patience and Fortitude."

MAYOR: I cannot help coming back to the microphone to tell you this. I just offered my pen, the property of the City, to Commissioner Wallander, to sign the Oath of Office, but Lew Valentine jumped up and said, "Here, take my Waterman".