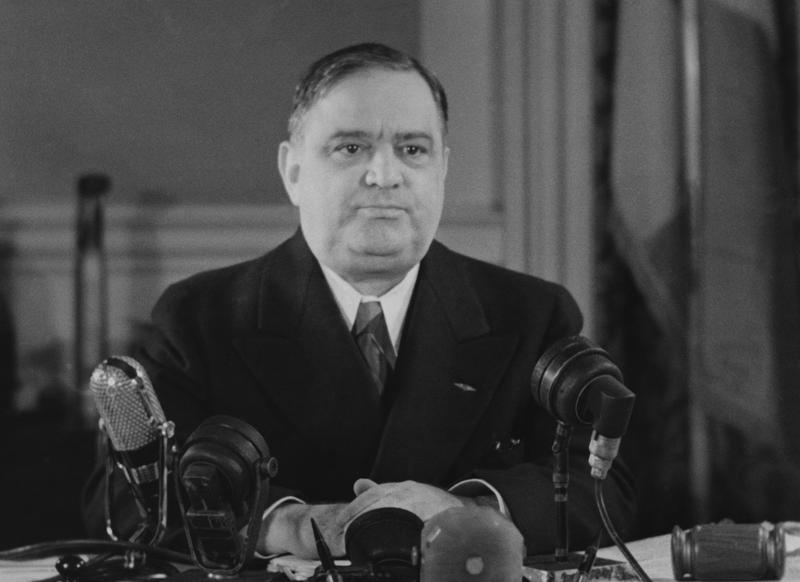 Summary
This episode is from the WNYC archives. It may contain language which is no longer politically or socially appropriate.
Discontinuance of meatless Tuesdays and Fridays. Need for caution in using heavy cream. Enforcement of ceiling prices. Recommendation made on the capital outlay budget for 1946. Post-war building programs. Jurisdictional disputes and possible solution. The coming of prosperity based on immediate use of savings and cashing of Series E bonds. Amendments to unemployment insurance law. Garment industry. Appointment of interdepartmental board for the protection of sanitary controls and the public water supply. Report from the Commissioner of Investigation of loan sharks. Jobs for vets in the Board of Transportation. Provisions for discharged veterans to complete their high school educations. Benefit concert for relief of Italy.
Audio courtesy of the NYC Municipal Archives WNYC Collection
WNYC archives id: 71082
Municipal archives id: LT2555
Transcript
The original text of the WNYC radio broadcasts are the property of the New York City Department of Records/Municipal Archives. This digital edition is made available for research purposes only. The text may not be duplicated or reproduced without the written permission of the New York City Department of Records/Municipal Archives 31 Chambers Street New York, NY 10007

FOR IMMEDIATE RELEASE
SUNDAY, SEPTEMBER 16, 1945
CITY OF NEW YORK
OFFICE OF THE MAYOR

TEXT OF MAYOR F. H. LA GUARDIA'S SUNDAY BROADCAST TO THE PEOPLE OF NEW YORK FROM HIS OFFICE IN CITY HALL, SUNDAY, SEPTEMBER 16, 1945, BROADCAST OVER WNYC AT 1:00 P.M. FOLLOWS:

Patience and fortitude:


I found that I needed both during the last week. I have several matters that I want to talk over with you today. You see, the last two or three weeks we had specialized programs, so I am somewhat behind in keeping you informed. I may have to talk a little rapidly today, so listen attentively, won't you?


MEATLESS DAYS DISCONTINUED

There seems to be a little more meat in the market. At least, people think so and that helps, you know. If you think that there is plenty of meat, you do not want it so badly. Therefore, we will discontinue Meatless Tuesdays and Fridays. It is now up to the hotels and restaurants to arrange their supplies in their own way. I want to take this opportunity of extending thanks to the reputable hotels and restaurants who have cooperated so well. I do not know what we would have done in certain periods if we had not had this fine cooperation. It rendered a very useful service and it helped the supplies for families very much. The City is really grateful to all who cooperated.

RETAIL CLOSINGS DISCONTINUED

Now as to the sale in retail shops, as far as the need for conservation is concerned, that too is lifted. That is a matter of course, I believe, and will have to be arranged between the employers and employees. I am not sufficiently informed of what the arrangements were when the stores were closed.


RETAIL MEAT SUPPLIES

The supply of meat is rather good. The non-kosher beef was 93% of demand in retail stores, and kosher beef was 90%. Pork was very low, down to 16% of an adequate supply.


HEAVY CREAM

I have to say something about the need of being cautious and not just going wild. Whenever there is a termination of any restriction or quota, the consuming public should be reasonable. There is an instance before me now - - that of heavy cream. The public just went wild and the demand for heavy cream was beyond all expectations. I want to appeal to you, in order to avoid the necessity of again clamping down restrictions in the use of heavy cream.

Please! Please! Be reasonable! Do you realize that it takes ten quarts of milk to make one quart of heavy cream. And heavy cream is a luxury. Now I hope you have all had your fill. I can imagine hostesses wanting to show off with nice whipped cream and that sort of thing. But listen, do you think that it is fair to have whipped cream when you are taking milk from babies? I am not going to let you do it. If that keeps up, I am going to have the milk Administrator put a quota on heavy cream again. I hope it will not be necessary. But if the demand continues in November as it did after the restriction was terminated, we would require 75,000,000 pounds of milk. When we hit November we are getting to the dry season. That is why I am talking to you about it now in September. Dealers have brought this matter to our attention. One dealer sells and advertises it because a competitor across the street or around the block is selling it, and there is nothing else that the dealer can do. So I ask consumers to go slow and easy on heavy cream.


PRICE CONTROL COORDINATING BOARD

I think it is only fair that I should tell you this. I am going to talk to the retailers now. More and more restrictions are being lifted every day. More and more commodities are being taken off rationing every day. But prices are still under control. It is necessary to keep price control and there will be no let-down in our enforcement of prices. So do not say that I did not warn you. I will tell you what we are doing. We are reinforcing our agencies. We have worked out a cooperating and coordinated system of enforcement with OPA. There is a Coordinating Board consisting of Commissioner of Markets Brundage, Mr. Gottesman of the OPA and Sheriff McCloskey. I will not give you the methods of operation, that would not be good, would it? But we will exchange information concerning violators relating to their past records and to current investigation, exchange of investigation technique and procedure in tracking down and prosecuting violators. OPA will follow up with additional enforcement action when considered necessary, against violators brought into War Emergency Courts by the City Department of Markets or the Sheriff's office. These additional actions may be treble damage suits, suspension proceedings, or injunction orders. We are doing this because, with the removal of restrictions, the termination of quotas and the let-down of the war ending, people might get careless. I tell you with all the sincerity that I can muster that we must be on our guard against inflation. If inflation comes, I do not know what will happen to this country. Therefore, I ask retailers please to cooperate. Just go along. Business will be good. Do not take advantage of it and everything will be allright.


CAPITAL BUDGET AND POST-WAR PROGRAM

Yesterday, September 15th was the date fixed by the City Charter for the Mayor to submit his recommendations on the Capital Budget to the City Planning Commission. Now this is the procedure. The City Planning Commission makes the Capital Budget and submits it to the Board of Estimate. The Board of Estimate passes upon it and submits it to the City Council. This is the budget which provides for new construction and public improvements. The other budget is the Expense Budget. Public improvements and new construction in our City are financed by the issuance of bonds, that is, money that the City borrows. The length of the loan is generally that of the life of the public improvement, but frequently it is for a lesser time. The City has a limit on how much it can borrow, and properly so. I have certified for the calendar year 1946, $48,000,000 of new money, in addition to the $143,000,000. heretofore authorized and contained in the 1945 Capital Budget, which is intact and not a penny of which has been spent. In addition to that, there is $84,500,000 authorized for continued construction of the new Municipal Airport at Idlewild.

Let me explain to you just what the post-war building program will do. As I have stated so many times, our enormous, yes, I will say our gigantic post-war program, is based on receiving grants from the Federal Government. None has been appropriated to date, but I can tell you that the subject is very hot in Congress. Congress has appropriated money to advance to states, counties and municipalities for the preparation of construction plans. While this is not a complete commitment, it indicates the right kind of thinking. I have already taken advantage of that advance money. I have $76,000 for the Tropical Disease Hospital and $750,000 for the construction plans of the new Terminal Wholesale Produce Market which will cost $22,000,000 and which is going forward. Yes, the Government has given us the money, engineers and architects have been retained, we are going forward and nothing can stop it. Let me make that clear - that includes the railroads too. The railroads are very slow in thinking. We move pretty fast in New York City, Mr. Pennsylvania, Mr. Erie, Mr. Delaware and Lackawanna, Mr. E. & O. Yes, we move fast. You have to keep up. So we depend upon your cooperation.

I have recommended three definite programs to fit the economy of the country, local finance conditions, the labor and material situation. We shall proceed at once with $50,000,000 of construction. That requires no additional action. It does not have to wait. This amount of construction is ready to go. If there are no Federal grants available, we can proceed, commencing January 1 next, with $191,000,000 plus $84,500,000, making a total of $275,500,000 plus all of Public Housing and Semi-Public Housing which I will mention in just a moment. You must understand that this construction covering this entire amount cannot possibly be completed in one year and would carry over until completion. If Federal grants are forthcoming, this program could be increased to a minimum of $375,000,000 but more accurately I would say $400,000,000. This, in and of itself, along with what the Federal Government, States, Counties and other Cities would do would create an enormous impact on heavy industry and create millions of jobs. Our program here in New York City alone will employ - assuming that we get started at once on January 1, -by December 31, 1946, 200,000 jobs right here on construction. Multiply that by three and a half and you will see that it would employ over 600,000 additional men in back of the lines, that is, in the forests, mines, mills, factories and transportation. I have already given you a breakdown of the material required.

I want to make clear that our Public Housing Program of over $120,000,000 and that at least from $98,000,000 to about $104,000,000 of semi-public housing (insurance companies and savings banks) is entirely separate. We are ready to start building at once on public housing as well as on semi-public housing. The Metropolitan Insurance Company is already clearing the ground for the construction of Stuyvesant Town. That is ready to go and we are ready to follow with Cooper Town. The Municipal Housing Authority is ready to go with the Elliot Houses, Brownsville Houses and the James Weldon Johnson Houses. In the case of the Brownsville and the James Weldon Johnson Houses there may be a need for the relocation of tenants and will take a little time but that is in process now. Other public housing will follow hard on as well as the other semi-public housing. All of this, our public works program and housing program, depends on the following:

(1) The complete release of building material, (2) No profiteering in the price of building material and that is why a well coordinated program is necessary; (3) Either a national or local arrangement whereby wages are fixed for a job, by that I mean that the wages paid on a given job will continue until completion and (4) what is most important - the machinery for the adjustment of inter and intra Union disputes. These disputes are what are commonly known as jurisdictional and very often cause long interruption of work. It is necessary to have the adjustment machinery because the estimates of our post-war program make no allowance for a margin for contractors to meet the cost of unnecessary interruption of work caused by jurisdictional disputes.


JURISDICTIONAL DISPUTES AND UNEMPLOYMENT

I spent a busy day in Washington last Tuesday on several matters in which you are interested. I cannot tell you all about it because I will not have the time, but I did have a talk with the new Secretary of Labor, Mr. Lewis B. Schwellenbach. I knew Mr. Schwellenbach when he was in the senate and think very highly of him. I talked to him about the necessity of avoiding unnecessary interruption of work caused by jurisdictional disputes. I can think of nothing more important than some sort of national and local arrangement for labor because prosperity cannot be created by unemployment. Whatever the cause is, unemployment is costly, non-productive and disastrous. It seems to me that the department of Labor is the logical place for such matters, and that it is the function and the duty of the Secretary of Labor to take cognizance of such conditions and provide a remedy. The law creating the United States Department of Labor provides:

"The purpose of the department of Labor shall be to foster, promote, and develop the welfare of the wage earners of the United States, to improve their working conditions, and to advance their opportunities for profitable employment."

Can there be anything more timely or necessary now than to provide for the avoidance of unnecessary interruption of work?

The Secretary of Labor was most receptive and has asked me to submit in writing the conditions which I described to him and I am asking him to invite the tops of the various international organizations in the building trades to take this matter up.


PURCHASING POWER

I have been hearing a great deal these days, and so have you about prosperity coming because we are going to sell washing machines, radios, vacuum cleaners, curling irons and refrigerators, and then I asked who was going to buy them. They advanced the thought that there were millions of dollars in E Bonds and billions of dollars in the Savings Banks. You know that disturbs me. That statement has been made by very responsible people and it is dangerous. Suppose we do spend everything that we have saved, where will we be at the end of six months? We would be that much worse off. And if we do sell our E Bonds, will that do the government any good? So I went straight to the Secretary of the Treasury, Mr. Fred Vinson, with whom I had served in Congress for many years. I talked to him about it and I can cay that the Secretary of the Treasury of the United States is most emphatically opposed to any such promotion or propaganda inducing people to take their money out of savings banks or selling their small E Bonds for the purpose of buying consumers goods. The Secretary was most forceful about that. It is earnings, it is employment that will create the market and will create the purchasing power, not going into savings.


UNEMPLOYMENT INSURANCE UNIFORMITY NEEDED

Well, you have heard me speak so many times about the need for uniform labor laws and welfare laws throughout the country. Here is a beautiful instance. The amendment to the Unemployment Insurance Law has bogged down. Why? Because of the various State laws. There is the proof of the need of uniformity. Some States have it as low as $9 a week. If you are going to have differentials in states, don't you see what will happen? We must have uniformity of economic conditions in every State of the Union. You know that we went through a Civil War because of the disparity of economic conditions. It was the economy of the slavery institution that brought about an upheaval. Slavery was profitable and because it was profitable some States wanted to hang on to it. That is what caused it. There is nothing that will divide communities more than disparity in economic conditions and I hope that this Employment Insurance Bill will serve not only as a lesson but as a guide for future a legislation in Congress. Unemployment Insurance belongs to the Federal Government and its administration should be for the benefit of the workers and not for the benefit of State competition.


GARMENT INDUSTRY MOVING THREAT

You will recall that last week or the week before I told you about the Cloak and Suit Industry. Of course some wise guys - they know who I mean and they know that what they are doing is wrong - said I did not know what I was talking about. Well, today one of the big manufacturers of cloaks and suits comes back and points out that there is real danger. I hope that the Suit and Garment Industry will get on its toes. Listen, we can take a challenge in New York City. New York City can take it on and we can start this month. I do not agree with this manufacturer to whom New York City has been very good.

He is a big manufacturer and a very good one, but I do not agree when he says that local conditions elsewhere are better and, therefore, attractive to the dress industry. Say what are you thinking about - going back to the old sweat shop days and low wages?

Oh, you won't get away with that. I challenge anyone to tell me where are there better conditions than in New York City. Where are there better opportunities for the education of the children? Where are there better recreational facilities than in New York City? Where are better living conditions than in New York City? No, no, no. Let us all get together now and we can lick this attempt to take one of the most important industries away from the city.


SANITARY CONTROL BOARD

I have established an "Interdepartmental Board For Sanitary Control and Protection of the Public Water Supply." I had such a Board during the war because of conditions created by new industries and other conditions, and now it is necessary to have a permanent board. New York City will go out and get the best Sanitary Engineer in the world to serve on this Board. All Departments concerned are represented on the Board. New York City has the very best and purest water supply of any large city in the world and I want to be sure that it remains permanent. You know this is a scientific board and its work is highly technical and scientific and you would not find these kind of men in club houses. I want to have them started and going before I go out.


SMALL LOAN REPORT

I am going to release today a very interesting report that I have received from the Commissioner of Investigations. It is on loan sharks. Yes, yes, we still have the swine. We have two kinds, the loan sharks that operate in violation of the law, and those that are protected by the law. Those are the ones I am after, because the others will be easy to wipe out. The rates of interest are unconscionably high. I just want to read to you a few extracts from this report. I am giving it out today and if you want a copy I will be glad to give it to you. Yes even to the loan sharks, because it is a sort of a mirror and I do not think that they will like it when they see themselves. Commissioner Yavner, of the Department of Investigations, reports that "Fabulous fortunes have been pyramided from little investments in the stock of small loan companies. Needy borrowers have been the 'gold mine' from which shrewd investors have extracted their are in the form of excessive interest rates. Instead by publicizing misleading figures, they have tried to create the impression that the profits are very moderate. The borrowers have been 'gold bricked. Serious abuses in the operations of small loan companies have been revealed. These abuses result largely from the holding company structure of the industry. A salient conclusion reached in the inquiry is that borrowers pay excessive sums to small loan companies for their loans. The unchallengeable fact is that the earnings of these quasi-public institutions have been far beyond what may be considered a reasonable return on investments. Published reports of the State Banking Department on state-wide dividends of small loan companies show that the common stock has usually paid an average of about 50%. The companies, by using a fallacious formula, make it appear that the return on assets (before deducting interest on borrowed funds) was 3.71% in 1943 and 9.06% in 1939."

Anyone who demands more than 6% interest on money is not a business man, he is a swine. Here is a striking example of returns of investment by two leading companies: the Personal Finance Company in 1944 earned 35% of its common stock and the Household Finance Corporation's earnings on its common stock between 1941 and 1944 ranged from 17% to 24%.

And here are some good jobs. Here is one company which, according to its 1944 report, paid its President $75,000 a year and a bonus of $50,000. It paid its vice-president a bonus of $18,000 and a salary of $56,000. It paid its Assistant General Manager a bonus and salary totaling $40,000 and paid its lawyers $250,000. I guess the lawyers earned that fee. What they need is a Father Confessor.

The legal rate is entirely too high and the formula that is used by the Banking Department for calculating investors' profits and evaluating borrowers' interest rates have been admitted by an official of the State Banking Department to be full of holes. We ought to have a complete investigation of that. I do not believe that an investigation is necessary but legislation is necessary so I am starting to talk about it in September. Yes, I am going to talk about it in October and November and let me tell you something. I will have time to talk about it after January 1st and I am not going to let go until this condition is remedied.

I have asked the Commissioner of Investigations to compile and pursue the subject further. I know, I know, I know what you are going to say now. I know what this $250,000 law firm is saying now. The City cannot investigate that, it is something for the Banking Department to investigate. Well, I will tell you where we are concerned, and we shall investigate only as far as we are concerned. We are concerned in protecting borrowers who are city employees, reducing the number of people on relief who are having financial trouble because of such interest rates; simplifying the procedure and reducing the cost to judgment debtors in execution of judgments. Now do you see how we are concerned? Well, I hope that we get your cooperation, but you know that this is the time of the year and there's gold in them their banks.


VETERANS' OPPORTUNITIES

Veterans should apply to the Board of Transportation for jobs because there are plenty of vacancies there. Last month, that is, between the 13th and the 22nd, 312 veterans were appointed. The jobs are provisional, that is until an examination is held, but the experience gained in the meantime will be very helpful in obtaining other permanent positions.


VETERANS HIGH SCHOOLING

Last week we had a Marine here. He was rather impressive. I find that a large number of discharged veterans are going back to high school. After the first glamor is over, I want special attention to be given to those discharged veterans in high school. The plan suggested, and, I believe started, to put these boys in one of the colleges to get their high schooling - - is very good. If there should be any large number, I have authorized the President of the Board of Education to provide separate, academic high schools for discharged veterans. By that I mean separate buildings and a special corps of teachers. That is one of the best investments that we can make and the veterans are entitled to such service. If the present plan of separating them by providing high school education in one of our city colleges works out, that is fine. Otherwise, they are authorized to make special provision. We are going to watch that because we want to give these boys all the encouragement that we possibly can.


ITALIAN WAR ORPHANS BENEFIT

Well, you know that any time Beethoven's Ninth ymphony is given it is a treat. It is one of the best pieces of music ever written. But when Beethoven's Ninth is given by the New York Philharmonic Orchestra, well, that is something special. But when the Beethoven Ninth is given by the Philharmonic and conducted by Toscanini, that is an event. And just such an event is going to take place on Tuesday, September 25, at Carnegie Hall for the benefit of the Italian War Orphans Committee and the Italian Welfare League, providing for relief in Italy. The opportunity of hearing this masterpiece of music by one of the best orchestras in the world and conducted by the best Maestro in the whole world is certainly one that should make people respond. You can get your tickets now at the box office of Carnegie Hall or you can apply at the Italian Welfare League, 1008 First Avenue at 55th Street, or telephone Plaza 8""2240. Tickets range from $2.40 to $15. There are some high priced tickets in boxes, but I suppose you know all about that. Tickets are $2.40 to $15. It is for the Italian Relief and Italian War Orphans Committee and it will be quite a musical treat in addition to the very fine purpose of this concert.


PATIENCE AND FORTITUDE.