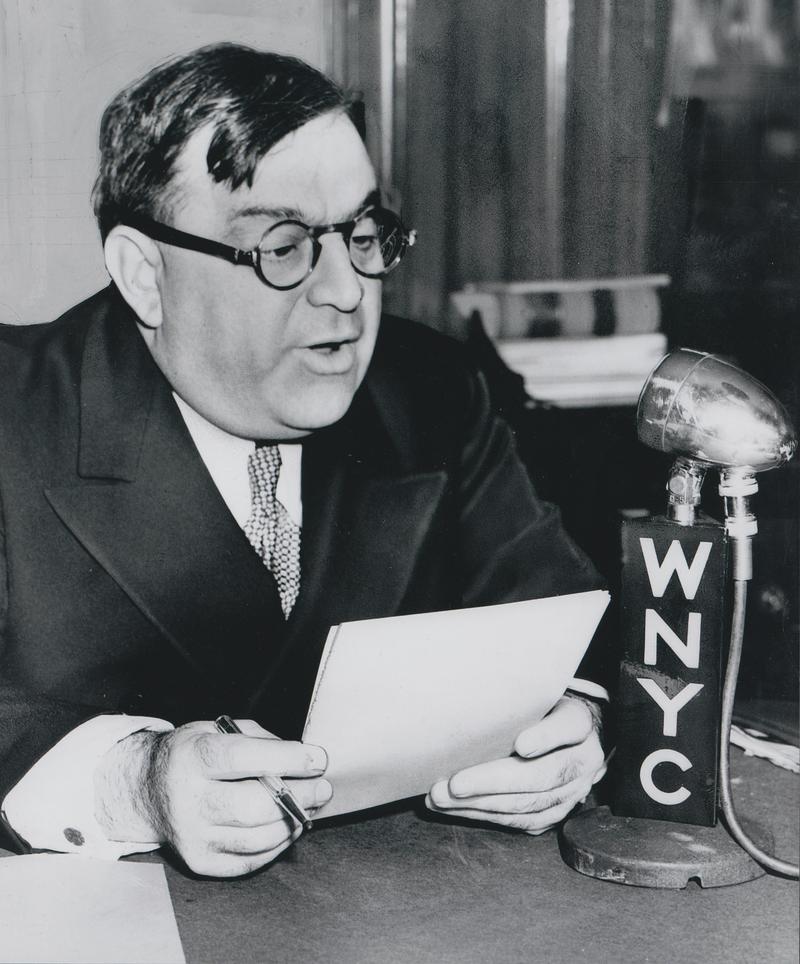 Summary
This episode is from the WNYC archives. It may contain language which is no longer politically or socially appropriate.
Reopening of school, Polio, homemaking.
Audio courtesy of the NYC Municipal Archives WNYC Collection
WNYC archives id: 71379
Municipal archives id: LT4059
Transcript
The original text of the WNYC radio broadcasts are the property of the New York City Department of Records/Municipal Archives.This digital edition is made available for research purposes only.The text may not be duplicated or reproduced without the written permission of the New York City Department of Records/Municipal Archives 31 Chambers Street New York, NY 10007


FOR IMMEDIATE RELEASE SUNDAY, SEPTEMBER 10, 1944

CITY OF NEW YORK OFFICE OF THE MAYOR

TEXT OF MAYOR F. H. LA GUARDIA'S SUNDAY BROADCAST TO THE PEOPLE OF NEW YORK FROM HIS OFFICE AT CITY HALL, SEPTEMBER 10, 1944, BROADCAST OVER WNYC AT 1:00 FOLLOWS:

[Audio not available here. See below.]

SCHOOL DAYS sung by children of Elementary Schools.

Patience and Fortitude.


REOPENING OF SCHOOL

The City of New York welcomes its 900,000 children back to the 1944-1945 school year. We are proud of our children, for we have the best children - mentally, physically and morally - in the entire country. We give these children the best school system in the world. Your city has great concern for the welfare of the children in equipment, faculty and school staff. We invite comparison with our system here in New York City.


INFANTILE PARALYIS

During the last few days I have received many inquiries as to whether school will open on the regular day. I consulted the school authorities and the superintendent of schools, and I want to assure all of the parents of our City that they have no cause to fear their children going back to school. I know what it is to be concerned while there is a sort of scare concerning infantile paralysis. The decision was left to the Health authorities of our City, who, in consultation with the best health authorities in our country, have decided to open school at the regular time. They assure parents that there is no greater danger in children going to school than there would be if they were at home. I wanted to assure you, so I have asked Dr. Stebbins, the Health Commissioner of our City, to give me a statement that I could read to you this morning. Dr. Stebbins says: "The question of the postponing of the opening of school because of cases of infantile paralysis comes up every year. At this time of the year when infantile paralysis is prevalent, the virus causing the disease is present throughout the community. [AVAILABLE AUDIO BEGINS HERE] Medical and public health authorities state that for every person who has the disease, there are probably hundreds or even thousands of well persons who carry the virus. With children coming already in constant contact, with the virus there is then no added risk when they go to school. Furthermore, in school the child is under the observation of the teacher, school doctor and school nurse and is thus better supervised and better protected than he would be if schools were not open. In all previous years when New York City has had an outbreak, the opening of schools has not resulted in an increase in the disease.'

That statement is from Dr. Stebbins. So parents, you and I can be assured that in sending our children to school tomorrow we incur no greater risk than if they were at home.


SCHOOL REGISTERS

I said 900,000 children just a moment ago. To be exact it is 858,340 and here is how they are distributed: 498,550 in elementary schools; 106,840 in the junior high schools; 185,000 in the academic high schools; 46,000 vocational full time and 22,150 in continuation schools. That is 41,824 fewer children in our schools the coming year than we had last year.

I want to recommend to all parents who have little children that if it is at all possible and if they are of age, to take advantage of the kindergarten classes. This gives the child a very good start and as I have said so many times, it is an opportunity to start the child right on good manners. It gives the child poise and confidence. So wherever possible I strongly urge taking advantage of kindergarten classes.


TEACHING STAFF

Do you know that we will have 16,582 teachers looking after your children from the kindergarten to 8B, and they will be supervised by 788 experienced supervisors? In the junior high schools there will be 3,844 teachers, supervised by 255. We have 6,439 teachers in our academic high schools, supervised by 145, and 2,359 teachers in our vocational high schools, supervised by 59.


JUNIOR HIGH SCHOOLS

Just a word about the junior high schools. I want to say to parents, because very often I come in contact with parents who are under a misapprehension, that if your child happens to be assigned to a junior high school, do not get the idea that when he is through that school, that is all there is to it. Not at all, because the child only has had one year of high school. The fact that the child goes to a junior high school is not at all final or conclusive that the child should not go to an academic high school or to a vocational high school. That is something that will be decided during the child's time in the junior high school. So please parents, remember that junior high school contains only one year of regular high school, and your child is not through when he finishes junior high.


ACADEMIC HIGH SCHOOLS

Of course, I recommend academic high school to all parents, whatever the sacrifice may be. So enter the children in the SCHOOLS academic high school, if at all possible. This is necessary if the child is going to college or if the child is going to take up a profession. Therefore, the advantages of our high schools should not be overlooked.


VOCATIONAL HIGH SCHOOLS

A great many parents hesitate in sending their children to a vocational high school, because, I quote " oh, he's just going to learn a trade". That is right, he is going to learn a trade, but he is going to learn it well. The vocational high school also gives the child a cultural background which will be very useful to him in later life, especially now that we are going into a new era, we hope, when people will live better and when people will have more leisure time.


LEISURE TIME

You know there is quite a difference in leisure time and idle time. Idle time is brought about because one is unemployed, and it is depressing and demoralizing. But leisure time is time that one may enjoy when employed. However, in order to get the full enjoyment of leisure time in the new era into which we are entering a cultural background is very necessary. Did you ever hear a person say, 'oh, I have the afternoon off, but I don't know what to do'. Yes, I sometimes hear children saying that. I had a case not very long ago in an institution for which we provide teachers that the children had nothing to do between 5 and 9. Well, did it ever occur to these children that they could spend some time with Bret Harte, or Fenimore Cooper, or Mark Twain. You know, these men are available. All you have to do is to reach out on a library shelf, pull them out and just spend an hour or more with them. To do that you must have the necessary ground work. You must have some educational background to enjoy music and to enjoy a beautiful painting. Yes, how many times have you been to a movie and you did not know what the picture was all about. Well, if you knew your history you would have known what it was all about and you would have enjoyed it more.

We hope that before long everybody will have an opportunity to be employed gainfully, and to have time for leisure. That is why we urge a cultural education along with vocational training. Now parents, I want to assure you that your child will get the full benefit of everything he can absorb in the line of education if he goes to vocational high school. The academic courses are not neglected and the child is guided and advised along the lines that experts believe he is best fitted and will make him most useful to himself and to his community.


EDUCATIONAL OPPORTUNITIES

We have such a variety of vocational training. For instance we start with aircraft, airways, radio, air conditioning, aviation, mechanics, architectural drafting, motor repair, all types of auto mechanics. We have a high school devoted entirely to the automotive trades, including body repair and painting; boat building; body and beauty culture, just think of that; baking, homemaking. Say, about homemaking, you know, girls, when was a kid, my sister and I had to take turns in washing the dishes every night. We had no maid out in Arizona. If you are going to take homemaking it is not bad to know what to do at home. I think it is a good plan -liable to be called old-fashioned, perhaps modern educators will not agree with me - but I think boys and girls ought to be trained how to ventilate their bed in the morning, how to make their bed, how to clean their room, and yes, just help mother a little bit in doing the weekly wash. Oh, that is hard work. [AVAILABLE AUDIO ENDS HERE] However, in our schools in homemaking, we teach the girls how to do it scientifically. You have no idea how much labor is saved just by knowing how to do a thing. I remember when I was a boy, how fatiguing it was to mother, on a Monday when she had to do the washing in the old-fashioned washtub, and had to boil the water, and use the old hand wringer. That was just hard work, and everything was sort of disarranged in the kitchen. As I look back at it now, I can see it was so disarranged as to create extra work. But now there is a regular science in the kitchen, everything has its place, steps are measured, so that at the end of the day more is accomplished and with less fatigue. All of those things are now studied out, based on experience, and the home making courses in our schools are really excellent. Then we can go on to bookbinding, building maintenance, cabinet making., all types of catering, and tearoom trade, and cafeteria work. Yes, we have a Highschool of Foods. That is a highly specialized school. You would be surprised to know how much future there is in the food trade. It is quite an industry in our country. Do not think that a boy or girl can just stop into a hotel or into a restaurant and know all about it. The old ways have been abolished. You cannot just go in, look around and pick it up. Oh, no, now we send out children well prepared. Yes, it is true that they start at the bottom, but they are prepared to take the top jobs. That is the purpose of an education.


PART-TIME COOPERATIVE EDUCATION

I can go on indefinitely as to the many, many trades, skilled trades, that are open to the children, but I want to point out something, and I have to be very careful. Dr. Fade is here and he would jump on me if I am wrong. However, at the risk of incurring his displeasure I want to say this, recently we have developed a sort of part-time course, where children in high schools or vocational high schools may spend some time in employment, working at the trade for which they are training. That is very good, but it must not be abused. It required very careful supervision. For instance, if a boy is taking auto mechanics, and he spends so many hours a week in a well-equipped shop where he can see what is going on and where he can compare what he is learning in theory with what he is doing in practice, that is very helpful. But if that boy is placed at a gas station and all he does is to wipe windshields, that does him no good. Of course, a week of that would not do him any harm or a week or two in washing cars. But I fear that unless we are very careful, there may be a great deal of exploitation of child labor in taking children into part-time work. A little girl that I know, who is taking a commercial course, has been employed in a bank as a messenger. Well, a week of that, or a month of that would be all right. But that little girl has been doing that now for about a year, and I do not see the advantage, I do not see that she is getting anything out of it. She sits in a room with other messengers, and when the buzz sounds she responds when it is her turn and takes a letter to another department or to another bureau and delivers a message. There is no advantage to that. So in this part-time cooperative education we must be very careful and must be very well supervised in order to avoid exploitation.


BUREAU OF CHILD GUIDANCE

Of course, you know that in addition to classroom teachers there are several hundred teachers engaged in specialized work in the Bureau of Child Guidance. I want to ask parents to take advantage of that service. If there is something wrong with the child, if you see he is not doing his work well, or if he is dissatisfied or if he hesitates to go to school, consult the Child Guidance Bureau and call the attention of the teacher or the principal to the child so that you can get the benefit of this guidance. It is very useful.


BUREAU OF ATTENDANCE

Then we have the Bureau of Attendance. Oh, I would be happy if Mr. O'Leary, its director, had nothing to do with his 331 Attendance Officers. Children, take advantage of your schools. You are not fooling anybody if you play hookey, in fact, you will live to rue the day.

SCHOOL PART, CHILDREN'S COURT

We have a new system now, we have established a Special School Part of the Children's Court. It is working very successfully but I have my fingers crossed. I hope they do not become too formalized and just continue with this direct contact and cooperation with the family in the school.


NIGHT SCHOOLS

And then there is the evening elementary schools, evening high schools, evening trade schools and recreation and community activities. So your school is indeed a busy place.


EXPLOITATION OF CHILDREN

Now children, at this time I want to talk directly to you and I hope your parents are listening in. In every crisis and every emergency there are always some people who take advantage to do things they should not do. I am sorry to say, I am not very proud of men in our city who have taken advantage of the so-called shortage of manpower to employ children. I am dead against it. It is bad for the children and it is bad for the community. Sometimes parents do not cooperate and do not see the other side of it and let their children work. Our State is very careful in supervising employment of children, and no child who is without working papers is permitted to work, but I go beyond that. Even if a child has working papers, unless it is absolutely necessary because of the economic condition of the family, I strongly advise against hiring him. As I have said before, there is a division of opinion on that, but on the whole I think I am right. Very often you have seen little boys employed by grocers carrying heavy bundles. That is wrong. The child works late at night. He needs his rest, he cannot carry bundles and make deliveries up to nine or ten o'clock and then be ready for school the next day. Recently I had a complaint which I sent to the State Department of Labor. A very well known firm - I have a high regard for - it is the Donnelley Company that publishes the Red Telephone Book, had boys employed carrying heavy packages. I wrote to them and they replied that they were advised by their insurance people and their employment personnel that the boys were not carrying too much, since they were carrying thirty-five pounds. Well, I think thirty-five pounds is too much. Insurance people, of course, only have an interest in collecting premiums. They should have consulted the Department of Education. Now here is another case. I got a very intelligent letter from a lady which I want to read to you:

'Perhaps you have noticed the enclosed ad which has been appearing in several New York Papers for some days. A thing like this is just mocking every effort the Mayor, the Board of Education, Parents organizations and other groups are doing to get children back in school'. Here is the ad, I will read it to you: Young men, 16-18, of course, you're going back to school, but you can sign up now in one of our roller skating squads and skate inside our operating rooms from 7 P.M. to midnight, 2 or 3 nights per week, at 50 cents per hour. Skates furnished. Western Union, room 400- 60 Hudson Street'. Now Western Union, I do not think that is sporting. I do not think that a company with the tradition and history of the Western Union should exploit children to that extent. If a child is working from 7 PM to 10 or 7 PM to midnight, he is not in condition to go to school the next day. That is why I protest. Yes, I do become indignant about it. People say that Mayor loses his temper. Well, I hope I will always be able to lose my temper at the sight of the exploitation of children, or at not giving the children a break, and to employ even high school children from 7 to midnight, I say is not giving the children a break.

I have a number of letters here I could read to you children about boys who did not finish their high school and are regretting it now. Here is one: 'is there any possible way a boy of 16 1/2 who left school at 16 can return to school this fall? The reason I left was that my brother was taken into the Army and my father was not working. So I had to take my brother's place so we could get along. Now my brother has been discharged from the Army and my father is working. I would now like to get back to my education if it is possible. I realize what an education is and I am very sorry I left. The high school I left was Samuel Gompers. I was in the fifth term.' Yes, Richard, come back and we will receive you with open arms. Your case was one of economic necessity. That we can understand. So rest assured, we will try to help you to make up all the time that you have lost and you will be a good example, in telling the other boys what it is to be out of school.


MESSAGE OF DR. WADE

I have Dr. Wade here and I am going to ask him to say a word to the parents today and I am sure you will be glad to hear him. By the way, this gentleman you are now going to hear, the Superintendent of Schools of New York City, has the biggest job in America. There is none to compare with his responsibility. Think of having 900,000 children under your care; think of planning for their future; think of moulding their characters; think of preparing them for life.

Dr. Wade: 'Thank you, Your Honor for this opportunity to speak to the parents and pupils of our schools. We are deeply indebted to you for the stand you have taken in the effort to persuade pupils to remain in schools to complete their education. Your forceful appeal of last year was most effective and we are certain that parents and pupils will be guided by your advice to return to school in order to take full advantage of the opportunities for education so generously provided by our City. Boys and girls, your school opens tomorrow morning. Monday morning. Will you be in your class ready to complete your education or will you be attracted by the temporary gain of present-day high wages and lose the greater return of a good education which will help you throughout your life? No sensible person will prefer a blind alley job of today in place of the opportunity to secure the kind of education which will insure a happy and prosperous tomorrow. Look ahead, and realize that when peace comes the poorly trained and insufficiently educated person will be the first to lose his job. Then it may be just a little too late to complete your education. You may then become a drifter from one job to another and never reach the advancement which you seek. As your Superintendent of Schools I feel most keenly my duty to urge you, for your own welfare, to give serious thought to what His Honor has said and to be in your school on Monday morning. Do not give up the chance of a lifetime for the temptation to earn a few dollars now'.

Thank you, Dr. Wade, and I am sure parents will heed.


NEED FOR HAPPY HOME LIFE

Now parents, just a word to you, I have been talking to the children most of the time. Make the home happy. Th poorest home can be happy. Avoid bickering and quarrelling in the presence of the children. Never bring up a controversial question during meal time. The children must be happy at meals. Do all you can toward that end. And above all cooperate. I could go on indefinitely and preach a sermon on this, but here is a little girl who writes to me: I am a little girl, 11 years. I am in trouble. My mother sends me for beer. If I don't go she hits me and if I do go my daddy catches me and he wants to fan me.' Can you imagine the conflict in this little girl. It would be so easy for the child to be happy at home. Cooperate with your children. And children, remember when school opens you can not stay out late at night, you must get your rest and proper nutrition.


SCHOOL LUNCHES

I want to tell the parents that we have a very well balanced lunch in all the schools, free if circumstances require, 10 cents if otherwise. This is a well balanced lunch, carefully prepared by your schools. It is possible because of the subsidies received from the United States government. These lunches will be available in all grade and junior schools.


P.A.L. CONTRIBUTIONS

The other day I asked the Loew's Theatres to become a member of the PAL. It costs $1.00 a year for an adult to become a member but only 10 cents a year for a child. Not only did they join, but what do you suppose, they sent me $1000. to pay for the fees of 10,000 children. So 10,000 children we want you to join the PAL, and we have the dime for each of you to join. I want to thank Mr. Moskowitz and Loew's Theatres for this contribution to PAL, and other theatres, I won't be at all offended if you copy, because we want to get all the help that we can for PAL and all the other children activities.

CHILDREN'S RESPONSIBILITY

So now children, back to school tomorrow. You are the most fortunate children in the whole world, you have more than any other children in the world. I do not mean by that that we should be selfish. No, we must think of others. You children must think of the children of other countries, so that you will understand how necessary it is for us as a people to take an important part in the new order, the new world order. You children in high school will soon be taking our places, so you must be thinking about children in other countries who do not have the advantages you have. You are all assured of a future, there will be no discrimination. You will all have an equal chance. The very history of our country proves it. But of all things you must be able to assume these responsibilities. Whatever you do in life, whatever your vocation, trade or profession may be, as a citizen of a great democracy you have responsibilities and you must understand the problems of your country intelligently and decide those problems intelligently, for after all the decision remains with the people and we want to keep it there. While you are preparing for those responsibilities, of course I want you to be happy. Yes, get in all the good wholesome play you can. Be cheerful. You have a big job ahead of you, a very big job, because when you take over you will have to take over not only the running of our own country but you must assume our responsibilities in making this a better and happier world.

Patience and Fortitude;

'God Bless America' sung by children of high schools.