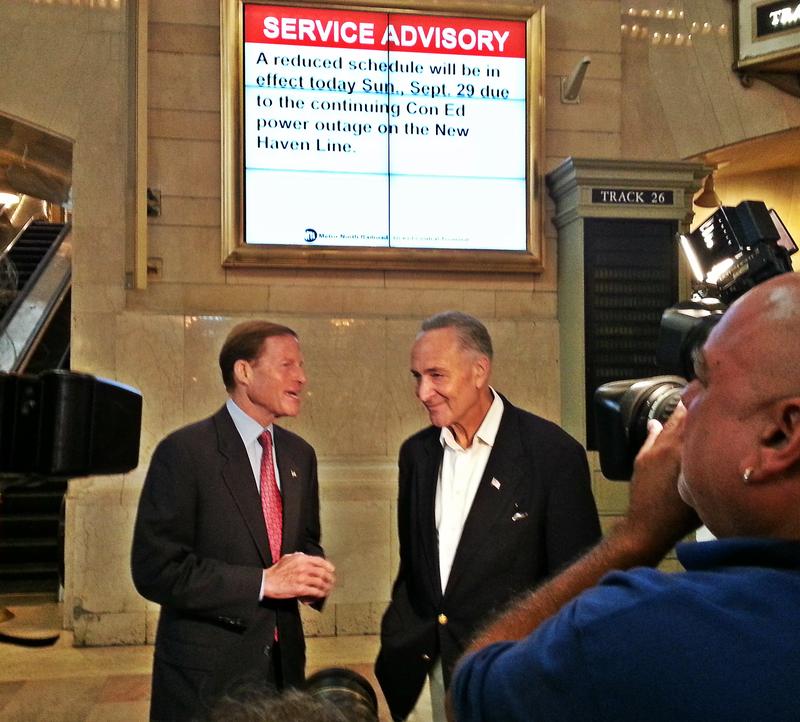 Senators Richard Blumenthal (D-Connecticut) and Charles Schumer (D-New York) are calling on the Department of Energy to investigate the causes of an unexpected power failure that has caused frustration and havoc for tens of thousands of commuters in their two states.
On September 25th, a 138,000-volt feeder cable supplying power to Metro-North's New Haven branch failed, while a second feeder cable was undergoing repairs. Blumenthal said the public needs to understand how that maintenance plan was made and approved.
"Heads need to roll, management needs to change, and there needs to be a full explanation," Blumenthal said.
Schumer said shifting explanations for the outage do not inspire confidence.
"I sorta smell cover up because they said a line was cut, then they said a line wasn't cut. We need to know what happened here fully. And we need Con Ed, Metro-North and all the others here to come clean," Schumer said.
A Con Edison spokesman, Allan Drury wrote in an email "We will determine the cause of the feeder failure, but our highest and immediate priority is to restore service to the New Haven line as quickly as possible."