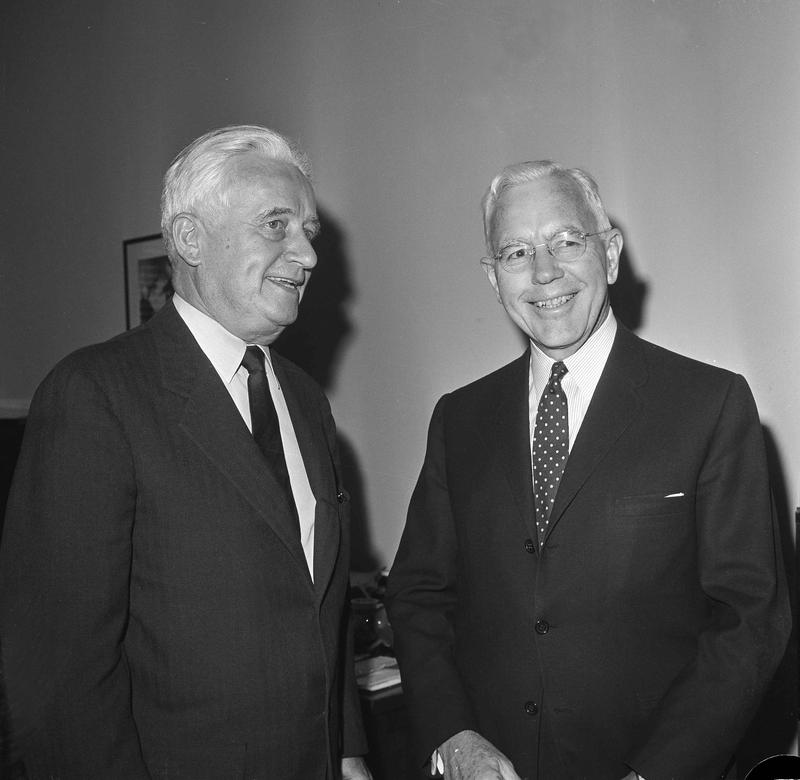 Summary
This episode is from the WNYC archives. It may contain language which is no longer politically or socially appropriate.
New York Senator Kenneth B. Keating speaks about his role and views on nuclear war and the number of countries currently capable of engaging in nuclear war.
Keating answers questions related to his reactions to the Cuban Missile Crisis, particularly in regard to the role of a senator in speaking out during times of war. He says he will not be a "rubber stamp" for any administration.
Questioned about Senator Barry Goldwater's bid for the Presidency, Keating makes it clear that he will not support Goldwater.
Asked about polls that indicate Robert F. Kennedy leads Keating in their race for the New York Senatorial seat he states that he pays no attention to polls. Keating focuses on his own experience as a senator and congressman. He also points out Kennedy's attacks on his record.
While speaking about Kennedy, he "slips" saying Massachusetts instead of New York, a reference to some controversy about Kennedy's residency.
Audio courtesy of the NYC Municipal Archives WNYC Collection
WNYC archives id: 70307
Municipal archives id: T51
Transcript
This is a machine-generated transcript. Text is unformatted and may contain errors.
Then tensions are running again for the Senate in a way he is one of our colleagues or he is the first member of the House of Representatives who started a weekly television show it was fifteen years ago it's a television discussion program news questions sent in from constituents and guests and it is it is still running after fifteen years as one of the important the up state television shows it's my very great pleasure to present senator Keating. Thank you very much for MCGURN and when I was shot I don't know man ladies and gentlemen of the Overseas Press Club there is another party that to you forgot to mention Barrett It takes place on the third day of November I thought perhaps I ought to I mention it just in passing. I am happy to be back here and I want to first make two apologies one for the fact that the last time I was here a few weeks ago we were in session and I had to rush back to answer a roll call and today again I'm rushed in the different way in that. I'm always a little bit behind. The project in which I'm now engaged and. There's I'm supposed to be in Queens I guess roughly about an hour few minutes from now but I am honored to have been invited to come here and to talk with you about a problem. Of international significance. Last week was you might say the week that was in international affairs and this week is the week of trying to sort out what it means this week we live at least more so in a world of five rather than four nuclear powers and this week we live in a world without Mr Kershaw we don't know either or without him completely or whether we're at least without him as a. Leader of a country and we're without the British Conservative Party in a position to influence world events. And someone predicted a year ago that today only one of the big four world leaders would still be in power and it would have been hard to believe and have the even harder to believe that that one would be president the golf the great winds of change of swept the world from the steps of Asia to the picturesque veils of the British Isles we would be wise to stop and luck and lesson before proceeding on our way I have been always as most of you know a strong supporter of a bipartisan foreign policy when our country is threatened our way and the president as commander in chief takes charge of our armed forces and there is no alternative for any citizen I believe particularly for one in the position of legislative responsibility except loyalty and allegiance but when policies are in the stages of formation. Our own policies are going for our word regardless of vital changes and without reappraisal in the light of a changed world that it becomes the responsibility for every citizen to speak out and to make his views known I believe for instance that it was my responsibility to speak out as I did in one nine hundred sixty two when I had the facts from official government sources on the Soviet missile build up in Cuba it was also my responsibility in my judgment to give support to the president one hundred percent when the crisis was finally revealed to the people of the United States and I'm proud that I did so and Unlike my opponent who has made the preposterous charge that I was responsible for holding up the test ban treaty after saying the week before that what we needed in Washington was a voice and not a murmur I believe that the Cuban Missile Crisis was a turning point that made possible the test ban treaty and other moves toward peace in our world and I'm very proud of the role that I played at that time incidentally my opponent also said that I ridiculed the Nuclear Test Ban Treaty and did not speak out for it until support was assured and I can say to you without any question this is a pretty passive grist fabrication. I spoke out on the Senate floor fifty days before the treaty was initially and joined with Senators Dodd and Humphrey and others several from both sides of the political aisle. And urging the president to take a first step and to offer the Soviets a partial ban on nuclear testing in the atmosphere all together I spoke on the Senate floor seven times and seven times off the floor and statewide radio television and various gatherings urging strong bipartisan support for the treaty but my stand on the Cuban issue certainly shows in my judgment that I will not be a rubber stamp for any administration I've served under three Democratic and one Republican administration and I have always used the same yardstick I have studied the legislation they recommended and looked it over and if it looked good to me for the state of New York and for my country I have stood with the president if I did not I have stood against him and I will not and never have been a rubber stamp for any administration and I will speak out when my conscience and the firm facts direct so I feel that I have a responsibility today to speak out on a matter that is of great and increasing concern to me even though there may be some here will misinterpret my remarks are try to put them in a partisan context they are not intended as such I do not consider that this is the proper forum for partisan remarks and I know of your interest in foreign policy and I am making these remarks here because of that the major foreign policy issues are at least one of them the national campaign has been the question of control of nuclear weapons. It is my firm belief as I stated last August that the president of the United States and he alone and no general anywhere in the field must have the final responsibility for the ardor that could lead to the use of such weapons. Yet in the continuing discussions of the problem most of which I unfortunately have generated more heat than light and equally important part of the problem it seems to me has been totally neglected that is the issue of control not within the United States government but among other governments the issue of the mother lateral force. In the long run that may be a more important issue and the question of internal control my opponent gives full support to the administration and its multilateral force policies in one nine hundred sixty S. the United States government first proposed a NATO nuclear flotilla to far all the nations of NATO under a five minute to give them a measure of control on the trigger finger of nuclear weapons. Have a veto or are a controlling vote was to rest with the United States at least to start with. This idea was promptly rejected by Great Britain which under the Conservative government preferred an independent polarised based force and was even more forcefully rejected by French president beguile who is determined to build an independent French force to frappe and who gave added emphasis emphasis to his rejection of nuclear cooperation by rejecting also British membership in the European community. Ever since the time of that rejection in January sixty two the concept of the mother lateral force has grown almost surreptitiously without full congressional authorization without open congressional hearings and without any player national understanding of what is going on as a result we now have on the drawing boards a mixed. Manned force of twenty five freighter type ships each one of which is scheduled to carry eight Laris intermediate range missiles each one would seek to hide itself by travelling with merchant ships in the usual Atlantic trade routes already one destroyer the Bedell has been set up as a prototype rename the records and launch this very week by the secretary of state and makes nationality crew will soon be sent to sea for further travels now if this force represented an effective military posture against a threatening communist advance in Europe I'd be in favor of it if this force represented a true bond of unity among NATO forces NATO nations I would be in favor of it if this force represented a real consensus of the desires of West Europeans I would be in favor if the force represented a genuine first step toward limiting the proliferation of nuclear weapons I would be in favor of this but the incredible thing is that not one not a single one of these hypotheses is really true it's universally agreed that the model lateral force serves no necessary military role only a political one. No less an authority than the secretary of defense stated on February third of this year I quote We see no urgent military requirement for the mile the lateral force Secondly instead of being an influence toward unity in Western Europe the model lateral force is becoming an awkward symbol of the differences between the United States and friends the other nations of NATO are being forced to choose between France which is increasingly vocal against the project and the United States which is applying increasing pressure in favor of forcing such a choice does not strengthen NATO or the ideal of European cooperation carried to its logical extremes that can only lead to a disintegration or does dissolve ing of NATO Thirdly there is no consensus of support for the model lateral force anywhere in NATO in addition to France which bigger slee opposes it Canada Denmark and Norway every few hours to enter negotiations on the project the Benelux countries all of participating in technical talks have given no indications of final support for the project Greece and Turkey are deeply distracted and divided of course over the Cyprus issue the new British Prime Minister Harold Wilson has openly expressed his misgivings about M.L. after Emily's interest is highly tentative and all of some German officials favor the project a United States government study in April of sixty three indicated an overwhelming rejection by the West European press of the kind of M.L.F. and visit by the United States their report points out editorial comment was heaviest and most negative in West Germany. Now fourthly there must be serious question in the minds of all Americans especially at the end of a political campaign in which the control of nuclear weapons is figured so extensively as to the wisdom of placing more fingers on nuclear triggers on some twenty five vessels traveling at random over Atlantic trade is the present formula for control now under negotiation pairs to emphasize majority can call by those powers that contribute the greatest financial support to the project at the moment that would mean United States control yet President Johnson stated in Belgium last fall I quote him evolution of this missile fleet toward European control is by no means excluded the atomic energy acts of forty six and fifty four prohibit the transfer of nuclear power to other powers nuclear weapons to other powers the Nuclear Test Ban Treaty sixty three pledges the United States not to aid in the transfer our dissemination of nuclear weapons to other nations originally it seemed that any shift in control of nuclear weapons would be presented to the Congress either as an amendment to the atomic energy acts are as a treaty for ratification that pledge has not been repeated in the last few months yet while the American people have and rightly in my judgment showed very great concern over the control of nuclear weapons they have been largely unaware that right now in negotiations are underway for a transfer of some elements of U.S. nuclear control to other nations in fact a multilateral force charter is supposed to be in final form by December first. Strength and the unity of the Western alliance has been the key to world peace for the last decade and a half but I seriously question whether the multilateral force as now in vision and under present circumstances. Will add to that unity and strength my opponent has indicated his support for the challenges of the Western alliance today are not primarily in Europe they will not be resolved by the placement or replacements of intermediate nuclear missiles on land or at sea they're in Asia in Africa even in Latin America where unconventional methods of warfare are as in the Middle East in the fifty's leap frogging the boundaries of our alliance structure and setting up new and threatening beachheads there in South Vietnam and Indonesia in Malaysia in the Congo and Cuba and British Guiana the greatest challenge of the Western alliance today is to act in concert to protect a vital common interest in freedom and in orderly government throughout the underdeveloped nations of the world the greatest challenge of the Western alliance today is to work with the new countries of the world to bring guidance and meaningful help before it's too late in so far as the model lateral force today divides the United States from France and from Britain and concentrates attention exclusively on the nuclear defense of Europe I question its present priority in NATO policies instead I would recommend a renewed and redoubled effort to coordinate NATO aid and military policies throughout the world to meet the challenges where they really exist today and to look to the mounting threat of Marxist insurgency. This we must do before the sparks of communist agitation ignite an explosive mass of hungry poverty stricken and desperate people around the globe or there will be nothing left for a multilateral nuclear force to defend and therefore I feel that it needs a serious reappraising this whole idea of the development of the multilateral force and I am pleased to have had the opportunity to present these views to you here today. And of the. Thank you Senator Keating I'll ask Bruno sure there are former vice president of this club to take the question period Bruno. I think everyone here will agree with the US that this is a subject that was all too little discussed in this campaign and that we are grateful to Senator Keating for bringing it to the forefront so that we can have his views on it I think you know agree with him it's one of the most important subjects and the most and discussed subject in this campaign so far no other any questions for the Senate on this or on any other point that has come up in the campaign to which anyone would like an answer from Senator King. The question as I get it is that should a senator speak out and his own from his own point of view in his own mind without hearing a question on which you wish to speak face with the administration. I'll add to that such as the Cuban situation no I do not particularly in the case the Cuban situation. And to continue very briefly on it I did not I asked the I had from official government sources the information that weapons and soldiers in great numbers were coming in to kill them and before saying anything I addressed the letter to the secretary of state on the sixteenth day of August waited two weeks for an answer I got no answer he there are only are in a letter and. On the thirtieth about just made my first speech on the subject calling attention to it it was immediately denied and then four