SchoolBook
Senate Takes Aim at De Blasio's Power Over Charters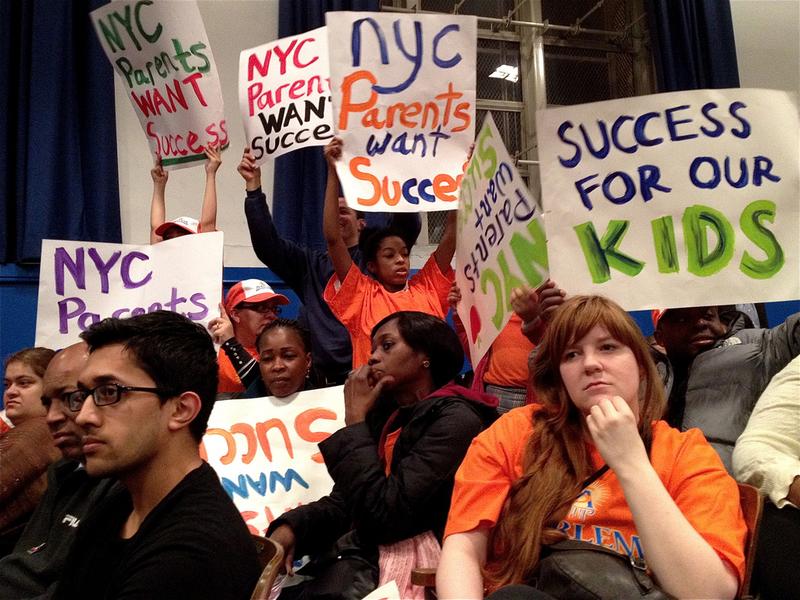 While Albany lawmakers appear to have coalesced around a deal for expanding pre-kindergarten, the next education fight is emerging around how far they will go to protect charter schools. In a dig at Mayor Bill de Blasio, Governor Andrew Cuomo and Senate majority leaders are taking steps to give more help to charter schools in the state budget, a move Assembly Speaker Sheldon Silver strongly opposes.

Senate leaders Dean Skelos and Jeffrey Klein inserted language in their budget resolution that would specifically prevent Mayor de Blasio from acting on his plan to charge rent to charters, by requiring districts to let charters use public school buildings without any cost. The resolution would also essentially undo de Blasio's decision to block three charter schools from opening in the fall.

In addition, the Senate resolution would provide building aid to charters for the first time. The privately managed schools currently receive only operating aid, or tuition, on a per-pupil basis. That tuition aid would also rise in the Senate's resolution. And New York City would have to to provide additional aid to charters that are co-located in district school buildings if they lose any space.

Governor Cuomo did not address the specifics of the Senate majority's proposals. But he signaled his willingness to go to bat for charters.

"My position is going to be, yes they should continue and their continuation should be protected," Cuomo told Susan Arbetter Thursday during an appearance on public radio's "The Capitol Pressroom."

He also predicted, "The discussion on the charter schools is going to be powerful and is probably going to be one of the more controversial and complex matters that we wind up dealing with in the budget."

Cuomo spoke at a pro-charter school rally in Albany last week, and has received campaign donations from the sector. The Democrat-led Assembly is less friendly to charters, and is considered an ally of the teachers union — a fierce critic of the privately-run public schools.

Speaker Sheldon Silver strongly stated that he would not go along with the Senate majority's plan.

"I don't see the urgency," he told reporters. He also stood up for de Blasio's right to thwart charter schools from opening if he believes they are inappropriate, noting that the mayor allowed "over 30 co-locations around the city" to proceed this fall, as planned, despite blocking three.

Silver referred to "Wall Street millionaires" who are placing ads to support charter schools and contributing to campaigns, without helping children in overcrowded regular public schools.

A spokesman for Mayor de Blasio, Wiley Norvell, wouldn't comment on the specifics of the pro-charter Senate resolution. But he said, "We strongly support mayoral control."

He also repeated that the mayor sees charter schools as "an important part of the educational lineup, and we're actively working with them."

Charter leaders have suggested their next strategy will be to lobby Assembly members with many constituents whose children attend charter schools.

"We are grateful that Majority Leader Skelos and Co-Majority Leader Klein have joined Governor Cuomo in hearing the pleas of public charter school parents, and have taken meaningful steps to ensure that charter school students have stable homes, just as traditional school students have always had," said James Merriman, C.E.O. of the New York City Charter School Center.

But some community groups said they would schedule a rally Friday outside the governor's Midtown office. "This is a clear Quid Pro Cuomo with charter school lobbyists who are bankrolling the Governor's re-election campaign," said Zakiyah Ansari, Advocacy Director of the Alliance for Quality Education.