The Takeaway
As Sen. Ted Cruz Enters Hour 16, The GOP's In-Fighting Worries Some Republicans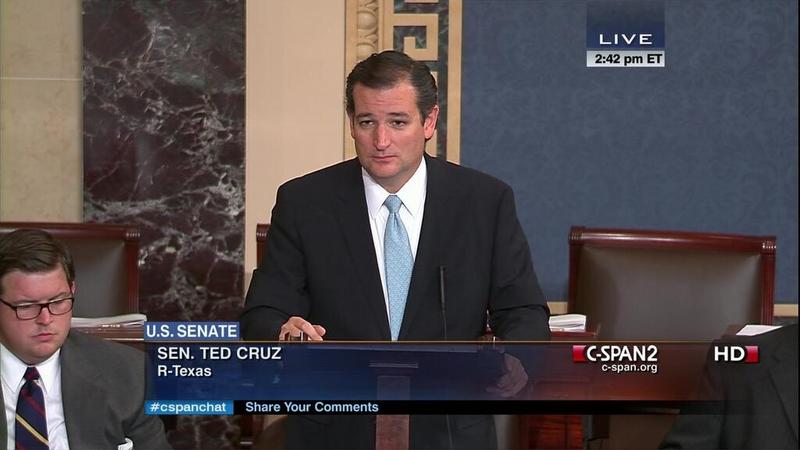 The showdown over the budget continues in Washington.
"I intend to speak in support of defunding Obamacare until I am no longer able to stand," said Sen. Ted Cruz (R-TX) in remarks on Tuesday.
Cruz's faux filibuster lasted through this morning, with his marathon entering its 15th hour at 4:41 a.m. ET—and there was still no end in sight. Despite his efforts, Sen. Cruz can't prevent the Senate from voting today to end debate on the House proposal.
The junior senator from Texas has angered many of his GOP colleagues with his flamboyant tactics.
"We'd all be hard-pressed to explain why we were opposed to a bill we are in favor of," Senate Minority Leader Mitch McConnell (R-KY) told reporters. "And, invoking cloture on a bill that defunds Obamacare, doesn't raise taxes, and respects the Budget Control Act strikes me as a no-brainer."
Congress is quickly running out of time. It only has until October 1 to pass a spending bill to avert a government shutdown.
Ron Christie is a Republican strategist and former special assistant to President George W. Bush. Ben Domenech is Senior Fellow at the Heartland Institute and publisher of The Federalist. They debate the pros and cons of Senator Cruz's strategy.
Takeaway Washington Correspondent Todd Zwillich fills us in on what the GOP's next move might be.