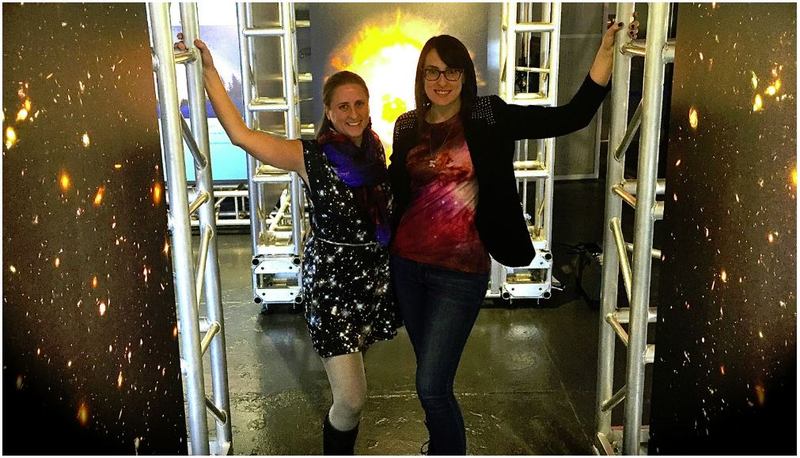 The hosts of the story-telling science program Radiolab, Jad Abumrad and Robert Krulwich, created a special program at Symphony Space featuring tales in which science and inquiry intersect with ordinary and extraordinary lives. We feature two of those stories on this program, which is hosted by Jane Curtin.
First, Jenny Hollowell's whirlwind "The History of Everything Including You," which begins with "God or Gods or nothing," and ends with a widow contemplating the texture of her long marriage. Hollowell spoke with Jad Abumrad and Robert Krulwich about the story ("how do you know so much?," asks the incredulous Krulwich). An attempt to unravel the threads of her own life (she was raised as a Jehovah's Witness and then had a crisis of faith) led, both seriously and playfully, "right back to the beginning of everything."
Jenny Hollowell is the author of is the author of the novel Everything Lovely, Effortless, Safe. Her short fiction has appeared in Glimmer Train, Scheherezade, and the anthology New Sudden Fiction.
The reader is someone familiar with ambiguous beginnings and endings, the actor Kyra Sedgwick, best known as the star of the long-running crime drama "The Closer."
"But that's not all," as the television ads say. Abumrad and Krulwich talk next about Paul Broks' intriguing "Voodoo Child (Slight Return)". Broks is a neuropathologist, and the story (based on a real patient scenario) is from his intriguing book Into the Silent Land. Abumrad and Krulwich like the way Broks' work—like their own—looks for the interface between science and the human dilemma of purpose and identity. Curtin, who read the story, loved the way it was a recursive system (the narrator is telling us about a story that he recounts to his students, and is then enveloped in his own narrative) that still has "one thread running through it."
We close with a deceptively simple tale by the often fantastical Steven Millhauser. In "Getting Closer," a young boy out for a day on the river with his family tries to prolong the moment before everything begins ("The moment's just ahead of him. This is the time before the waiting stops and he crosses over into what he's been waiting for.") As a result, he, like the unnamed narrator in Hollowell's "The History of Everything," is given a glimpse of mortality. SHORTS late host and founder Isaiah Sheffer was the reader.
This is a repeat broadcast.
"The History of Everything Including You," by Jenny Hollowell, performed by Kyra Sedgwick
"Voodoo Child (Slight Return)," by Paul Broks, performed by Jane Curtin
"Getting Closer," by Steven Millhauser, performed by Isaiah Sheffer
The SELECTED SHORTS theme is David Peterson's "That's the Deal," performed by the Deardorf/Peterson Group.
For additional works featured on SELECTED SHORTS, please visit http://www.symphonyspace.org/events/series/71/selected-shorts
We're interested in your response to these programs. Please comment on this site or visit www.selectedshorts.org
And for more thoughts on the stories in SHORTS, check out literary commentator Hannah Tinti's site at http://hannahtinti.com