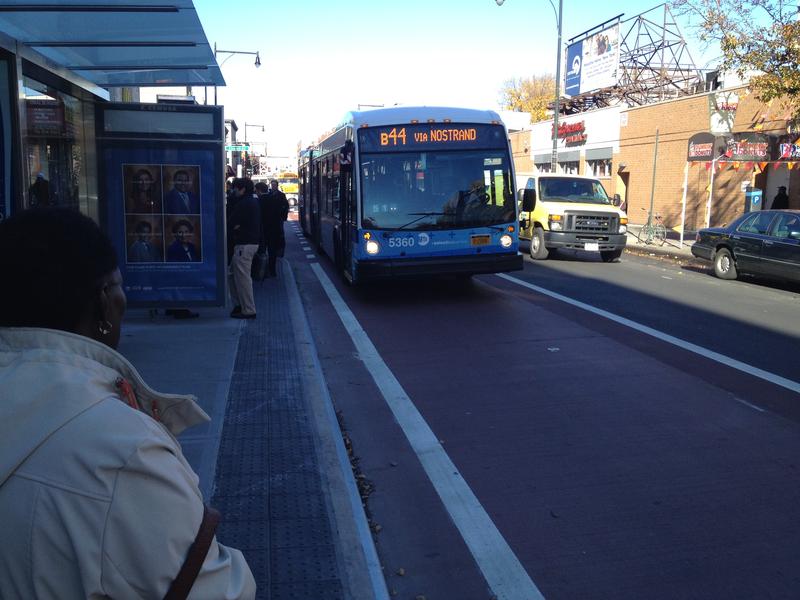 Select Bus Service debuted in Brooklyn Monday on the B 44 route, which connects Williamsburg to Sheepshead Bay. Select buses, which have dedicated lanes painted reddish brown and curbside machines that let passengers pay before boarding, are designed to be speedier than standard limited bus service. But the B 44's roll-out had some kinks.
First, there's a learning curve for passengers who have no experience with the pay-before-boarding system.
"How does this work," asked several passengers on confronting the curbside payment machines for the first time. MTA workers in bright orange vests were stationed at stops to show them how.

"Come here, bring your Metrocard, real quick," said a worker to a passenger as a Select Bus waited at the curb. "Press this button..."

But the city Department of Transportation says once people get the hang of it, bus speeds can increase by as much as 20 percent, and ridership can rise by 10 percent.

"These things, it turns out, actually do save time," said Mayor Bloomberg as he posed for photos and surveyed the new SBS stop at Church and Nostrand Avenues. "Buses work better and traffic is better. And that's what this is about."

Brooklynite Lynn Whitmore takes the B 44 once a week to a medical appointment at Kings County Hospital. She liked that her bus now has a dedicated traffic lane — if only drivers would stay out of it.

"You still see some cars in front, not knowing any better or just being idiots and going in the lane," she said while looking out the front window of a B 44 Bus as it moved down Nostrand Avenue. "But the speed of the bus is definitely moving."

The B 44 is the sixth Select Bus Service route in the city.