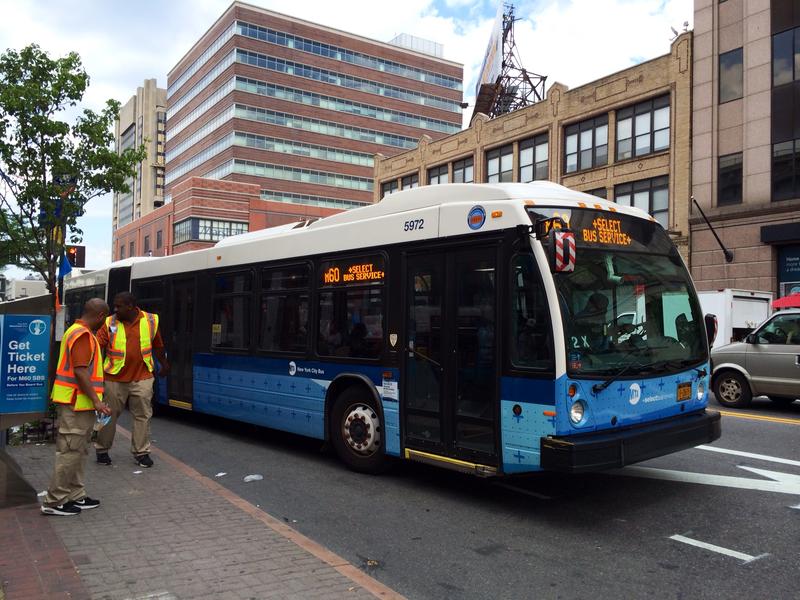 After some sturm und drang about whether or not the busy 125th Street corridor would get a bus lane, the street is now home to the city's seventh Select Bus Service route — the M60, which travels through multiple neighborhoods in Manhattan en route to LaGuardia Airport.
The New York City Department of Transportation trumpeted the line's official start of service on Tuesday. Like other SBS routes, it aims to speed bus service through off-board fare payment, fewer stops, and larger buses with multiple points of egress. Some stops along 125th Street also have signs with maps and real-time bus arrival information.
(Kate Hinds)
The project was derailed last year, after local community boards pushed back against the plan. "DOT had to navigate some very choppy political waters in installing this," said Mark Levine, a City Council member, "and they were persistent."
"I know some of us thought this was not going to move forward at one point," said City Council speaker Melissa Mark Viverito.
But compromises were made. The red, bus-only lane stretches for only part of the route along 125th Street, leaving buses to mix with regular traffic west of Lenox Avenue in Manhattan and once again when reaching the RFK Bridge heading into Queens.
"While it's a fabulous day for East Harlem," said Levine, "it's a slightly less wonderful day for central and west Harlem."
But officials said plans were in the works to extend the lane. "I believe it's possible to do this by the fall," said Levine, "assuming we can line up all the local political support."
(the bus-only lane on 125th Street/Kate Hinds)
The NYC DOT estimates that turning the M60 into an SBS line will reduce travel times by up to 20 percent, "cutting over 10 minutes off the 56-minute trip between Morningside Heights and LaGuardia Airport."
(NYC DOT head Polly Trottenberg, flanked by local elected officials. Note the wayfinding sign with bus arrival information in the background. Photo by Kate Hinds)
Trottenberg said the new M60 SBS cost over $6 million, with the cost split more or less evenly between the NYC DOT and New York City Transit. According to the city, the 125th Street corridor sees 33,000 daily passengers — including 10,000 on the M60 alone.