SchoolBook
Seeking Future Engineers and Architects in the South Bronx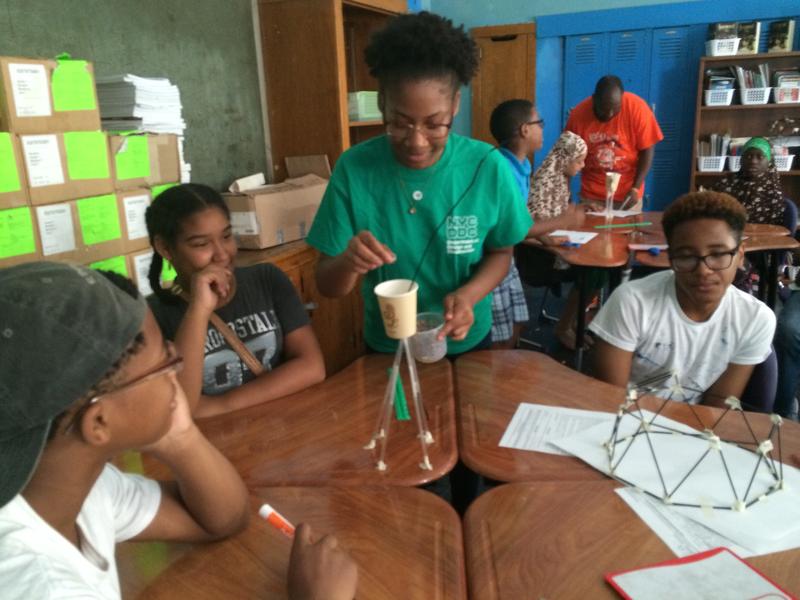 How many marbles can you pour into a paper cup perched on top of a pyramid made of drinking straws?
With a strong enough base, some middle schoolers in the South Bronx learned they can cram more than 50 marbles into the cup before it tilts over. But if the base is too weak — or the tower is too high — they could only pour about 20 marbles before the ultimate collapse.
The young teens were working out basic architectural and engineering concepts at a summer camp housed at M.S. 22. About 50 students enrolled in two classes taught by staffers at the city's Department of Design and Construction, the agency that builds and renovates all kinds of projects, ranging from libraries and senior centers to pedestrian ramps. It already works with several schools, including M.S. 22, during the school year. With the summer camp, it took that partnership a step further to give students a taste of lesser-known career options.
"When we come into a classroom and we ask students what they think an engineer is, they generally draw Bob the Builder," said the agency's program coordinator, Sandrine Fermino.
Deputy Supervising Director Monique Jarvis said the camp was unusual because it's open to all middle school students from District 9, which has the most low-performing schools in the city. (WNYC has been profiling efforts to turn around M.S. 22) She said during the school year kids from different schools in the neighborhood often pick fights with each other. The summer camp is an opportunity for them to work together.
"The overarching theme is teaching kids community and teaching kids basically how to get along with each other under an educational model," she explained.
Lillian Atkinson, who's entering 8th grade at M.S. 328, said kids from her school think M.S. 22 has a bad reputation. But, after spending a couple of weeks with students from M.S. 22 and other neighborhood schools, she said everyone was having a good time.