Seeger Fest: A Time to Remember, a Time to Celebrate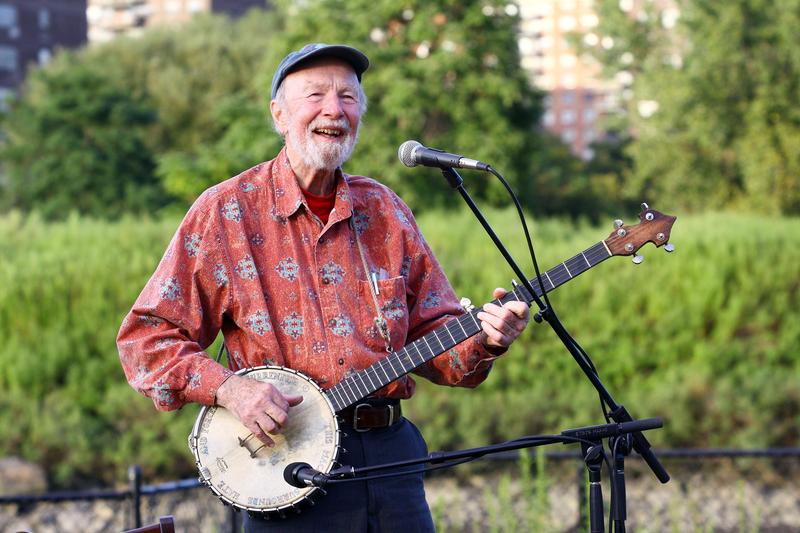 Folk singer Pete Seeger and his wife Toshi will be remembered next week in a free, five-day festival throughout New York City and the Hudson River Valley.
Seeger Fest was organized by the singer's grandson Kitama Cahill-Jackson to take the place of a traditional memorial. He said he wanted to capture Seeger's spirit and legacy. "My grandfather was really about people, community and music," Cahill-Jackson said. 
The festival will kick off at Hudson River Park's Pier 49 on Thursday with a concert and showing of a documentary about Seeger. The river location was chosen because the Seegers founded an organization in 1966 that spearheaded the cleanup of the Hudson River. They remained devoted to the river and its well-being for the rest of their lives.
Singer and songwriter Abigail Chapin, who is performing Thursday, said that as she was growing up in the Hudson Valley, she watched the river change from being unswimmable, undrinkable and unfishable to become the jewel it is today. She said the Seegers' organization would come to her school when she was a child. "We would go on and learn about cleaning up the river. It was very present in our lives," she said.
Many of the musicians performing during the festival said that Seeger was generous with his time and attention and inspired them to activism. "He really was that bumper sticker, 'Live Simply So That Others May Simply Live.' That was his house on the hill, that was him around town, taking out his own garbage," said singer/songwriter Dar Williams, who will perform on Sunday in a lineup that includes speeches from Harry Belafonte and Michael Moore.
Seeger was particularly known for encouraging the audience to sing along. "There'd be children and he'd just be there with his banjo singing, and getting everyone else to sing. It was never about him, it was about the community and about the group," said Abigail's sister Lily Chapin. To honor that part of Seeger, there will be a singalong in his hometown of Beacon on Friday.
One of the songs likely to be sung is Seeger's most famous, "Turn, Turn, Turn." It's also his grandson's favorite. "At Seeger Fest there is a time for everything," Cahill-Jackson said. "There's a time to cry, a time to laugh, there's a time to go rowing in a boat, there's a time to sing, there's a time to learn, there's a time to dance. There really is a time for everything."
Seeger Fest is five days of concerts, events and performances. It runs Thurs., July 17 through Mon., July 21.