To See How New York Can Survive Flooding, Look to Hamburg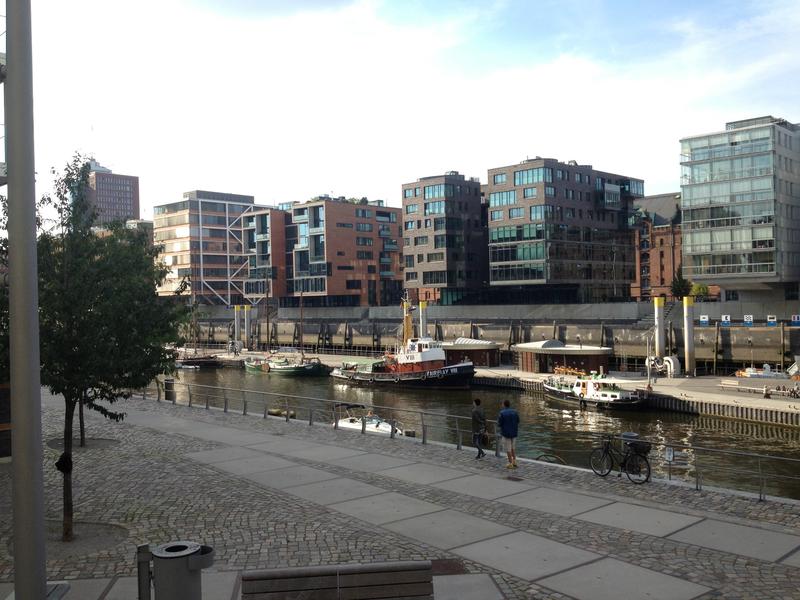 To get a good sense of a what a floodproof city can look like, check out Hafen City in Hamburg, Germany.
An urban archipelago in the middle of the Elbe River, it has office space, parks, a new concert hall and around 6,000 homes. It sits on old industrial piers that were cleared and elevated to withstand flooding. Many buildings have two first floors: the lower level is for day-to-day use, the next level opens onto a raised path that is wide enough for fire trucks to drive on during floods.
The multi-year, multi-billion dollar project is one of the largest waterfront re-developments in the world, roughly four times the size of Battery Park City. It may also provide some hints as to how New York City can deal with rising sea levels and the occasional storm surge.
The first thing you should know is, it's not perfect.
A few select buildings use thick aquarium glass to seal in their ground floors. Other businesses in Hafen City sit behind thick concrete walls and have large watertight storm doors.
But all the flood protections have a downside: they look like very luxurious bomb shelters for the glittering buildings above, and are not warm and inviting. Hingstock said that as the project has progressed, designers have tried to find a new ways to enhance street life by adding more trees and ornamentation.
"There will always be compromises," said Fritz Hingstock of WTM Engineers, the firm that did the master flood planning. "You can't have an open house and a flood-protected house."
A spokesman for the Bloomberg Administration told WNYC it looked at this part of Hamburg when developing the resiliency plan it released in June. But Hafen City embraces the water even more than the mayor's plan does. Some blocks are built to accommodate regulate flooding, not just avoid it.
Koen Tiddens, the owner of a take-out restaurant, has an alarm on his cell phone that goes off when a flood is approaching
"If that rings, I have to come very quick, clear the tables and the chairs and everything I have outside," he said.
All of this comes with a large price tag: more than $13.5 billion dollars, most it from private investors, some from public funds.
"It's very nice," Tiddens said, "but it is very expensive to live, no?"
To listen to the full piece, click the "play" button above.
Valentino is in Hamburg on an Arthur F. Burns Fellowship through the International Center for Journalists.