See Central Park's $38 Million Renovation of Tavern on The Green
Thursday, April 24, 2014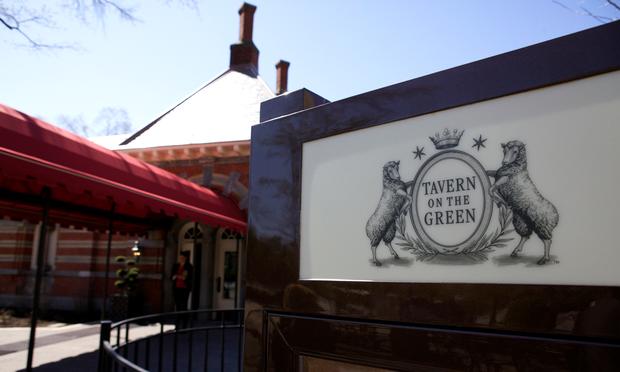 (Stephen Nessen/WNYC)
The iconic Central Park eatery Tavern on the Green is back in business, five years after going bankrupt. Its new owners removed the Los Vegas-style glitz of the former tourist trap and replaced them with Victorian Gothic details, dark wood and an open kitchen.
The city spent about $20 million to gut the building and replace the stone roof and the electrical and plumbing systems. The new owners invested about $18 million to install a massive open kitchen and restore the historic facade and original architecture.
The menu also underwent a revitalization; it now focuses on locally-sourced ingredients like Smoked Montauk Bluefish Pate from Narragansett, RI.
"The notion of a tavern to me is about a hearth and open fire and comfort, and that's what I want people to experience when they walk in," said Executive Chef Katy Sparks. It's "about the food," she added.
"Yes, it's a destination, it's a historic destination, but it's also a restaurant," she said.
The South Wing of the dining room will be open for diners and will be available for private events. (Stephen Nessen/WNYC)
Gold leaf mirrors in the dining rooms. (Stephen Nessen/WNYC)
Views of the kitchen from the Central Park room. The dining rooms seat a total of 350 people. (Stephen Nessen/WNYC)
Views of the park from the Central Park Room. There will seating outdoors for 300-500 people. (Stephen Nessen/WNYC)
A horse chandelier in the Bar Room. This room will always be open to the public. (Stephen Nessen/WNYC) 
Sheep head carvings pay homage to The Tavern on the Green's history as a sheepfold in the 1880s. It was renovated and turned into a restaurant in 1934 when Robert Moses was the parks commissioner. (Stephen Nessen/WNYC)
Executive Chef Katy Sparks plans to focus on locally-sourced ingredients and creating more artisanal menus than the previous restaurant. (Stephen Nessen/WNYC)
The new logo for the newly-renovated restaurant. (Stephen Nessen/WNYC)
More in:
Stephen Nessen reports for the WNYC Newsroom and can often be heard live on Morning Edition.