The Takeaway
All Eyes on Putin as Investigators Demand Access to Downed Jet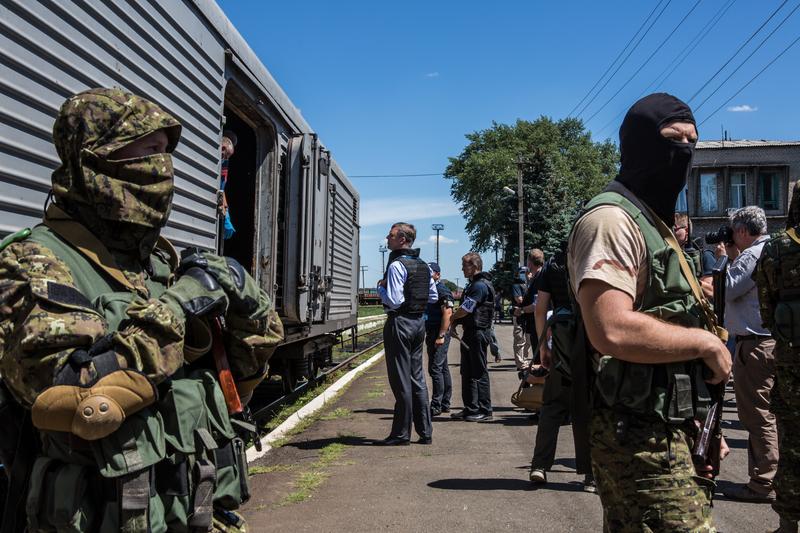 Days after Malaysia Airlines Flight 17 crashed in Donetsk, Ukraine, pro-Russian separatists are blocking the crash site. They've seized the remains of 200 victims, and are refusing access to outside officials and crash experts.
In the absence of hard facts, it appears that a propaganda war has begun in an effort to shift the blame.
On Sunday, Secretary of State John Kerry made the talk show rounds—he pointed the finger at Russia, claiming President Vladimir Putin's government supplied the rebels with the surface-to-air missiles that may have been used to shoot down the plane.
"Russia has armed the separatists," Sec. Kerry told ABC's This Week. "Russia has supported the separatists. Russia has trained the separatists. Russia continues to refuse to call publicly for the separatists to engage in behavior that would lend itself to a resolution of this issue."
He continued: "And the fact is that only a few weeks ago, a convoy of 150 vehicles of artillery, armored personnel carriers, multiple rocket launchers, tanks, crossed over from Russia into this area and these items were all turned over to the separatists."
Meanwhile, President Putin pushed back on Monday, saying that the tragedy "must not be politicized." But can Putin remove the barriers to access that the separatists have introduced?
Weighing in on Russia's role and America's response is Kathryn Stoner, a senior fellow at the Freeman Spogli Institute for International Studies at Stanford University and the author of "Resisting the State: Reform and Retrenchment in Post-Soviet Russia."