SchoolBook
Calling All Middle Schoolers: City's Summer Programs Still Have Seats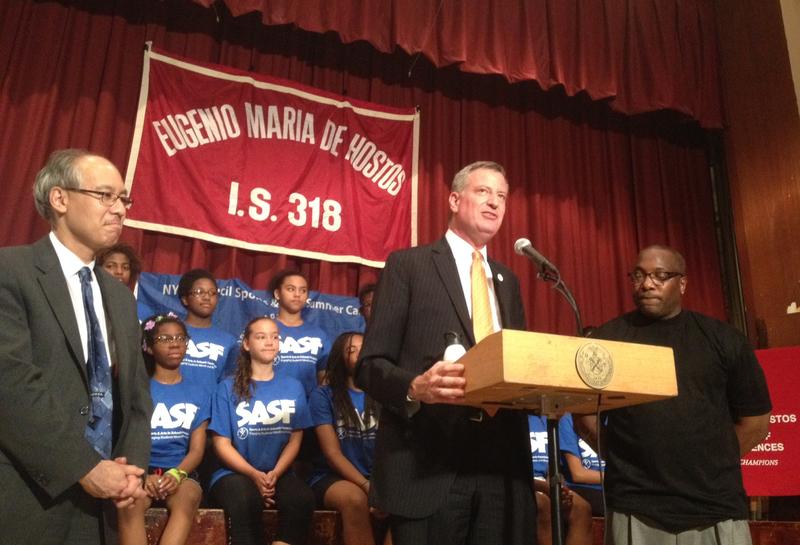 Mayor Bill de Blasio toured a Brooklyn school famous for its chess program Monday to remind city families that there are still open slots in various summer enrichment programs for middle schoolers. 
"Summer school is important for kids who need summer school," he said, after visiting the chess, music and dance programs at I.S. 318 that are serving a few hundred students. "But summer enrichment is kids who are getting more in the summer, who are deepening their knowledge, deepening their abilities, keeping that consistency from one school year to another."
Just under 23,000 middle school students are enrolled in summer enrichment programs but the city has room for 34,112 seats. The Department of Youth and Community Development said that's double the total number of middle school seats that were available last year. A department spokesman said the city is already ahead of last year's pace by serving nearly 6,000 more young people than all of last summer.
"They're going very, very fast," said de Blasio. "Parents need to apply now so their kids can have this opportunity."
The programs started last week and run until August 29. They include literacy, sports, STEM (science, technology, engineering and math) and field trips. Partners include Chess in the Schools, New York Harbor Foundation/Billion Oyster Project, Project NOAH, Staten Island MakerSpace, the Salvadori Center and Urban Arts Partnership. The city is targeting middle school students, who will also get more after-school programs this fall.
The city said slots are still open throughout the five boroughs. There are 45 new Cornerstone Community Centers that are located in public housing which began operating only this past January, and where enrollment has been slower as families learn about the offerings. Almost all of the programs for elementary school age children are full.
At I.S. 318, de Blasio met with a couple of former students who were featured in a documentary called "Brooklyn Castle" about the school's famous chess team. They're now working as mentors. The chess room's air conditioning unit was broken but the kids kept playing as the mayor asked them what they like about the game. "It's about strategy and thinking," said nine-year-old Justin Dalhouse.
Families can call 311 or DYCD Youth Connect at 1-800-246-4646 for enrollment information, or check out this link.