Searching for Solutions in the Bronx on the Upper East Side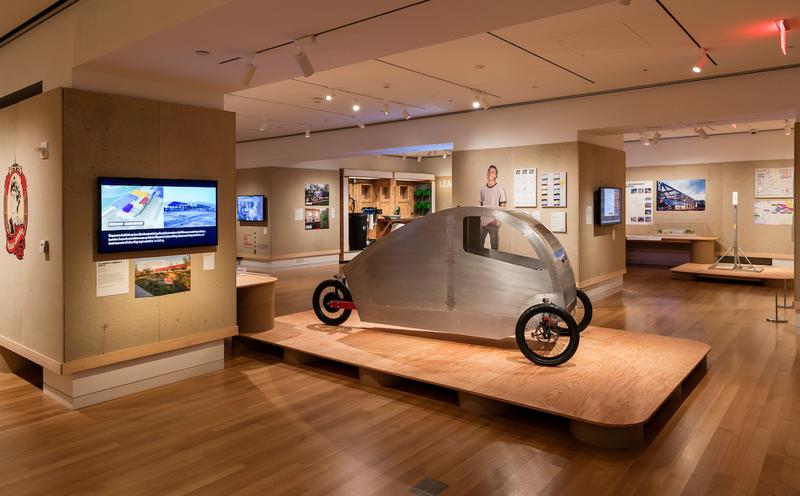 "I plan to shake out whatever ideas I see that might be applicable to the South Bronx. I'm always on the look-out."
One gray afternoon, South Bronx activist Monxo Lopez is on the third floor of the Cooper-Hewitt, Smithsonian Design Museum. Lopez is an adjunct assistant professor of Latino Studies at Hunter College, a cartographer and an environmental activist. He's lived in Mott Haven for the last 12 years, where he's worked on issues like waterfront accessibility and curbing illegal truck traffic in the neighborhood. 
So WNYC invited him to walk through the current exhibit at the museum, "By the People: Designing a Better America," which focuses on how design can solve poverty. The show features over 60 projects from across the nation, gathered by curator of socially-responsible design Cynthia Smith. There's a mini-car from Michigan that runs on electricity, a blue barrel that serves as a water station for migrants in Arizona, and a poster that shows a house unfolding like a transformer to become an outdoor stage.  
Walking through the galleries, Lopez finds some interesting projects — a museum in San Antonio preserving the culture of threatened barrios, a project in California that turns firehouses into health centers. But what really catches his eye is a plan to renovate 8 public housing towers in Brownsville, Brooklyn. Like Brownsville, the South Bronx has a lot of public housing. The plan creates pathways between towers, breaking up the block and integrating it better with the surrounding community.
Lopez says it's a good idea, because the interior courtyards in public housing, often feel isolated or cut-off. 
"When you build a green area like that, it's a recipe for unsafety," he said.
However, the Superblock Retrofit, as it's called, is still just a proposal. Curator Cynthia Smith says the project is a smart idea and it's had a lot of community support, but she can't say if it will happen or not. She noted, "It takes political will to do this."
This is exactly what frustrates activists like Lopez. 
"I've seen our community function as a credit farm...for the students of different universities to get credit for their work in creating renderings, or interviewing people for journalism schools, and we are skeptical about that," he said. "Nothing or very little ever comes back to the community."
Still, Lopez thinks an exhibit like this should come to the South Bronx, so residents can see it and know what might be possible. He also wants to see these ideas go to City Hall because it represents the other side of the equation: it's there that you find the power brokers who can often decide what ideas get off the page and actually become a reality.
"By the People: Designing a Better America" will be on display at the Cooper-Hewitt, Smithsonian Design Museum until February 26, 2017.